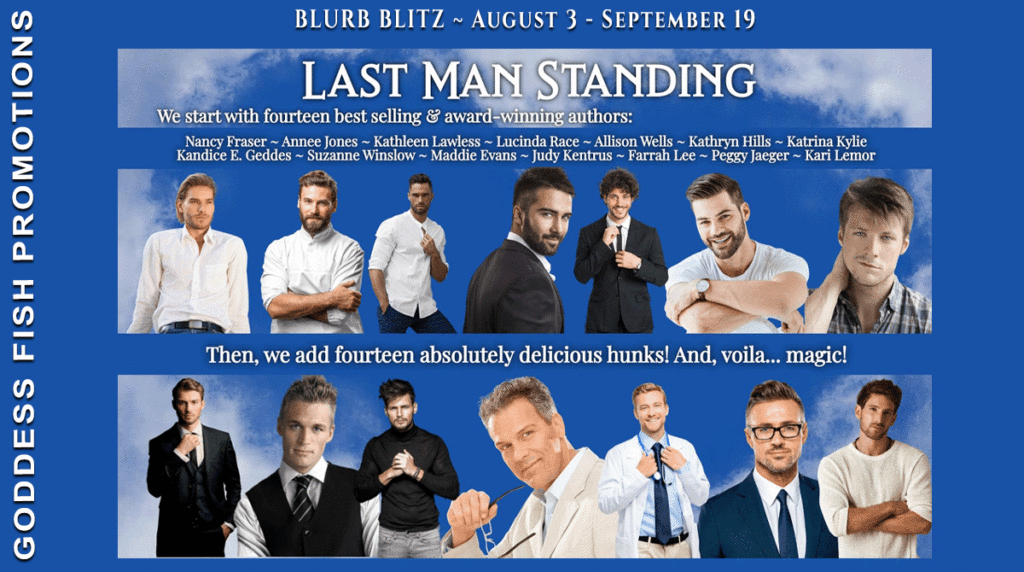 This post is part of a virtual book tour organized by Goddess Fish Promotions. The authors will award a $20 Amazon/BN GC to a randomly drawn winner and a $10 Amazon/BN GC to a second randomly drawn winner. Click on the tour banner to see the other stops on the tour.
You know who he is… the confirmed bachelor. The fellow who claims no woman will ever tempt him enough to succumb. Cupid will never hit his mark.

Well, guess what? We've got fourteen feisty heroines who are about to change their minds.

Has the last man standing finally met his match?

Attorney Tallie Dorz has heard the rumors circulating through the halls of justice about the devastatingly handsome Judge Barrett Turner. As rumor has it, no woman has ever lasted longer than a couple of dates with this eligible bachelor. A chance meeting at a mutual friend's house piques her interest. With one long, simmering look from the enigmatic jurist, she's captivated and wants to crack his cool facade and melt his heart.

Barrett Turner has it all; a reputation as a respected judge, money, and good looks. What he doesn't have is someone to share his life with. He's the last man standing among his group of close friends. A brief encounter with gorgeous attorney Tallie Dorz changes all of that. The first time he sees her he's captivated; the second time is during a meeting for a group of lawyers; and the third occurs when she appears before him in court. So much for the third time being the charm. There's no way he would risk becoming involved with an attorney who handles family law. As captivating as she is, he won't risk an obvious conflict of ethics.

Tallie helps another attorney by appearing, along with his client, in Judge Turner's courtroom—her one and only appearance in family court before returning to her specialty of corporate law. Even though the judge with dark brown eyes scowled at her from the bench, she can't help but wonder what it would be like to have him across the dinner table. Much to her surprise, Barrett calls her and asks her to have lunch, and she eagerly accepts.

When a case she's working on puts a target on Tallie's back, Barret realizes his feelings are more intense than just his usual fling. He vows to not let anything stop him from keeping her safe and, ultimately, winning her heart.

Can two career minded professionals open their hearts to a lifetime of love?

Enjoy an Excerpt

Barrett Turner stood and held up his hand as the wedding guests quieted down. "Hello. In case you haven't guessed, I'm Carson's best man, hence the tux." A smattering of laughter rippled across the room and he swept an arm toward the table for two where the bride and groom sat. Then he nodded with a wide grin to the next table that held his four best friends and their wives.

With a wink to Carson and Beth, he said, "Everyone thought Carson would never find a woman to love him enough to put up with his buddies. I'm happy to say somehow not only did he find someone who loves pancakes as much as he does, but she's the only woman who's made Carson happier than I've ever seen him. So, Beth"—he kissed his fingertips and waved them in her direction—"welcome to the family." She gave him a happy, tear-filled smile and crossed her arms over her chest as if she were giving him a hug.

"When Carson and I met our freshman year of college, I never thought we'd be gathered here today. Especially since, as the years went by, we voted him the most likely to be the perennial bachelor. I guess, as of an hour ago, that title has officially been passed to me and I'm now the last man standing. Beth, I'm thrilled to say you married a man I'm proud to call one of my best friends, and Bethy, just remember when you said yes to Carson, you got all five of us, plus the amazing women who said yes to our buddies; we're a package deal."

Carson kissed his new bride's cheek and she laughed. "Barrett, I knew what I was getting into, but thanks for the reminder."

"I'd like to propose a toast to my very good friends Carson and Beth on your wedding day." He lifted his water glass a little higher and said, "Congratulations to the new Mr. and Mrs. Baker. May you have many happy years ahead. Oh, and I'm available for babysitting but only after the kids are potty-trained."

The room was filled with well wishes for the happy couple. Barrett took his seat and looked at his friends and then at Carson and Beth. He really was the last man standing, but it was a title he'd happily give up in a heartbeat if he could only find someone who had that special something he'd been looking for. Ever since law school, he knew he wanted to have a more traditional life. And like so many things in his life, he wouldn't compromise on who she was. He was holding out for a once-in-a-lifetime kind of love. And if he never found that deep connection, he'd be single forever. His buddies had found their someone special so there was still hope, but approaching forty made him realize that his chances were dwindling for marriage, kids, the dogs, and the oversized SUV sitting in the driveway.

About the Author: Award-winning author Lucinda Race is a lifelong fan of romantic fiction. As a young girl, she spent hours reading romance novels and getting lost in the hope they represent. While her friends dreamed of becoming doctors and engineers, her dreams were to become a writer—a romance novelist.

As life twisted and turned, she found herself writing nonfiction but longed to turn to her true passion. After developing the storyline for The Loudon Series, it was time to start living her dream. Her fingers practically fly over computer keys as she weaves stories about strong women and the men who love them.

Lucinda lives with her husband and their two little dogs, a miniature long hair dachshund and a shitzu mix rescue, in the rolling hills of western Massachusetts. When she's not at her day job, she's immersed in her fictional worlds. And if she's not writing romance novels, she's reading everything she can get her hands on. It's too bad her husband doesn't cook, but a very good thing he loves takeout.

Website | Facebook | Twitter | Amazon Author Page | BookBub

Check out the series and this book on Amazon.