Enter the Rafflecopter below for your chance to win a $100 Amazon/BN GC and more!
Summer of Sport by Lucy Felthouse (@cw1985)
As I write this post, Wimbledon is winding down, but it's been an exciting couple of weeks. And as this post goes live, the US Open is taking place. No doubt the tension will be rife once more.
The funny thing is, until last year I wasn't all that into tennis. It just wasn't really on my radar. Then, when good friend and fellow erotic romance writer, Lily Harlem, and I decided to co-write a novel, she presented me with a first chapter. It was about a hunky tennis player. I admit I was intrigued by the sexy athlete, but immediately panicked—how could I write about tennis? Fortunately, Lily's well versed on many sports, including tennis, and she helped me out. At the same time, I took to YouTube (what would we do without it?) to brush up on my knowledge. And Grand Slam was born.
Clearly, I was bitten by the bug, because I wrote a solo story to follow up—a lesbian novella called Sweet Spot, which released in June. So this year I've been well and truly sucked into the summer of sport—when it comes to tennis, anyway—and eagerly watched some Wimbledon (not all of it, of course, otherwise I'd never have gotten any work done!), and will be checking out the US Open when it hits our screens in August and September.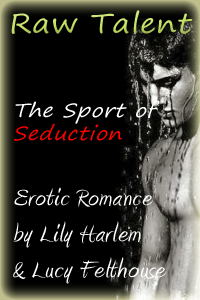 When it comes to tennis, I enjoy the passion, the grace, the strength, all the nuances and traditions that are observed. I'm also in total envy of the skill and talent of the players. And, because I'm a writer, I can't help but wonder what goes on behind the scenes—the rivalry, friendships, attractions, relationships… so watch this space, because there will be more books to come in the Raw Talent series, I'm sure of it!
Virginia Miller is an up-and-coming tennis star. She's gone from a ratty tennis court in a park in south London, England, to the world's top training facility—Los Carlos Tennis Academy in California. In awe of the talent around her, Virginia is all the more determined to make the most of the opportunity and show that she's worthy of her place there. Her mentor, Nadia Gorlando, has every faith in her.

But Virginia finds herself distracted—Nadia, as well as being a top-notch tennis player, is seriously sexy, and Virginia's mind keeps wandering where it shouldn't. Will her crush get in the way of her career, or can she find a way to push the other woman out of her mind before it's too late?
About the Author:Lucy Felthouse is a very busy woman! She writes erotica and erotic romance in a variety of subgenres and pairings, and has over 100 publications to her name, with many more in the pipeline. These include several editions of Best Bondage Erotica, Best Women's Erotica 2013 and Best Erotic Romance 2014. Another string to her bow is editing, and she has edited and co-edited a number of anthologies, and also edits for a small publishing house. She owns Erotica For All, is book editor for Cliterati, and is one eighth of The Brit Babes.
Website ~ Facebook ~ Twitter
Buy the book at
the author's website
.