Enter the Rafflecopter below for your chance to win a $100 Amazon/BN GC and more!
Leave a comment on THIS POST for a chance to win an additional prize – book from Kathryn Lively's backlist.
Kathryn Lively: Picture it – Sicily, 2014
See more pictures of my trip in Google Stories.
I got an email late last year from my mother about a tour of Sicily they had booked. Sicily's been on her bucket list for a while. Her grandparents were born and married there, and when they first moved to New York they still had land. I'm not sure if they intended to go back periodically throughout their lives, depending on work, but somebody muddled those plans. In the 1930s, Mussolini started confiscating the land of absentee owners, so the family went back to sell their only link to "home." Once accomplished, they came to America to stay.
My great-grandparents both lived to see their early 90s, and as long as I had known them they didn't speak English. I often wondered how they were able to get by in the US, but after they died I learned that they knew English, they just didn't speak it. I have to admit it puts an interesting spin on my memories, watching my aunts holler at them in English and me thinking, Why don't you just learn a few Italian phrases and meet them halfway?

I certainly wished I'd bothered to learn it myself, because this June I joined my parents after their tour for a few days. Mom intended to see the village her family left behind, and I never turn down free room in a foreign country (almost done paying for the airfare). So away I went.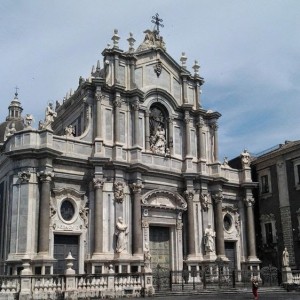 This was only my second trip to Europe, and I'm amazed by the apparent age of the continent. In Florida and Virginia, some landmarks date back to early Colonial times, so we're talking 1600s at best. You travel to Sicily and you find ruins that go back to Christ. We stayed mainly in Catania – there are no Starbucks, but I found three Catholic churches on the same block. We attended Mass at the one pictured here, which holds the relics of St. Agatha. You hear that Sicily served as home to so many people – Greeks, Jews, Muslims – over the centuries, but the Catholic presence is most obvious. The food is insane, too. I didn't go hungry.
We took a bus to the village. You know, for years I've knocked around the idea of a story set in Sicily. I'd always had my great-grandparents' home in mind, though I'd never seen pictures. When we arrived, it amazed me to see how the village looked as I'd imagined. Roads are steep and homes are close together. Old men congregate in front of the bars and watch the world pass. Tiny cars weave around people and bop along bumpy roads. I may write that story yet.
Mom found what she wanted as far as genealogy. The records were so old, they had to hand write copies of the birth and marriage certificates. Looking at them, we discovered something interesting: the mothers of my great, great-grandparents had the same last name. Did cousins marry? It's possible.
Now that I'm back, I can get to writing again. What a summer.
WARNING: This book contains rough language, spoilers for a possible sequel to Judy Blume's Blubber, suggested lyrics for the theme to Sanford and Son, and one very mixed-up romance author.

Words come easily to writer Danni Hewitt. If only success did the same. The news of America's latest reality sweetheart inking a major book deal sends Danni spiraling into depression, to the point where the idea of soothing her jealousy with a murderous rampage appeals to her.

Of course, this requires getting close enough to Krystal Kordova and her family to draw blood, something Danni achieves when she manages to land a job as Krystal's ghostwriter.

Is the pen deadlier than the sword? Stick with Danni and find out.
About the Author:Kathryn Lively writes mystery and romance novels, and book reviews and stories about people who end up in bizarre situations. She also drinks a lot of wine.
Website ~ Blog ~ Facebook ~ Twitter
Buy the book at Amazon