Enter the Rafflecopter below for your chance to win a $100 Amazon/BN GC and more!
Leave a comment on THIS POST for a chance to win an additional prize – One digital copy of FLAWLESS
Happy 7th Anniversary Long and Short Reviews! You don't look a day over 6 1/2! I hope you have many, many more years of reviewing romance novels in your future. Cheers!
Since summer is the theme of this party, I thought I'd share with you the wonderful summer holiday I was lucky enough to take in June of this year. My husband and I travelled to Europe and took a river cruise on the Rhone River in France. We extended the seven day cruise by adding three days in Barcelona, Spain to the beginning of the trip, and three days in Paris at the end of the trip. We had a fabulous time!
We started our vacation in the beautiful, vibrant city of Barcelona. Barcelona has wonderful architecture, some of it quirky and unusual, like the Sagrada Familia Church which doesn't appear to have a straight line within its massive structure. I loved the friendly people and the exciting rhythm of the city.
After leaving Barcelona, we travelled to the mouth of the Rhone River at Arles, France where we boarded our ship for the river cruise. This area of France had been occupied by the Romans some two thousand years ago and they left behind evidence of their time here, with structures such as an arena in Arles which still hosts bull fights (and looks just like the Roman Coliseum), and an amphitheater in Vienne, France which holds eleven thousand people and was being readied to host a jazz festival when we visited. It's amazing to me that these structures are so ancient, but are still being used today.
We sailed up the Rhone River through Provence, past terraced vineyards carved into nearby hills, and fields of ripening grain and blooming lavender in the countryside. So beautiful! We had a chance to visit an olive grove and a truffle farm in Provence. Serge, the owner of the truffle farm, uses his dog Emme to hunt for truffles, a fungus/mushroom much prized in French cooking, though from the examples Serge passed around, I couldn't get excited about them. Serge and Emme demonstrated how they hunt for them. Since the truffles grow underground at a depth of about four inches, Emme must use her sensitive sense of smell to locate them. Serge buried a few truffles and Emme found them and dug them up without any trouble. She was adorable!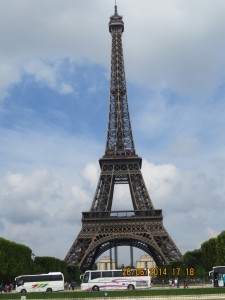 After our wonderful, pampering cruise was over, we took a high-speed train from Lyon to Paris. Paris is almost overwhelming in its beauty. Everywhere you look you find another piece of impressive architecture. No visit to Paris is complete without a trip to the Eiffel Tower, Notre Dame Cathedral, or the Arc du Triomphe, and we were lucky enough to see them all.
Our summer vacation went by very quickly, and now the summer of 2014 is nearly at an end. What did you do this summer? Whether you went on a vacation like I did, or stayed home and relaxed in your backyard, I'd love to hear about it. Comment on this blog and leave your email address for a chance to win a digital copy of FLAWLESS, my WW2 romantic suspense set in France. And if you'd like to see some pictures from my vacation, please check out my blog. Thanks for stopping by!
"France, 1942. The world is at war. The Nazis have stolen the infamous blue diamond, Le Coeur Bleu, intending to barter it for weapons that will destroy the Allies. Jewel thief Hunter Smith is given a choice; help the French Resistance steal back the diamond and avenge the death of his best friend, or stay locked up in an English prison. He chooses revenge.

Resistance fighter Madeleine Bertrand's husband died when he was betrayed by Hunter Smith. How can she now pretend to be married to the arrogant American? How can she betray Jean Philippe's memory by her passionate response to Hunter's kisses? Neither is prepared for the maelstrom of attraction that erupts between them. To survive they must uncover the mysteries of the past and conquer the dangers of the present. But first Madeleine must decide if her loyalties lie with her dead husband and the Resistance or with the greatest love of her life.
About the Author: When Jana Richards read her first romance novel, she immediately knew two things: she had to commit the stories running through her head to paper, and they had to end with a happily ever after. She also knew she'd found what she was meant to do. Since then she's never met a romance genre she didn't like. She writes contemporary romance, romantic suspense, and historical romance set in World War Two, in lengths ranging from short story to full length novel. Just for fun, she throws in generous helpings of humor, and the occasional dash of the paranormal. Her paranormal romantic suspense "Seeing Things" was a 2008 EPPIE finalist.
In her life away from writing, Jana is an accountant/admin assistant, a mother to two grown daughters, and a wife to her husband Warren. She enjoys golf, yoga, movies, concerts, travel and reading, not necessarily in that order. She and her husband live in Winnipeg, Canada with their Pug/Terrier cross Lou and several unnamed goldfish. She loves to hear from readers and can be reached through her website at www.JanaRichards.com.
Website ~ Blogspot ~ Facebook/JanaRichardsAuthor">Facebook ~ Twitter
Buy the book at The Wild Rose Press