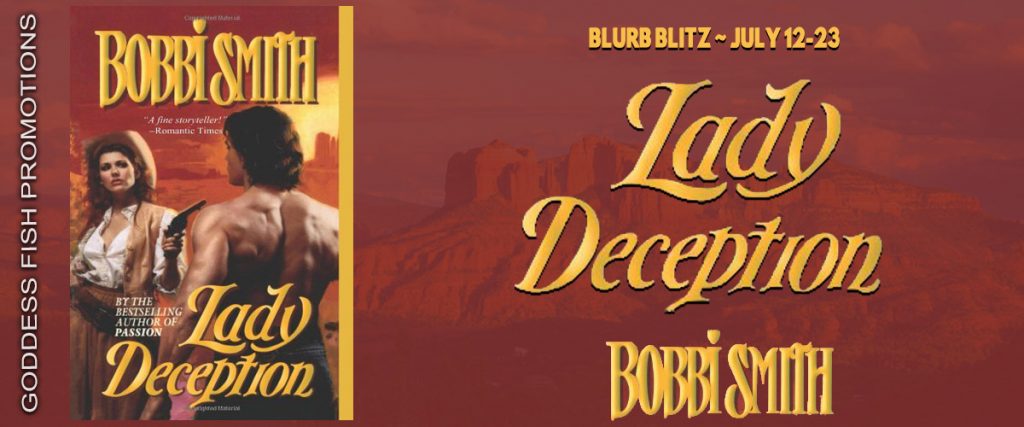 This post is part of a virtual book tour organized by Goddess Fish Promotions. Bobbi Smith will be awarding a $10 Amazon or B/N GC to a randomly drawn winner via rafflecopter during the tour. Click on the tour banner to see the other stops on the tour.
The Lady

Cody Jameson—the name sent chills down the spines of every sidewinder west of the Pecos. A master of disguise, a genius of deceit, the infamous bounty hunter always had the advantage over any prey: No desperado knew Cody's real identity—or even suspected that the tracker stalking him was a fiery beauty.

The Deception

The first time Cody caught sight of Luke Majors, she was dressed as a lady preacher. But nothing could conceal the way the gunman thrilled her. Still, it wasn't Luke's body or soul Cody was after—it was the price on his head. And she was sure to collect the reward, if only she could convince herself a fistful of dollars was worth more than a lifetime of passion.
Enjoy an Excerpt
Joe, the saloon bartender, glanced around, wondering where Delilah had gone. Clad in a tight gown with her hair pinned up in a mass of curls, she was gorgeous. He'd done well when he'd hired her a few weeks before.
Delilah was closer than Joe suspected. Sitting alone at a secluded table in the back of the saloon, she kept her gaze fixed on the main doors. Her nerves were stretched taut as she waited for Hank Andrews to show up.
It was then that it happened. The doors swung open, and the man she'd been waiting for walked in.
Delilah would have recognized him anywhere. He was a sinister-looking man. She watched almost transfixed as he shouldered his way to the bar.
Rising provocatively, her prey in sight, Delilah glanced down at her decolletage to make sure the neckline revealed just the right amount of cleavage. She wanted Andrews's undivided attention. Whenever she went after a man, she got him.
Andrews took a drink of his beer and stopped after his first swallow.
"This is warm!" He glared at the bartender.
"Everything is this time of year," Joe countered.
"I like my beer cold!"
"You may like your beer cold, mister, but how do you like your women? Cold…or hot?" a feminine voice purred behind him.
At the sound of the invitation in the woman's voice, Andrews turned. The woman standing before him was a real beauty. From the challenging look in her eyes and the sight of her breasts so alluring displayed, he knew bedding this one would be a treat.
"I like my women hot," he answered.
"I was hoping you'd say that." Delilah met his gaze straight on. "Because I'm on fire."
Luring him upstairs and getting him naked in bed was even easier than she'd expected. Delilah was even more delighted when he didn't resist her handcuffing him to the bedposts.
"You're going to enjoy this," she said as she went to open the window.
"What are you doing?" he asked as she called out to someone outside in a hushed voice. "Look, you little whore, what are you up to?"
"I'm no whore, Mr. Andrews. I'm Cody Jameson."
"Cody Jameson?" His eyes widened with fear. He'd heard of the bounty hunter of that name, but he'd thought Jameson was a man.
"That's right, and I'm taking you in for murder."
About the Author:After working as a department manager for Famous-Barr, and briefly as a clerk at a bookstore, Bobbi gave up on career security and began writing. She sold her first book to Zebra in 1982.
Since then, Bobbi has written over 40 books and 6 novellas. To date, there are more than five million copies of her novels in print. She has been awarded the prestigious Romantic Times Storyteller Award and two Career Achievement Awards. Her books have appeared on the New York Times Best Seller List, the USA Today Best Seller List and the Wal-Mart Best Seller List.
The rights to Ms. Smith's books have been sold to China, France, Germany, India, Israel, Russia and Sweden. Bobbi has also written two faith-based contemporary novels – Haven and Miracles – using the pseudonym Julie Marshall.
Website
Buy the book at Amazon.