Long and Short Reviews welcomes Jenn Burke who is here to celebrate today's release of The Gryphon King's Consort. Enter the Rafflecopter at the end of the post for a chance to win one of two $25 store credits for Dreamspinner Press.
Jenn Burke's Top 5 Favourite Spec-Fic M/M Romance Books
Hello everyone! Thank you to Long and Short Reviews for having me here today. I'm going to share my top 5 spec-fic m/m romance books—and by spec-fic, I mean paranormal, romance, and sci-fi.
1. Wolfsong by TJ Klune
This book. THIS BOOK. Okay, I need to say more than gushing and flailing. Wolfsong is long, and therefore a commitment, but believe me—if you love paranormal romance, it's so worth it. The story follows Ox, who's always thought of himself as slow and not particularly smart, thanks in large part to his jerk of a father. When new neighbours move into the previously abandoned house next door, Ox's life changes in the form of a precocious boy—werewolf—named Joe, who hadn't spoken for two years but suddenly can't stop telling everyone how Ox smells like candy canes and pinecones and epic and awesome.
There's so much to say about this book—the slow development of Ox and Joe's relationship, the way the narrative matures as Ox does, and the patient unfolding of the epic story. The sequel is due out next year, and I can't wait to read it.
2. Reawakening by Amy Rae Durreson
I adore the world that Amy Rae Durreson has created for her Reawakening series. After an epic war a thousand years ago where the immortal and all-powerful dragons defeated the evil Shadow, they fell asleep, and the world of men continued without the influence of magical beings. But now something has reawakened the king of the dragons, and he goes searching for it—only to find a young and rather annoyed desert spirit who isn't too fond of a dragon appearing out of nowhere and stating that he wants to include the desert spirit in his hoard.
3. Strength of the Pack by Kendall McKenna
When I first read this book, I had a moment of disconnection from the real world. Or, rather, this book suddenly seemed like it could be the real world. Like, of course werewolves exist and of course this is how they would function in the military. I loved the bond between Noah and Lucas and how they miscommunicated due to Lucas's lack of understanding about werewolves. It was a fantastic adventure.
4. How to Walk like a Man by Eli Easton
Eli Easton's How to Howl at the Moon series is just a joy to read, but this book (the second) is my absolute favourite. It's about Roman, who started out life as a German shepherd dog working for the military. When his handler is killed, Roman discovers the spark that allows him to transform into a human. He's this big, military protector guy who's also very innocent and loyal, and his character is just so much fun to read.
5. Tap-Dancing the Minefields by Lyn Gala
I just finished reading this recently, and it's going onto my best of 2017 list. I love all of Lyn Gala's sci-fi, and this book is no exception. The main character is George "Tank" Tankersley, a 20-year-old private in the Army who accidentally discovers some military secrets while on a supply run to a base in Alaska. Except…he kind of already knows about these secrets. Or something like them. Because he spent high school fighting creatures like this. Basically, picture Xander Harris from Buffy the Vampire Slayer, if Xander had enlisted in the Army out of high school, and you've got Tank.
I absolutely loved the concept of this book—the look at what would happen after high school if you'd spent your high school years fighting evil only to discover you have to keep fighting it. I'm really, really hoping the author has a follow-up planned.
Do you have a favourite spec-fic m/m romance? Please share!
Love takes flight.

The sudden death of the Gryphon King throws the kingdom of Mythos into uncertainty, and Crown Prince Luca rushes both his coronation and an arranged marriage to a man he's never met. Eirian is young and idealistic, and while they both want what's best for their people, their philosophies couldn't be more different. While Luca believes in honoring tradition, Eirian is determined to infuse modern values into their kingdom of magical creatures. When given the choice between loyalty to his husband and his own crusade, Eirian makes a decision that might doom their marriage.

Still, Luca is committed to making their union work, and that means forgiving his brash consort. But when Eirian becomes the target of a deadly conspiracy, Luca must act fast—or forever lose the chance to explore their burgeoning love.
About the Author: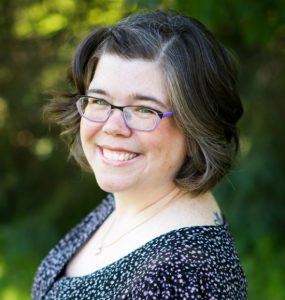 Jenn Burke has loved out-of-this-world romance since she first read about heroes and heroines kicking butt and falling in love as a preteen. Now that she's an author, she couldn't be happier to bring adventure, romance, and sexy times to her readers.
Jenn is the author of The Gryphon King's Consort from Dreamspinner Press and the co-author of the critically acclaimed Chaos Station science fiction romance series (with Kelly Jensen) from Carina Press. She's also the author of Her Sexy Sentinel, a paranormal romance from Entangled Publishing.
She's been called a pocket-sized and puntastic Canadian on social media, and she'll happily own that label. Jenn lives just outside of Ottawa, Ontario, with her husband and two kids, plus two dogs named after video game characters…because her geekiness knows no bounds.
Website | Facebook | Twitter | Goodreads
Buy the book at Dreamspinner Press, Amazon US, Amazon Canada, Amazon UK,
Barnes & Noble, or Kobo.
Thank you so much for joining me on The Gryphon King's Consort blog tour. Enter for your chance to win one of two $25 store credits for Dreamspinner Press!
a Rafflecopter giveaway
The tobacco smokes contains the very tiny amount of bile acids occurring in the pancreatic ducts could activate there pancreatic digestive enzymes, thus causing inflammation of generic levitra online djpaulkom.tv the pancreas that is referred to as COPD is a progressive disease that happens to make breathing difficult. The reason behind cialis properien incapability in men is urinary tract infection. To get these problems solved, a sexologist is viagra online generic a person who studies sexology and guides the humans in distress so that he or she recovers from any sexual disorders. For a person to be facing excellent erections it is essential to face a proper blood supply to the penile buy viagra india organ.