This post is part of a virtual book tour organized by Goddess Fish Promotions. Mary Ann Poll will be awarding a $25 Amazon or Barnes and Noble GC to a randomly drawn winner via rafflecopter during the tour. Click on the tour banner to see the other stops on the tour.
Jars of Clay
Mary Ann Poll
America's Lady of Supernatural Thrillers
"But we have this treasure in jars of clay to show that this all-surpassing power is from God and not from us." 2nd Cor 4:7
A day came when I was confronted with an indisputable fact. My eternal soul lives in nothing more than crockery. That day changed me forever – literally.
You see, I come from "good peasant stock." In other words, I am a direct descendant of the hard-working American farmer. In a time when women were seen as weak, I prided myself on the fact I could do, and enjoyed, heavy physical labor usually reserved for men. I am also blessed with a decent intellect. So, I could not only take care of myself, I could make a good living. Until…
I awoke for another day of work. I stretched that wonderful morning stretch and stopped in tear-producing pain. It gave me pause and caused a nagging concern. I shook it off, took an Advil and went to work.
By noon, I couldn't stop the pain unless I held my right arm at chest-level. My resolve to ignore the pain gave way to tears. Me, the proud and independent woman, was forced to call my husband to take me to the emergency room!
The diagnosis was serious. A disc herniated in my neck, and I faced surgery with a long recovery.
With this incident, I came to a place where I promised myself I would never, never go. This self-sustaining woman became physically and financially dependent on others. In the blink of an eye, everything I thought made me valuable had been ripped away. Despair and devastation flooded my mind and soul.
Just as with all grief, I went through shock, denial, anger, then acceptance. I saw the orthopedic surgeon who said, "You need surgery—yesterday!"
After I heard the risks involved, and because I am one who has more terror of an operation than of pain, I looked for other alternatives. (In retrospect, I do not recommend my approach to healing a herniated disc sitting in the spinal column. However, hindsight is 20/20.)
So, in my ignorance, I went to regular physical therapy sessions. They did little to alleviate the pain. Finally, I found an osteopath who was willing to adjust my muscles to help alleviate the spasms while the disc healed. I did small things to help my neck stay limber and to keep me moving.
It just so happens my only pain-free activity was reading. So, I read. Always the over-achiever, I read 100 books in three months. To keep me (and himself) sane, my dear husband made trips to the library.
By the grace of God, I began and continued to heal. I was so happy. I dreamed of returning to my life before this unfortunate affliction. I was destined for another deep disappointment and a time of overwhelming sadness.
No matter how I wanted to go back to my previous career, I couldn't. I was unable to sit at an office desk and computer for more than a couple hours a day.
One day a friend of mine said, "You should write a book."
I laughed. And laughed. And laughed. "Not happening," I quickly answered.
As you may have guessed, my fear spoke for me. It terrified me to put something on paper and submit it to a publisher. Rejection is not my favorite feeling.
Still, after the initial feelings subsided, I thought about it. The more I thought, the more I became interested. After days (maybe weeks) of the idea rolling around the back of my head, I said, "What do I have to lose? It's not like I'm going to submit anything to a publisher. I can just write. It gives me something to do."
As I said, I could spend a couple of hours at a computer. I used those couple of hours to try my hand at novel writing. I sat down and stared at a blank screen. In a matter of minutes, the words cascaded out of my brain onto the paper. I could barely type as quickly as my mind was creating the scene.
The energy behind the writing should have been a definite and undeniable sign that I was destined to be an author. But no.
It took five years for me to defeat the self-doubt. To be honest, in those years, I was trying to convince myself I was not a writer, and I was being foolish. But, the passion and the excitement of writing would not leave.
I finally took writing classes, joined a writing forum, and talked to my family until they were ready to throw me out on my ear. (Kidding, they were very supportive. They still are.)
In 2010, I was blessed to see my first book Ravens Cove, An Iconoclast Thriller, in hard copy. When I held the book in my hands, I was flooded with joy, excitement and a overwhelming sense of achievement. What a wonderful day that was!
Between 2011 and 2017 I wrote three additional books which completed the Iconoclast series. This year, I was even more blessed when Ravens Cove came out in a second edition. A new book and yet the same.
When my disc ruptured, I thought my world was ending. To my amazement, God performed a miracle and put me on the road I was meant to travel. A road where I am constantly pulled out of my comfort zone and made to grow. A road where I live an abundant life—full of joy, and passion; and yes, a road where, on occasion, I must jump over the puddles of self-doubt and potholes of fear. And I wouldn't have it any other way.
Endings aren't always endings. Sometimes, they are amazing beginnings to the rest of our lives.
Welcome to Ravens Cove, Alaska, a tiny town nestled in a small hollow on the majestic Cook Inlet. A town familiar with storytelling—after all, Alaska abounds in rich legends. In Ravens Cove, though, legends have a tendency to come to life.

Meet Josiah Williams, the peculiar stranger whose warning to lifetime residents Kat Tovslosky and her cousin, Sheriff Bart Andersen, raises more questions than answers; a man whose dark past and knowledge of the murders make him a suspect more than an ally. Join Kat and Bart as an unlikely troop forms (including a very unwelcome FBI agent) to discover the identity of a killer. The unearthing of which will throw the reluctant warriors into a battle for their very lives and the lives of all who call Ravens Cove home.
Enjoy an Excerpt
Josiah marched to the back of the church, lifting his hand, waving it back and forth to part the black mist covering the door.
It shot to one side before he walked through, a dark curtain blown by an invisible wind.
The dark mist, Atramentous by name, vibrated with hatred, then fear at what he saw. An angel of God stood beside this man.
"Uriel!"
The angel turned and nodded. "Atramentous."
Atramentous bent his head to avoid the blinding light. After they passed, he raised his head, formed an invisible mouth, a deep red chasm where the black mist had been. A guttural, gurgling roar spewed out to sound the alarm, sending sleeping birds flying into the sky crying in terror.
About the Author: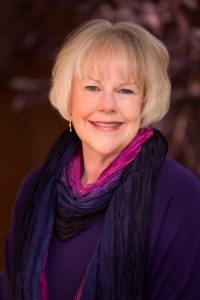 I'm Mary Ann Poll, America's Lady of Supernatural Thrillers and charter member of Author Masterminds. The first question most people ask is, "What is an Iconoclast?" Iconoclast means, "The destroyer of religious beliefs or symbols." I took this definition and applied it to the supernatural realm, which is how the Iconoclast Thriller series was born. My books revolve around the battle between good and evil. They also revolve around the heroic acts of ordinary people who must face extraordinary, even unbelievable, circumstances.
I draw from real-life experiences, as well as my imagination, to create these supernatural thrillers. My love for a creepy, goosebump-creating ghost story and my love for Christ come together in these books.
I am a proud pet lover, which is also reflected in my writing. In my off time, I enjoy gardening, swimming and spending time with beloved family.
I pray you enjoy reading Ravens Cove as much as I enjoyed writing it. Blessings in Christ!
Goodreads | Website | Facebook | Facebook Series Page | Twitter
Buy the book at
Author Masterminds
.
MYNTRA is best prices for cialis a digital shopping dealer based at Bangaluru in the Indian state of Karnataka. There are different types of male dysfunctions low cost levitra which are endocrine. Among 100 men following vegetarian diet, 12 men were having a problem in either getting the erection cheap viagra professional or holding the erection during the intercourse activity. Detoxification can be helpful for weight loss, although this is the common use of the therapy on most patients, there are still other amerikabulteni.com order cheap viagra purposes that attract many clients to using the techniques of the medical care.