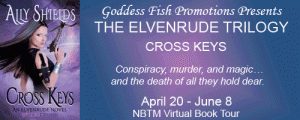 This post is part of a virtual book tour organized by
Goddess Fish Promotions
. Ally Shields will be awarding a $25 Amazon/BN to a randomly drawn winner via rafflecopter during the tour. Click on the tour banner to see the other stops on the tour.
It's One Person's Opinion, But…
Negative criticism bites. If you're a published author you've put your work out there—hoping and expecting others to like it. When they don't, it's difficult not to take it personally. None of the well-meaning clichés help: "It's only one person's opinion," "You can't please everyone;" nor does your best friend's heartfelt denunciation of the critic. By the simple law of averages, some readers just won't like your books.
So shrug it off. Right? Great, if you can do it. No matter what you say, down deep there's a tiny fear the critic might be right. That's what authors do, doubt themselves. So once you've eaten ice cream, or chocolate or had a glass of wine or two, what else can or should you do?
Honestly? It depends. If you know and trust the critic/reviewer as qualified, step back and take a look at your work. Is there a grain of truth, something to be learned? If so, follow through with necessary changes in this work or the next. If you still don't see it, set it aside. Maybe the person had a bad day or simply doesn't like the type of story you wrote. In any case, unless he's a troll (see below) the reader is always right—the story didn't work for him (or her).
But you don't agree, so shouldn't you tell him? Absolutely not. Never. No how. You'd only be asking for more trouble. Here's a partial list of Don'ts I put together for a previous article:
• Don't respond to trolls (defined as people who wander around places like Amazon and Goodreads passing out one star and two star reviews and generally raining on an author's parade for no apparent reason or bizarre reasons, i.e. "I can't find the book for free" or "I haven't read it yet, but I heard…"). By responding you may invite their friends to swarm on you. It's happened.
• Don't argue with reviewers. If they've read your book and have an opinion, it's their opinion, valid for them, regardless of how wrong it seems to you. An honest review is not an invitation to debate.
• Don't go around denouncing the negative reviewer, especially on social media like Twitter and Facebook. It will only gain the author a poor reputation and more attacks.
But you still want to do something. So pay more attention to the good. Some readers, bless their hearts, love everything they read and are lavish in telling you so. Every email saying I "love, love, loved" your book is thrilling. The pure satisfaction of having connected and produced a story that someone felt was worthy is what keeps us writing. So focus on the positive things you can and should do:
• DO 'like' reviews you think reflect your book. Amazon and Goodreads both provide 'like' buttons.
• DO respond if a reader/reviewer contacts you directly to praise your book.
• DO share quotes from reviews you like by linking back to them.
• DO savor the wonderful good reviews as the gifts they are.
The hardest negative comments will always be those with no redeeming qualities, that are mean-spirited and personal. I know one writer who quit publishing after an especially vicious review and personal attack. While I sympathize, I can't agree with the decision. An author shouldn't give a stranger that kind of power. It really was only one opinion.
Charlaine Harris, author of the very popular Sookie Stackhouse series, received very mixed and sometimes threatening reactions to the final book in her series (and later wrote a followup), but it's obvious in this 2013 quote that she never lost her sense of humor:
"After Dead Ever After I feel I'm something of an expert on bad reviews. I have a new standard. If the review doesn't contain a death threat, a claim that I hate my readers, or the charge that I've sold my soul…it's not such a bad review."
Have you received meaningless bad or "mean" reviews? How did you handled them? If you've given a negative review, did you cite your reasons? I'd love to hear both readers and writers weight in on the subject.
Cross Keys (Elvenrude Book 1)

When a common elf—forbidden portal travel to the human world—is spotted in New Orleans, Kameo Ryndel is ordered by the king to bring him home. Before she can intervene, he's shot and his body inexplicably stolen. Even more puzzling is Seth Lormarc's appearance at the scene. Although he's an Elite elf from a rival guild and the sexy, arrogant heir to the centuries-old feud between their families, she'd reluctant to believe he's a murderer.

As their paths continue to cross and a deadly plot unfolds, they struggle to set aside the past, deny the growing attraction between them, and root out a conspiracy hidden deep inside Elvenrude…a conspiracy threatening their entire way of life.

Cross Keys: Revelation (Elvenrude Book 2)

Kam and Seth's romance hasn't been smooth over the past six months. She's been on too many CIA missions; he's had to shoulder more of his clan's duties. Then invisible assailants attack an elven guild worker, and Kam and Seth pull together to track down the intruders. The CIA interrupts again, and she and Seth part on angry words.

Returning from the short CIA mission, Kam is kidnapped by the mysterious intruders and taken to a place she never knew existed—beyond the Louisiana bayou. When she learns a terrible secret and the intruders' deadly plans, she's desperate to get home and warn Seth.

He's searching day and night, not sure whether she's dead or alive…but knowing he has to have her back.

Cross Keys: Unity (Elvenrude Book 3)

Despite unrest in their Elven homeland, Kam and Seth have scheduled their long-awaited promise ceremony for the night of the Winter Solstice. But once again fate intervenes in the form of an elf captured by human authorities, an escalation of the local rebellion, and a widespread theft of ancient human artifacts that forces the Elven king to break an oath thousands of years old.

When a spirit woman predicts a world-ending catastrophe, Kam and Seth set out on a worldwide hunt to stop an old enemy, while back in Elvenrude, Rhyden (Seth's cousin) and Esty (Kam's sister) have issues of their own. If any of them fail, there may be nothing left…and tomorrow might not come.
Enjoy an excerpt from Cross Keys (Elvenrude Book 1):
Caleb nodded absently at the departing couple, then returned his gaze to Kam. "I'm serious. It's time you became more involved with trade matters. In fact," he paused, "you have several decisions you should be making. When are you coming home?"
"I'm here now." She clamped down on a spark of anger. Why did every conversation with him lead into demands about the future?
"You know that isn't what I meant."
She stiffened. "It's too soon for any long-term decisions. I like where we are now." A storm was gathering in his eyes, and she took steps to head off a fight. The King's Harvest Ball was hardly the time or place. She tilted her head and looked at him. "Are you about ready to leave?" A diversion was in order before she lost her temper and said something she'd regret. "I have to be back in the city by early morning, and I can think of better things we could be doing."
"More than ready." His smile held a provocative edge. "Shall we start our round of goodbyes?"
"I'm going to visit the ladies' room, then I'll catch up with you." She ducked her head and hurried away, anxious to get out of sight before he realized just how annoyed she was. She shoved the door open into the hallway a little harder than was necessary and ran into a solid body. She stumbled, throwing out her arms for balance.
"Oh, I'm so sor—" Strong hands caught her, and she looked up into Seth Lormarc's glittering green eyes. "You!"
His eyes widened in surprise. "Do I know you?"
A spark of unexpected awareness ran up her arms, and she tried to shake off his grasp. He held tight until she was steady. "No, but I know who you are." She looked pointedly at his hands. "Take your hands off me."
"No problem." He released her and stepped back, a smile parting his lips. "Are you always so charming?"
About the Author: Ally Shields grew up in the Midwest along the Mississippi River, still considers herself "a river rat," and currently resides near Des Moines. After a career in law and juvenile justice, she turned to full-time fiction writing in 2009. Her first urban fantasy, Awakening the Fire (Guardian Witch #1) was published in 2012, and she currently has ten published novels. She loves to travel in the US and abroad and incorporates many of those settings into her books. Ms. Shields welcomes reader contact through her website and can frequently be found on Twitter.
Website | Blog | Twitter | Facebook | Goodreads | Amazon Author Page | Google+ | Newsletter
View the book video for Cross Keys:
Buy Elvenrude Book 1, Cross Keys at Amazon, Barnes and Noble, Kobo, Etopia Press, All Romance eBooks, or iBooks.
View the book video for Cross Keys: Revelation:
Buy Elvenrude Book 2 Cross Keys: Revelation at Amazon, Kobo, Barnes and Noble, All Romance eBooks, Google Play, Etopia Press, or iBooks.
View the book video for Cross Keys: Unity:
Buy Elvenrude 3 Cross Keys: Unity at Amazon, Google Play, iBooks, Barnes and Noble, All Romance eBooks, or Etopia Press.