Welcome to Garry Abbott, author of The Dimension Scales and Other Stories. Garry is giving away a free copy of the book– just enter the Rafflecopter below.
It's never too late to learn
I've always enjoyed writing. My earliest memory of pride was winning an award for writing when I was at primary school (a story about a dragon if I remember rightly, I wish I'd kept it!). And then as I became an angst-ridden teenager I moved onto song lyrics, poetry and spoof news articles.
As adulthood came along my writing slowed down some, mainly due the freedom of living away from home and working in a job I hated. However, In one form or another I carried on writing here and there, discovering a flair for rhyming children's stories to add to my portfolio (I had one recorded and sold through an online radio-play website – a big boost to my confidence. It's still available now). But then, as my thirties came screaming towards me, I decided to educate myself if I was ever going to break free from the shackles of day-job drudgery.
You see as a teenager I'd never taken to college really, and I'd dodged University all together. I was always bright, but not very applied. More distracted by ambition and independence, not seeing the point of it all. It was only when I was the best part of ten years into a day-job I loathed that I really felt I wanted to learn. I signed up with the Open University (a respected distance-learning University here in the UK) and completed two years of Creative Writing courses, loving every minute of it. Every week was a new challenge, a new prompt, a new approach to experiment with. Every essay was basically just an excuse to write a story, or a script, and I passed the top level available with distinction. And then I ran out of creative writing courses, but I didn't stop there.
I signed up to philosophy and arts history the next year (passing both with distinction) and this year I'm approaching the end of another year of philosophy and a course in social science. When that's all done (in just over a month!) I will have a degree! But more importantly, I have broadened my horizons. Philosophy is great for writers. What character isn't a reflection of the self? Or trying to get grips with their own mortality and morality? That's the life-blood of philosophy, and even some light reading will turn up depths you will start to recognise in your own words and creations (even the nature of creativity itself leads down some mysterious paths!). I would recommend it to anyone. And of course, art history and social science – it's culture, it's the world and how it is constructed. If you are ever dealing with 'big' themes, you are sure to have come across these notions, so studying them in more detail was fascinating.
And all the while I have been writing. Unlike the unfocussed old days, each concept and idea that crossed my mind was getting fully formed into short stories. Before I knew it, a collection was emerging. I started to recognise themes in my own writing and linked them together in places. A body of work, unified by that time of my life was taking shape. After fourteen stories, coming in at just under 60,000 words, I decided it was complete. I arranged professional editing and started approaching publishers and agents. I was lucky to get picked up by the Trident Media Group in a self-publishing partnership who helped get the book formatted and released on all major platforms, and continue to help with promotion and encouragement. Oh, and I finally left my job! Not just for the writing, I professionally compose music too, but the writing is just as much a part of my career now.
And here it is: 'The Dimension Scales and Other Stories' has finally arrived! The book itself is speculative fiction, inspired by the likes of Douglas Adams, Isaac Asimov, Philip K. Dick, and even Roald Dahl (who is the best short story writer in the world – if you only know him for his children's books, look up his adult short stories, they're dark, twisted, and expertly crafted). I hope you take the time to take a look, it only took me twelve years to get around to doing it, but at least I finally realised: it's never too late to learn, and it's never too late to change.
Thanks for reading.
"A theory emerged, with testable predictions, and there, like a candy apple, hung the omega symbol that unlocked it all. He knew what he needed to do…"

Reminiscent of Rod Serling's "The Twilight Zone" and Roald Dahl's TALES OF THE UNEXPECTED, Garry Abbott's THE DIMENSION SCALES AND OTHER STORIES is a collection of fourteen short speculative fictions. THE DIMENSION SCALES is based around themes of malevolent and secret authorities, metamorphosis, survival and projections of contemporary fears into near-future realities.

From worlds inhabited by murderous animals, inept time travellers and clandestine, suburban social experiments—to the sentience, love and moral awakenings of artificial intelligences—THE DIMENSION SCALES invites you to explore the twists and perils of extraordinary moments in disturbingly familiar universes, linked together by one devastating epiphany:

"Something happened, and the world splintered…"
About the Author: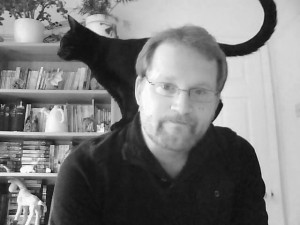 I am in my early thirties, live in Staffordshire with my fiancé and two cats, and I am a self employed composer and writer.
My first collection of short stories 'The Dimension Scales and Other Stories' is available NOW through all the major eBook retailers.
I studied creative writing at the Open University for two years as part of a mixed philosophy/writing BA and recently I have turned to writing professionally alongside my other 'jobs' of composing for commercial and community projects and sound editing.
As a writer my other major achievements to date are an audio recording of my children's story 'The Wrong Jack' featuring Film & TV actor Conrad Nelson, that has been developed into a radio play available for download through 'The Wireless Theatre Kids' website. I've also received several writing credits for episodes of BBC Radio 4 Extra's 'Newsjack' (sketches and one-liners) and wrote a short animation script for a major community engagement project that was produced and continues to be publicly broadcast in film festivals and arts events. I also have a poem included in a new collection 'The Dance is New', available through my page on Amazon.
Thanks for dropping by! To find out more about me and my work you can visit my blog or my website.
Buy the book at Amazon or Barnes and Noble.