Long and Short Reviews welcomes Kate Hill, whose latest book in her Scarlet Nights, Feasting with the Enemy, was recently released. Leave a comment or ask Kate a question for a chance to win a digital copy of Starving Artist, the first story in the Scarlet Nights series.
Kate's been writing for as long as she can remember and has always loved telling stories.
"I still have a box of stories I wrote in elementary school about the adventures of talking fruit and I have several boxes of romance and adventure novels I wrote in my teens," she confessed. "They're awful but I can't bring myself to throw them away. There are too many memories attached."
She's currently working on a romantic comedy adventure about two men who are tracking Sasquatch–they are extreme opposites and are stuck in a tent together. It sounds like it's been a lot of fun to work on!
When she's not writing, she loves to work out and makes time to do so every day–she loves walking, jogging, doing strength training, yoga, and practicing martial arts. She also loves to watch movies, in particular horror and action movies.
"I love horror so much that one of my blogs, The Compelling Beasts Blog, includes regular recommendations of movies I've enjoyed," Kate told me. "I've also interviewed some people involved with two of my recent favorite indie horror movies, Zombie Ninjas vs Black Ops and Tales of Dracula. The blog also features a lot of paranormal books and authors."
If she's struggling with writer's block, the best way for her to conquer it is to put aside the story she's working on and work on something completely different, even if it's just fan fiction she would never show anyone else. If she works on something that's just for fun, it usually gets her creative juices flowing again.
"Who is your favorite author?" I wondered.
"Alexandre Dumas. I love everything about his stories. They have adventure, romance, intrigue, and camaraderie. Pretty much everything I love in a book. Stories like The Count of Monte Cristo and The Three Musketeers I can pick up at any time, turn to my favorite parts and get lost in them just like the first time I read them."
Her favorite character, however, comes from Gaston Leroux's Phantom of the Opera, Erik.
"I've loved that character for ages and while I've enjoyed several movies derived from the book, to me nothing compares to the original," she said. "I have several copies of the book with one that I bought just to highlight my favorite parts and makes notes in the margins. Erik is definitely in my top five all time favorite characters."
As you might expect, Phantom of the Opera and The Three Musketeers feature in her list of book that have influenced her own writing.
"I love writing antiheroes and Erik the Phantom could fall into that category. I also love to include a lot of action and adventure in my stories and The Three Musketeers is one of my favorite action/adventure stories," she explained. "Another book that influenced me was Bloodwind by Charlotte Boyett-Compo. She was the Queen of Tortured Heroes. No one could write them like she did."
Kate tries to write from the heart and not be influenced by whatever is popular at the moment.
"I want to tell my own stories, not try to copy the current trend," she said. "That means I usually only appeal to a small niche, but I'm fine with that."
In addition to her writing, Kate is very excited about the Compelling Beasts Blog she started last June. I asked her to tell us about it.
"I'm a huge fan of antiheroes and antagonists. My favorite characters aren't necessarily villains, but antagonists. I love shades of gray characters and villains turned hero. The Compelling Beasts Blog is dedicated to those types of characters and also to indie horror and action movies, and comic books and novels that focus on action stories, antiheroes and paranormal creatures. If it's dark or supernatural, I like to blog about it or host others who have something to share about that theme."
Finally I asked, "What is the most embarrassing thing your mother ever did to you?"
"I can honestly say that my mother has never embarrassed me, at least not in front of other people. She raised me to be respectful of others and she showed me how to do that by example. That's not to say she isn't the first to tell me if I'm being a jerk, but she does it in private and even now it's usually enough to make me realize that yes, I should probably step back and think about what I'm saying or doing."
After more than a century sharing a bed and fighting at each other's backs, vampire warriors Blair and May have forged an unbreakable bond.Now the mysterious New Reign is seeking additional members. Their philosophy–recruit or destroy. Using mind manipulation, they stir up dark memories from the past to tempt Blair and May into killing each other.

Given the chance to resurrect his murdered first wife and children, will Blair now sacrifice the woman he loves–his wife and blood child, May?
About the Author: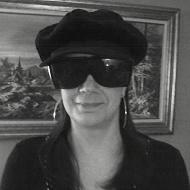 Always a fan of romance and the paranormal, Kate Hill started writing over twenty years ago for pleasure. Her first story, an erotic vampire tale, was accepted for publication in 1996. Since then she has sold over one hundred short stories, novellas and novels. When she's not working on her books, Kate enjoys reading, working out and watching horror movies.
Website | Blog | Compelling Beast Blog | Twitter | Compelling Beast Twitter | Faceook | Goodreads | Amazon Author Page