Long and Short Reviews welcome Jennah Scott, whose latest release Unexpected Vacation was released last month. Leave a comment or ask the author a question for a chance to win a digital copy of the book.
Jennah's been writing for around four years, celebrating her first year of publication this past January. She has written about fifteen books and eleven of them have been published – a mix of full-length, short stories, and novellas.
"Which of the books you've written is your favorite?" I asked.
"My favorite…hmm which child would I pick," she said with a smile. "I think I'll go with Unexpected Vacation. Writing a f/f story was a challenge from a friend of mine. When I started writing it I didn't want to stop. Their story flowed so easily. In fact, I love Haley and Savannah so much they are prominent in the next book as well."
When she was growing up, she wanted to be a teacher.
"I used to set up all of my toys in my room like a class of students. My parents bought me a chalkboard and I had that to teach them with," she told me. "If I remember correctly, my favorite subject to teach was English and Reading."
"What's the weirdest thing you've ever done in the name of research?" I wondered.
"I made my husband help me reenact a scene from Scrap Metal. My co-author wrote the scene, but as I read it I couldn't picture it in my mind. The scene involved the tailgate of a truck with the heroine lying on it. Since I couldn't see how it worked, and my husband has a truck, I made him go outside with me late at night and reenact the positions. For someone as short as I am (only five foot one) the scene didn't work. For my co-writer who's a bit taller it worked, but not as well as she'd envisioned! Needless to say, we rewrote that scene so it would be a little more comfortable for the characters."
With Jennah's work, most of the time the plot comes first. She'll get an idea for a story (Hero/Heroine #1 goes to Fiji on vacation. They want…/ Hero/Heroine #2 are on a mission to find…). Then she fills in the details of the who the characters are.
She calls herself either a plottser or a planster.
"I do both plot and pants," she explained. "When I write I find the story flows better if I have the beginning, middle, and end figured out. But I need the freedom to let my characters fill in the details on how I get to each point."
I asked her to tell us about her next project, and she admitted to having a bad habit of working on multiple projects at once.
"Let's see." She thought for a minute. "I can tell you about my next F/F book. It features Jamie from Unexpected Vacation and Mistress Phoenix. They get the chance to get to know each other in Fiji. I've got to say so far it's one of my favorite books."
The worse problem with starting multiple projects at a time is not being able to decide to work on when she has the time to sit down and write–not to mention that she's easily distracted.
"Some days I'm certain I have the worst possible case of ADD," she told me.
"Do you write in multiple genres or just one?" I wondered.
"I do write multiple genres. I have a 4-part serial novel in the works. Parts one and two are already available. It is a paranormal with a vampire species who live off the emotion of humans—good or bad. Also, I'm working on a shifter story for Decadent Publishing. I'm hoping it will be part of their new Roar line of new adult shifter stories."
Finally, I asked, "What advice would you give a new writer just starting out?"
"The absolute hardest piece of advice I received is the same I share with new writers. Take your time. Publishing is a process full of waiting. You wait to finish that first book. You wait to hear from an agent or editor. After you get your agent or editor you wait for the next step. Nothing rushed ends in good results in this business."
The one thing Savannah didn't plan for on her wedding day was to be left standing alone at the altar. Runaway bride? Try runaway groom.

Haley had planned to stand at her best friend's side through sickness and health, for richer or poorer…not to mention watching the woman she fell in love with marry a man she barely gets along with.

After Savannah's wedding day falls apart Haley has to push all her intimate desires to the side and be the supportive friend she knows Savannah needs. But was suggesting they turn her would-be honeymoon into a vacation to Bora Bora her brightest idea?

When emotions boil over, desires are shared—hello, nipple play and oral teasing—and the sun and sand beckon. And two women discover they need each other more than they realized.

A Romantica® LGBT female/female erotic romance from Ellora's Cave
About the Author: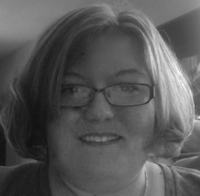 Born and raised in Texas, Jennah is a transplant to Missouri long enough ago she should probably consider that her hometown. But she will forever be a Texan. She loves to write any story that will make a reader smile, laugh, and maybe even cry (although you won't ever hear her admit that she cries). Whether the next story she writes is contemporary, urban fantasy, LGBT, or whatever other crazy idea she comes up with, there will always be love and romance in the midst of trials and turmoil.
Website ~ Facebook ~ Twitter ~ Pinterest ~ Goodreads