Long and Short Reviews welcomes Amber Leigh Williams whose newest release A Place With Briar is now available.
A Place With Briar is the first in a series about Amber's hometown, Fairhope, Alabama–a beautiful small town on the Eastern Shore of Mobile Bay. Ever since she was bitten by the writing bug when she was small, she knew that one day she would write a story about Fairhope.
"Finally, one day, I found the perfect characters and that all-important 'what-if' scenario that clicked nicely with the setting," she told me. "In the book, there are real life places – parks, restaurants, scenic highways…. I even throw in a beach scene. (Fairhope is only a hop, skip, and a jump from Alabama's gorgeous, white-sand beaches.) I threw a few deeper, more personal connections into the book as well. The fact that the hero rides in on a Harley is reminiscent of my own, real-life, motorcycle-riding hero. Though Cole and Briar's characters are not based on my husband and me, the route Cole takes when he gives Briar her first motorcycle ride is nearly identical to the one my husband took me on a few days after we met. It's a very special scene because of that significance, for me."
Amber is pretty sure that the series will consist of four books. She's recently signed a two-book contract with Harlequin Superromance to write the second and third books of the series–that will keep her busy for the better part of the year. The second book is centered around Briar's cousin Olivia, who is another small business owner. She has a tavern on the bay.
"I recently finished revising it for my editor. It should launch in October of this year," she said.
In her writing, she usually starts out with a "what if" scenario, which amounts to the original plot concept.
"For example, in the case of my latest book, A Place With Briar, I thought, 'What if this innkeeper whose mother has just died is losing her family's inn and she falls in love with her latest guest, a man who rides in on a Harley Davidson and carries secrets behind his dark, haunted eyes?' Falling in love with this man she knows little about and who is so obviously troubled is the last thing she needs, but it's inevitable. In turn, what if this man is staying at the inn under false pretenses and he's in league – against his better judgment and perhaps his own will – with the person who wants to take the inn away from the heroine? And yet he can't stop himself from falling in love with his target? It was an irresistible concept and character-driven, which makes it even more compelling to me," she explained. "If my characters don't develop before the plot does, the 'what-if' scenario will usually give me all I need to know to figure out who the hero and heroine are and what their conflict is."
Amber has swapped romance sub-genres quite a bit looking for the right it. The first romance novel she read was romantic suspense and, for years, it was all she read, so it felt natural when she started writing romance to write romantic suspense. Some of her work might include elements of suspense, but she's found that she's not quite able to make the genre work for her voice as a whole. She's tried writing historicals (Regencies and Highland romances are her guilty pleasures to read) and, while she's proud of those books, it doesn't come as naturally to her as contemporary romance.
"Neither does paranormal romance, which I've also tried," she explained. "It was fun, though, and quite the challenge. Many lessons learned there. I thoroughly enjoyed writing western contemporary romance. I love me some hot cowboys! When I finish writing my hometown series, I plan to approach this sub-genre again and write another cowboy trilogy. This one will be set in the Black Hills of South Dakota, whereas my previous western titles were set in West Texas."
"What, in your opinion, are the most important elements of good writing?" I asked.
"Reading is so personal; it's meant to be so many people will differ in their preferred elements to a story. However, good fiction needs plot. If there's no plot, the story backpedals. I think it was J.R. Ward who said, 'Plots are like sharks. They keep moving or they die.' This leads to conflict. Great conflict is the most essential element of any story. A relatable protagonist is the second most important element of good storytelling. For me, though, I simply cannot finish a book without at least a dash of romance and some kick-ass dialogue! I'm a fan of both writing and reading dialogue, particularly the tension-fueled sort between a hero and heroine in a romance novel," she said with a smile.
Amber is trying to find time between her deadline and being a mommy to a beautiful, rambunctious toddler to read the Outlander series in its entirety.
"I read the first book for the first time last year and was blown away. The problem is that the books are SO absorbing. I get lost in them. So I definitely can't be either writing or mommying when I pick one up. And these days if the little one is down for a nap or goes to bed early, I'm jamming as much writing as I can in or taking advantage of the down time with my husband. Very little time to get thoroughly lost in the reading world," she told me.
Amber has been writing since she was in the third grade–starting out with very short plays based on whatever she was reading at the time. Then she started writing short YA novels about witches in everyday life before crossing over into some mystery. Slowly, the mysteries were taken over by the dating lives of her characters. It was around this time that Amber read her first romance novel.
"I knew instantly that that was my calling," she said. "Once you're bitten by the writing bug, I don't think you ever can stop being a writer. You just have to find your writing niche and your voice."
"Can you tell us about your writing space?"
"It's a small sitting room off the master bedroom. This room was why my husband and I chose to live here originally because it was the perfect writing cave. It has big windows on one wall that face east so there's plenty of sunlight in the morning when I need it for motivation. There's a birdhouse just outside it so in the spring I get to see birds nesting. My husband put his excellent carpentry skills to use shortly after we moved in and built me some impressive book shelves that take up another wall. The desk is wide, which is good because I thrive in clutter and there's plenty of space to put it. There's also a smaller bookcase my grandfather built and a painting he bought when he attended the International Educational Film Festival during the bicentennial. I thought seriously about becoming an educator myself before I decided to become a full-time writer. It's a nice link to have with me every day while I'm writing, especially since he passed away before I was born. And, of course, there are the pictures of my husband and my son, which make up the rest of the space. They're my favorite part of the room."
"What would you say is your most interesting writing quirk?"
"When I had a better metabolism, it was snacking. Constant snacking and refueling because writing for me is adrenaline-based. Particularly when I'm free-writing, which I did a lot of when I first started writing romance. When I was up against a deadline, I would spend huge blocks of time at the computer. Seriously, I wouldn't look in a mirror until I was done. Which is really bad when you have a habit of dragging your hands through your hair when you're stressed…like I do. When my husband came home on these days, he would be greeted by a frenzied woman in rumpled pajamas with a hairstyle not unlike Tawny Scrawny Lion's. Chapstick is still another writing quirk of mine. I bite my lip a lot when I'm trying to work out plot kinks so chapstick is a necessity."
Amber told me that she's written more books than she can count, but she's published a romantic adventure, a romantic suspense, one historical romance based in World War II–which was nominated for our Best Book of 2009 contest–three western contemporary romance novellas (one of which placed first in the novella category of the More Than Magic Contest), and her new Superromance series.
"I can honestly tell you that I do not have a favorite book…though A Place With Briar comes very, very close because of its connections with my personal life."
About the Author: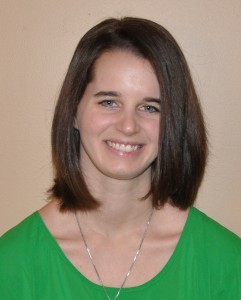 Amber Leigh Williams lives on the Gulf Coast. A southern girl at heart, she loves beach days, the smell of real books, relaxing at her family's lakehouse, and spending time with her husband, Jacob, and their sweet, blue-eyed boy. When she's not running after her young son and three, large dogs, she can usually be found reading a good romance or cooking up a new dish in her kitchen. She is represented by Joyce Holland of the D4EO Literary Agency.
Website ~ Twitter ~ Facebook ~ Blog
He's in some serious trouble….

Cole Savitt does not want to deceive Briar Browning. But if he hopes to see his son again, he has to find the weaknesses in her charming bed-and-breakfast, then get out of town fast! But the quaint inn isn't the only thing charming him….

Cole's straightforward plan becomes anything but when he begins to fall for the beautiful innkeeper. Suddenly everything's on the line—his future with his son, a chance at happiness and the love of a good woman. Cole must rethink his priorities…and the stakes have never been higher.
Buy the book at Amazon, Harlequin, or Barnes and Noble