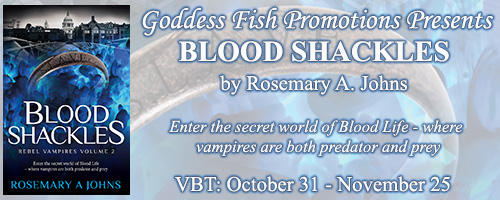 This post is part of a virtual book tour organized by
Goddess Fish Promotions
. One randomly chosen winner via rafflecopter will win a $50 Amazon/BN.com gift card. Click on the tour banner to see the other stops on the tour.
Inside the Mind of a Slave – This is No Bridget Jones' Diary
'Maybe you won't even read this. Why would you? I'm only a slave now. What difference could my thoughts make?'
Blood Shackles (Rebel Vampires Volume 2)
http://viewbook.at/BloodShackles.
Firstly, thanks for having me on your site!
Blood Shackles – the second standalone book in my new fantasy series Rebel Vampires – is written as a slave journal. I had to research and fight to get inside the mind of a slave. How to train one. Break one. And then how to come out the other side.
Rebel Vampires is set in a divided supernatural world. In a hidden paranormal London there are both Blood Lifers (vampires) and First Lifers (humans). But there are no good guys or bad. And it's not at all clear who the monsters are.
Because in Blood Life the vampires are both the predator – and the prey.
Rebel Vampires is a fantasy series for adults, where death drives desire and the love is painful, passionate and true to the end – even if that's the end of the world.
Light is the British Rocker vampire with the photographic memory.
In Blood Dragons, Light is caught between his century old love for a savage Elizabethan Blood Lifer and his forbidden human lover.
Blood Dragons is out now (e-book and paperback).
Light writes a memoir to the human lover, who he's stayed with for over fifty years and now has dementia. She can no longer remember their love – just as he can never forget.
For Blood Shackles I needed something different. Just as compelling. Gripping. But Light's no longer a wild Blood Lifer in the glory of the night.
The secret human Blood Club has abducted, defanged and enslaved Light. Like Taken. But with vampires. The conspiracy behind it, which threatens Light's entire species? You'll have to read Blood Shackles to discover the shocking truth.
Light is chosen by Master's commanding daughter – Grayse – like she's choosing a new puppy in the pet shop. And then she gives him a burgundy journal and pen.
That's the start of The Slave Journal of Light.
 'So, dear Reader (because I know you're reading this, there's no use pretending otherwise), did you reckon giving me this poncey journal – all softness and stink of leather – would make me spill my Soul? You already have my body. You think you have my mind.

My thoughts, however..? They're my own.
Write in it every day, you'd ordered, with that little smile.
What do you think this is: Bridget Jones's Diary?'
Blood Shackles (Rebel Vampires Volume 2)
http://viewbook.at/BloodShackles
Writing a novel as a journal allows it to be direct. Immediate. And to play games.
Hands up. There's more going on than just a vampire romance and thriller. Although it's that too. Light discovers love and family for the first time in 150 years and battles to set them – and his whole species free.
Spartacus has nothing on him.
But a reliable narrator..? I'll leave this thought with you…
 'Now my life has narrowed, until there are no choices. Only obedience.
Survival though, that's a choice. Adapting.'
What would you do – say – to survive? To save those you loved? Or your world? What does freedom mean… until you lose it? And what is love? How much of what we say or think is real? Or is the truth only shown in our actions?
If you knew your most private thoughts were being read by your captor, how would that change what you wrote?
'So, I guess you did read my journal then?
The look on your mug this evening when…
I noticed the journal had been straightened on the crochet table. It's not like I leave anything straight, is it? Because rebel here, yeah?
I knew you'd read my pissed off ramblings, when you tossed the black jeans and t-shirt at me, before slamming down a cup of blood and banging out. Not a single glance at me. Not one word.'
Yet as Light says:
'I forget you'll see what I write.
It's like there's you and then there's Reader you.
It's so much easier to spill my guts to Reader you because with her there's no consequences. We have an understanding: what happens in this journal, stays in this journal.'
Light uses the journal to bridge the gap between slave and mistress. To have a voice. When he's been silenced. And Light? Not a bloke to be silenced.
Yet in a journal lies danger. When Grayse demands honesty from Light? She gets it. But who can face the flayed truth without flinching?
'You lowered yourself to your knees, before grasping my chin. 'Tell me.' When I simply stared at you, your mug hardened. 'I don't care about the… But you've gotta be honest with me. That's non-negotiable – honesty.'
Alright, sweetheart, so that's what you want? Because there's a cost. To know what I am, underneath the labels. To see the Blood Lifer beneath the skin. You're not ready yet to hear who your family are beneath their skin. Not without me being the one who pays for it.
I'll tell you about the blood then, before my fifty years of abstention. That'll give you an intensive course in honesty.'
Blood Shackles takes you inside Light's mind. But his Soul will never be a slave's. And remember – this isn't Bridget Jones' Diary…
WELCOME TO THE BLOOD CLUB

Light is a Rocker Blood Lifer with a talent for remembering things. He's meant to be the predator. It's been that way since Victorian times. But not now. Not since someone hunted him. Enslaved him. Ripped out his fangs. Who are these ruthless humans? Who's their violent leader? And who betrayed the secret of the Blood Lifer world?

WHERE THE PREDATORS

London, Primrose Hill. Grayse is the commanding but alluring slaver's daughter. The enemy. She buys Light, like he's a pair of designer shoes. So why does Light feel so drawn to her? Especially when his family is still in chains. Will he risk everything – even his new love – to save them?

BECOME THE PREY

Does a chilling conspiracy lie behind it all? A stunning revelation leads Light to an inconceivable truth. If he can face his worst terrors, he can save his family and his whole species from slavery.

Maybe he can even save himself.

The third book in the series, BLOOD RENEGADES, will be out Spring 2017
About the Author:
ROSEMARY A JOHNS is a traditionally published author of short stories under the name R. A. Johns. She is the author of Blood Dragons the compelling first instalment of the Rebel Vampires series.
Rosemary A Johns wrote her first fantasy novel at the age of ten, when she discovered the weird worlds inside her head were more exciting than double swimming. Since then she's studied history at Oxford University, run a theatre company (her critically acclaimed plays have been described as "uncomfortable, unsettling and uneasily true to life"), and worked with disability charities.
When Rosemary's not falling in love with the rebels fighting their way onto the page, she heads the Oxford writing group Dreaming Spires
Goodreads | Website | Facebook | Twitter | Pinterest | Google+ | LinkedIn
Want more questions and debates about Rebel Vampires? Visit for free Questions for Book Clubs.
Blood Shackles is out now at the promotional price of $0.99 – click here
Want to read Blood Dragons first? Click here.
Sign up to Rosemary A Johns' VIP Email Newsletter with news of hot releases, promotions and the free short story "All the Tin Soldiers"