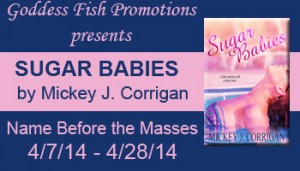 This post is part of a virtual book tour organized by
Goddess Fish Promotions
. Mickey will be awarding to one randomly drawn commenter during the tour a download card for SUGAR BABIES (US ONLY – international winners will receive a digital copy of the book). Click on the tour banner to see the other stops on the tour.
In Their Shoes: Would YOU be a Sugar Baby?
Recently, I was asked the following question: Would you have considered being a sugar baby as a college student? Why or why not?
This is such an uncomfortable topic for a guest blog! But an intriguing question.
When I was in my late teens and early twenties, I was a feminist. No bra, no desire to wed, no kowtowing to men. But I was also inexperienced sexually and a bit of a prude. So the answer is no, I would not have considered funding my education with sex. But at the time, I didn't have the sexual confidence to take on the persona of a sex kitten who charges older men for party favors. My self-image would have influenced my decision back then. That, and my Catholic upbringing!
When I got out of college, I owed $2500 in student loans. I instantly secured a job in my field, one that did not depend on my looks or feminine wiles. I paid off the loan within a year, while living on my own in a big city. I had lots of sex, but nobody paid me for it.
But that was then. What about now?
If I graduated last year, I would probably have ten times the debt. The average student owes $25,000 when they leave university. And most new graduates cannot find a job in their field of study. Many are underpaid and underemployed. Meanwhile, unpaid debt mounts until it becomes overwhelming.
Would I consider being a sugar baby under those circumstance? Yes, I might. Desperation can realign one's social and moral values. Plus, the era is very different now. Sex is expected on dates, but the male is not expected to pay. College students often split expenses for dinner or entertainment. If a girl is going to "give it away for free" on a date, she might be able to justify getting paid for those same acts if she's swimming in debt. And drowning in bills. And barely able to stay afloat.
So I do understand why today's coeds are opting for the lucrative ease of professional girlfriend jobs. You work for yourself, you set your own schedule, the hours are minimal. It can seem like an exciting life, hanging out with rich older men who take you to expensive restaurants and clubs, maybe pay for you to travel with them. You get to dress up, go to places you could never afford on your own. Plus, the money is good. Very good.
Still, soft prostitution is not a healthy choice for a young woman. The smell of trading sex for money lingers. And the sugar world can be dangerous.
So I don't think I'd actually do it. I don't think I would ever make the choice to be a sugar baby, no matter how heavy my debt load. I'd find other ways to fund my lifestyle. But maybe that's easy for me to say since I am not in their shoes.
You can read Sugar Babies to find out what I discovered about this booming economic subculture.
A sugar daddy can make your money woes disappear. But for sugar babies, life is like a chocolate-covered time bomb: sweet on the outside, deadly on the inside.

Young, beautiful, and hungry, Esme, Maire, and Niki want what every woman wants: love, work, safe shelter, the bills paid off, a diamond-studded Rolex and a two-bedroom condo with an ocean view. Working as sugar babies seems to be the only way to make this happen. But the sugar life is more dangerous than they thought.
About the Author: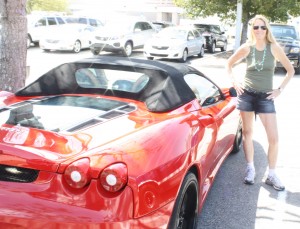 Author Mickey J. Corrigan lives and works and gets into trouble in the lurid tropics of South Florida, where sugarbabies are as common as gators, skeeters and snowbirds. Other titles include the novellas Geekus Interruptus, Dream Job, Professional Grievers, and Me Go Mango. Sugar Babies is her first novel. Visit her at: www.mickeyjcorrigan.com or on Goodreads. Buy the book at Amazon, All Romance eBooks, or Champagne Books.