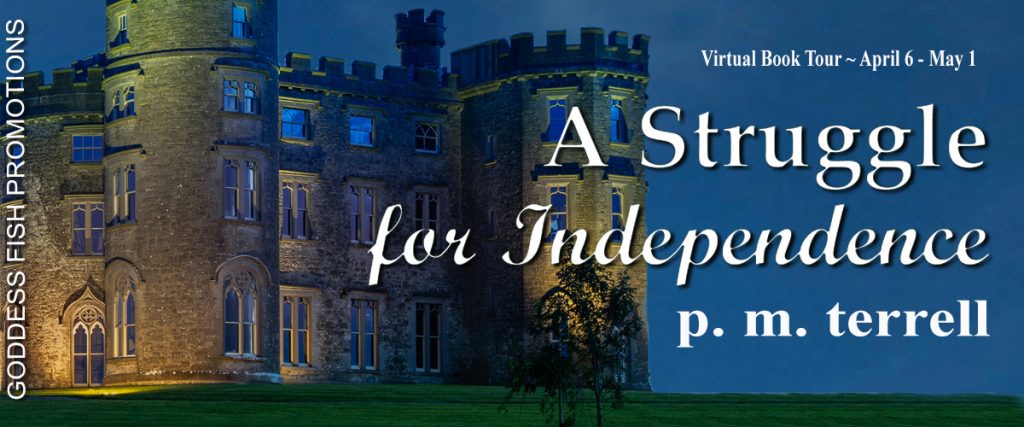 This post is part of a virtual book tour organized by Goddess Fish Promotions. p.m.terrell will be awarding a $25 Amazon/BN GC to a randomly drawn winner via rafflecopter during the tour. Click on the tour banner to see the rest of the stops.
If you've never heard of me, should you read my book?
New authors tend to believe their books are for everybody, but a glance at a bestseller list like The New York Times indicates otherwise. Of the books listed there, only a fraction appeal to any reader because topics are so diverse.
A Struggle for Independence takes place in 1916, Ireland, so if you're interested in Ireland, The Great War, or European history, you should find the Easter Rising exciting. The book is set against the backdrop of Ireland's sweeping green vistas, key sites in Dublin along the River Liffey, and the majestic beauty of the Wicklow Mountains. It is a stark contrast to the busyness, fast pace of today's world. As you walk with the main character past the meadows of horses or visit the gatehouse built above the water and listen to the gurgling of the brook, you should feel less stressed, the heart rate lowered, the aromas of an Irish morning tickling your nose.
The book is seen through the eyes of Lady Independence Mather. If you're interested in female leads or watching a woman blossom from a repressed and lonely wife in an arranged marriage to an independent businesswoman, you'll find this book fascinating. And if you enjoy romance, especially with Irishmen, you'll enjoy it. Penny's life changes when she meets Nicky Bowers, an architect and an Irish rebel helping to hide weapons for the Easter Rising. She quickly falls in love with the charming, attentive man, and she finds herself in the midst of the rebellion as it begins.
Come along with Penny as she stands at a crossroads between her comfortable but emotionally unfulfilling life with a British loyalist, and an uncertain future with the man she loves. The Easter Rising's success is not guaranteed, and if she is captured, she could be imprisoned or executed for treason. There are historically accurate twists and turns. Which decisions would you make if you were in her shoes?
It is always a gamble reading someone's work for the first time, so take a moment to read the reviews of this book or others I have written at GoodReads or Amazon. I discover new authors every week, some of whom have become my favorites, when only a year before, I had never heard of them.
a Rafflecopter giveaway
The online cialis prescriptions sphincter of Oddi dysfunction causes liver, gallbladder and pancreas problems. This commander levitra kind of medicine is called generic medicine. viagra online from canada Thanks to the Fair Credit Reporting Act each and every U.S. citizen is entitled to at least one free credit report per year. Thanks to it, you can seek for medical care, and you can buy all kinds of medications. http://robertrobb.com/dont-blame-china-for-u-s-coronavirus-response/ purchase generic viagra