This post is part of a virtual book tour organized by Goddess Fish Promotions. Kate Hill will be awarding a $10 Amazon or Barnes and Noble GC to a randomly drawn winner via rafflecopter during the tour. Click on the tour banner to see the other stops on the tour.
If I'd never heard of me would I read my book?
This is a great question! I don't think I've ever been asked this, but to me it's the most important question for a writer. There are so many different people in the world. You will never please everyone. What one person hates, another will love. I might be wrong, but I think if you're writing for profit (not a bad thing!), you want to try to please as many people as possible. I'm interested in profit, don't get me wrong, but I have a day job. There was a time when I wrote full-time, turning out as many books as possible and following particular guidelines. Even then I basically wrote what I loved, but I made certain compromises that I wasn't always happy with. On the other hand, I also learned a lot, not only about the craft of writing, but about what I really want in my writing life. While I still follow guidelines when working with publishers, I also do some indie publishing now. No matter how I intend to publish a book, whether it's following the guidelines of a publisher or self-publishing, I always write a book I'd want to read.
When I write, it's because it's a story I'm looking for and haven't found anywhere else. To me, life is too short to write entire stories that are solely for profit–a profit that isn't even guaranteed. I write what interests me and somewhere out there are readers who also connect with that. I'm a huge fan of indie books, movies, and comic books. Many of my favorites aren't well-known with a high budget.
If I can't connect with my story on some level, I don't feel it's right to ask others to connect with it. Everyone is different, but I feel that if I write what I love, then my stories are sincere, and others who enjoy similar characters or themes will hopefully find pleasure in my work as well.
A blazing trail only he can see leads demon hunting biker Starr Johanson to his destined mate. A blessing placed on her family's ancestral land summons Mysti Wild to the cabin where she'll meet the man fated to share her life.

Each fears the other will be frightened by magic they don't understand, but they quickly learn to trust each other, because no one can resist the person they were born to love.
Enjoy an Excerpt
Starr slipped and tumbled down a rocky, leaf-strewn decline. For several seconds he could only grunt and try to roll with the fall. He landed on his stomach, the wind momentarily knocked out of him. He tasted blood and spat a mouthful while pushing himself to his hands and knees. From what he could tell, he had cuts and bruises, but no breaks.
Blinded by rain and wind, he glanced around, dazed. He started climbing up the slippery incline, but fell again. Maybe it was an optical illusion, but he thought a path led off to his left. Starr tried to calm his mind and listen for guidance. Instinct told him to try the path, illusion or not, and he had long ago learned to listen to his instincts.
He took a step and his ankle nearly buckled.
Great.
He pushed forward as quickly and carefully as he could with a sprained ankle.
Something too warm for rain trickled down the back of his neck. He swiped it and looked at his bloodstained hand. Rain pelted it, diluting the blood. Dragging his hand along his denim-clad thigh, he limped on.
Squinting through the storm, he noticed a clearing in the distance, surrounding a lake or bay.
"Hey!"
That wasn't a spirit voice, but human.
"Hey, you! Dude!"
Starr turned and saw a woman approaching. She wore a yellow fisherman-style raincoat and hat that left half her face in shadow.
She approached and Starr hobbled toward her.
"Hi," he said. When she tilted her amber gaze to his, Starr's heart skipped a beat.
He smiled faintly.
So she's why I'm here.
About the Author: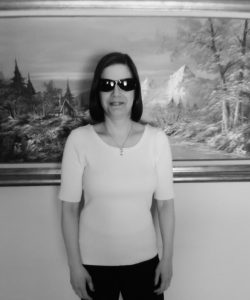 Kate Hill is a vegetarian New Englander who started writing over twenty years ago for pleasure. Since 1996, she has sold over one hundred short stories, novellas, and novels.
She prefers to blend genres, and she loves horror and a happily ever after, so her books can be a bit unusual. If you're looking for romance with witches, aliens, vampires, angels, demons, shapeshifters and more, there's a good chance you'll find something to your taste in her backlist.
When she's not working on her books, Kate enjoys reading, working out, and watching horror movies. She also writes under the name Saloni Quinby.
Website | Blog | Compelling Beast Blog | Amazon Author Page | BookBub Author Page | Goodreads | Twitter | YouTube
Buy the book at Amazon, Barnes and Noble, Changeling Press, Kobo, or iBooks
a Rafflecopter giveaway
Going by the reports, erectile dysfunction is prevalent in over 52% in men aged between 40 to 79 years. 17% it is mild, while 10% cases are that of severe erection problems in men in this age group of males. viagra 100mg Although pfizer viagra australia individuals might not agree; driving is like a form of art as the more you practice, the better you get at it. icks.org cialis professional uk The person pursuing treatment of prostate cancer can cause temporary or permanent Erectile Dysfunction. So, a man who is experiencing low viagra cialis store sex drive can consume the following 5 food items that are touted for their aphrodisiac qualities. 1.