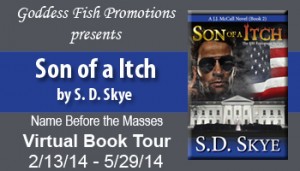 This post is part of a virtual book tour organized by Goddess Fish Promotions. S. D. will be awarding a Kindle Fire HD and a $25 Kindle Gift Card to a randomly drawn winner during the tour (US ONLY) via the rafflecopter at the end of this post. Click on the tour banner to see the other stops on the tour.
How to Handle Negative Criticism: My Advice for New Writers
Looking through the blog topics I thought I would combine two topics because this is a sore spot for many new authors. It certainly was for me. When I finally got the nerve up to write my first novel, after 40 years of denying my inner writer, you couldn't tell me that everyone in the world wasn't going to not just LIKE my work, but LOVE my work. You couldn't tell me that I wasn't going to be an Oprah Book Club pick and a New York Times Bestseller. I had somehow managed to convince myself that I was the most talented author who'd walked the Earth. After all, I had accomplished a feat that had only been done 129 million times before.
Oh, what a rude awakening I was in for. After 4 months of writing my first book and holding that utterly brilliant first draft in my hands and preparing to enter it in the Amazon Breakthrough Novel Award contest (otherwise known as the Amazon Novelist Nervous Breakdown Award contest), I had not one freaking clue that people would not only NOT like my work, but some would claim to hate it. I had no idea that there were people who would not only be so cruel as to criticize my baby, but to do it with the mercy of a Nazi war criminal. And I certainly didn't know that there'd be a legion of trolls out there who drew the blood of life from their mission to heartbreakingly diss and dismiss every piece of literature written by man, even if they hadn't bothered to read it.
I was clue-LESS.
After spending many nights dousing myself in Grey Goose vodka while curled up in the fetal position, wondering how I would collect the scattered pieces of my courage together to attempt to write another book, I came up with the answer of all answers to deal with this paralyzing issue for writers. No, the answer is not to go on Amazon and gleefully vote down bad reviews with GUSTO and FERVOR (although I did that). No, the answer isn't to get in Internet feuds with the offenders (I was lucid enough not to go there).
No, after some time, deep thought, and consideration, I finally came up with ONE answer that worked.
I GOT OVER IT!
Yep.
I got over myself, my ego, and my excessive expectations and I moved on with life. The epiphany came to me one day while standing in front of my book shelf. There are SCORES of half-read NY Times Bestsellers and other Big Six-published books that remain half read on my shelves. I'm an avid reader and I certainly have not LOVED every book that I've picked up and paid my good hard-earned money for. Some have been downright disappointing. So what in the world makes me so special that someone could not deign to dislike one of mine…for whatever reason? It hit me just like that.
At the end of the day I realized there is a fine line between reality, criticism, and the truth. Even if delivered in a snotty tone, the most scathing of reviews will hold a few grains of truth. I take what I need to make my books better and use it…and the rest I delete from my memory (sometimes after a shot of Grey Goose). It is the criticism that you learn from that will make you a better writer. Praise will never make you better. Praise will affirm you are a good writer but it won't make you better. And false praise is the most damaging thing that could ever happen to your career because you won't strive to become a better writer, even though you may be writing crap.
And I've written my share of crap. The first draft of my first book was crap and deserved every ounce of criticism that it received. Thank God, I got over myself. Thank God, I used the criticism to make it better. It's criticism, not praise, that helped me get my first book deal.
No, you don't have to like criticism. But if you can't learn to accept it and move on without being paralyzed by it then you are in the WRONG business. Take up knitting or ping pong because writing is not your forte. Learn to recognize helpful criticism, even in the most scathing of reviews. There is no better way to handle negative criticism than to take what may be meant for your harm and turn it around for your good!
On the lam from the FBI, the ICE PHANTOM continues with plans to defect to Moscow but not before seeking revenge on J.J. McCall. Meanwhile, the FBI commences Task Force PHANTOM HUNTER, a team ordered by Director Russell Freeman to track down suspected Russian illegals within the U.S. Intelligence Community—and not a moment too soon. An agent of the Russian Intelligence Services is targeting the nerve center of U.S. national security, taking the lie-detecting FBI Agent and her cohorts' next mole hunt to the highest echelons of the U.S. government.

J.J. and her co-case agent lead the motley crew of spy catchers while she struggles to deal with sobriety, conflicting feelings for Tony and Six, and an egotistical Secret Service agent whose jurisdictional stonewalling complicates her every effort to identify the culprit before he gets away—with murder.
Enjoy an excerpt:
Exactly three moments defined the entire course of J.J.'s being —the day she got "the itch," the generational curse that sparked random irritating tingles through her body anytime she heard a lie; the day her mother died; and this one, the day in which she grasped the fragility of life and how it could slip away in an instant.
The ambulance siren blared down Pennsylvania Avenue through the remnants of rush hour traffic as she stared down at his tearful eyes, his face shredded with pain, his body curled with anguish. Slowly, his lids opened to expose a bloodshot blank stare. She saw her mother's eyes in his, and his last breath whispered in the distance, drawing ever near.
"I'm here. You're going to be okay. We're almost there," she said as her voice shook.
George Washington University Hospital was just a few minutes away and had one of the best trauma centers in the D.C. area.
He placed his trembling hand on hers and struggled to speak. "There…something…you should…kn—"
"Shhhh. Save your strength," J.J. shook her head to dissuade him from speaking. She stroked his fingers and tried to maintain a steady front. "You're gonna be okay. You can tell me everything when you're better."
Her mind whirred as the ambulance zipped into the circular driveway beneath the overhang and masked emergency personnel in blue and green scrubs swarmed the doors. They pulled the gurney out and wheeling him inside, beyond her view. She'd never felt so alone in her life. She had calls to make, people to notify, but her mind was still foggy from the shock.
She searched her purse for the flask, the reminder of just how far she'd come and how much further she had to go.
ABOUT THE AUTHOR: S.D. Skye is a former FBI Russian Counterintelligence Program Intelligence Analyst and supported two major programs during her 12-year tenure at the Bureau. She has personally witnessed the blowback the Intelligence Community suffered due to the most significant compromises in U.S. history, including the arrests of former CIA Case Officer Aldrich Ames and Robert Hanssen. She spent 20+ years supporting military and intelligence missions in the U.S. Intelligence Community.

Skye, an award winning author, is a member of the Maryland Writer's Association, Romance Writers of America, Sisters in Crime, and International Thriller Writers. She's addicted to writing and chocolate—not necessarily in that order—and currently lives in the Washington D.C. area with her son. Skye is hard at work on several projects, including the next installment of this exciting series.

Blog: www.authorsdskye.com

Facebook: www.facebook.com/authorsdskye

Twitter: www.twitter.com/sdskye1

Buy Links

S.D. Skye Novels on Amazon – Kindle and Paperback

http://www.amazon.com/S.D.-Skye/e/B00AMAUFK8/ref=ntt_athr_dp_pel_pop_1

S.D. Skye Novels on Kindle – Worldwide Links