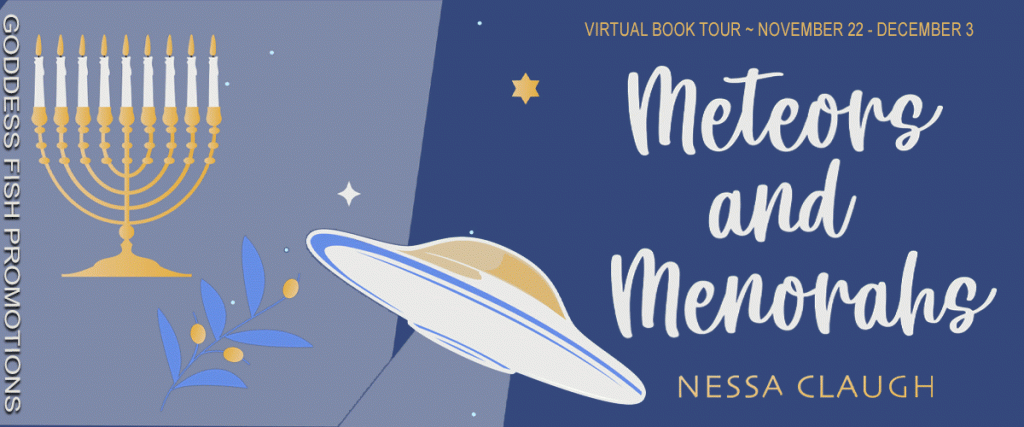 This post is part of a virtual book tour organized by Goddess Fish Promotions. Nessa Claugh will be awarding a $25 Amazon or Barnes and Noble GC to a randomly drawn winner via rafflecopter during the tour. Click on the tour banner to see the other stops on the tour.
I Made My Ideal Writing Space
Having a writing space can be an absolute luxury, and I'm extraordinarily lucky that my house has a weird tiny room that I was able to convert into an office. For me, an ideal writing space has to be quiet, and having a door that closes can do that. I've written in long closets or my car before to get some peace, so I know you have to make do with what words for you. My office shares a wall with my bathroom and closet, so the only time I get any noise in there is when someone is using the shower.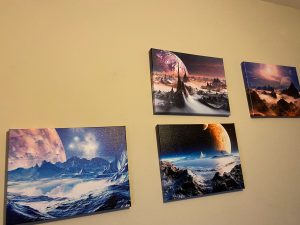 Some people prefer a minimalist office space with no distractions, but my office is really the only place I have to store the books and some of the art/posters I've picked up over the years. I try to stick with pieces that get my imagination going, so I have a large framed Dinotopia print repping my love for fantasy (and the weredinosaurs from my DINOSAUR SHIFTER ISLAND series), a few prints from Chad Wehle, and a set of science fiction concept art canvas prints. A few other pieces of art stick out; a Frankenstein quote, a poster from the Studio Ghibli film Spirited Away, and prints and originals from R. Wayt Smith.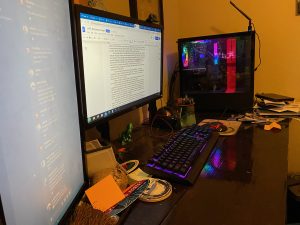 I built my computer myself and keep it very organized so I'm not getting distracted by a bunch of random stuff on my desktop. The lights on the keyboard and interior of the case let me change the lighting to suit my mood, which is kind of fun depending on the scene I'm writing.
I keep a number of reference books on general writing and research I've had to do for different projects, and I might be a little bit of a book hoarder.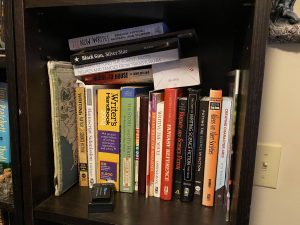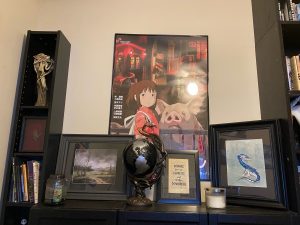 One thing that's also helped with keeping a good writing space is minimizing everything that could be a distraction while I'm trying to write. Social media and the internet are great things for research purposes, but they can also be huge distractions. Free programs like Cold Turkey can shut out access to every other program on the computer until you reach your word count. It's mean, but it works. If that makes you anxious, you can use an application like Write or Die, which tries to eliminate writer's block by providing consequences and rewards.
Music also helps set the mood. Whether you're using a surround sound speaker system, headphones, or just a pair of desktop speakers, having the right musical ambiance can really help get the creative juices flowing. I prefer music from Spotify that either doesn't feature English so I'm not getting caught up in the lyrics or something completely instrumental. They have a lot of curated options, so whether you're looking for space synthwave for writing those nifty galactic exploration scenes, bedroom music to match those sultry scenes that may not actually be taking place in a bedroom, or explosive background music for those fast-paced chase scenes, it's a free option that can help you really sink into the scene.
How you set up your writing space is up to you. Whether you're frantically scribbling words on a notepad in your car on your lunch break, settling into your job as a full time writer in your office at home, or like me you're sneaking words into a Google Doc while trying to maintain your day job, the important thing is that you're writing. You're creating stories, and only you know what's going to work for you. So play music or write in silence. Handwrite in a notebook, type in Google Docs, or write in Vellum.
Just write.

'Your dad invited your ex-boyfriend.' Already committed to going home for Hanukkah, Leah panics at her mother's text and invites her crush to come with her. The catch? They aren't dating. The other catch? He isn't Jewish. He isn't even human.

Knar has been studying the physiology of humans for years in preparation to introduce Earth to the rest of the galaxy and present them as a species that can adapt to change well. Although he believes in his mission, he's also had his eye on his coworker Leah, and her invitation to come home with her for the holidays is just the opportunity he's been looking for.

Going home for Hanukkah is normally the least of Leah's worries until her mom lets it slip that her dad invited her ex-boyfriend. Desperate to keep him at arm's length, Leah invites her handsome coworker Kenneth Knar to be a buffer against her family. Having to pretend he's her new boyfriend doesn't hurt, and if it annoys her parents, all the better.

He just has to find some way to tell her that he's more than just a gentile. He's not even from this planet. And Leah hates liars.

The menorah isn't the only thing getting hot this holiday season…
Enjoy an Excerpt
Leah finally came into the kitchen. "You made him lunch? Mom! I was going to take him out to Bernie's!"
"Bernie's closed a while ago," her mother said. "Besides, it looks like you feed him plenty at home."
She poked my deltoid and Leah blushed. "It's not like he's hard to cook for," she said defensively. "Really? Bernie's closed?"
"Last year," Deborah said. "If you'd come home more you could have eaten there more before they shut down."
Leah's shoulders tightened, and I was starting to see what she'd meant about needing a buffer between her and her family. I'd gotten what she'd promised and more. Time to go to work.
"We have plenty of good restaurants in Kansas," I said, hoping it would be enough to change the subject. "No food like this, but I'm sure there is food we can get there that we can't find here."
"Nothing like Kansas barbecue," Leah said.
Deborah's lips thinned. "You aren't eating pork." It was a statement and she stared at
Leah as though begging her to argue.
"You know barbecue isn't just pig, right Mom?" she asked.
Diversion time. I started listing off all the animals you could barbecue, and by the time I got to what I'd read about the invasive reptiles in Florida, both Leah and her mother were suitably horrified to the point where we were off the topic of Leah's lack of visits and whether she'd eaten pork in Kansas or not.
About the Author:
Nessa grew up thriving on trips to natural history museums and Jurassic Park. Once adulthood was upon her, it was only a matter of time before she discovered dominant aliens and shifter erotica. She enjoys titillating the Triassic and stargazing.
Blog | Facebook | Twitter | BuookBub
Buy the book at your favorite online venue.