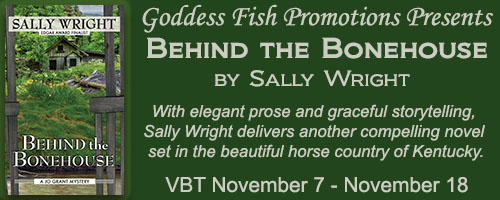 This post is part of a virtual book tour organized by
Goddess Fish Promotions
. Sally Wright will be awarding copies of several of Sally Wright's books to a randomly drawn U.S. (only) winner via rafflecopter during the tour. Click on the tour banner to see the other stops on the tour.
HOW I HANDLED THE RESEARCH
Though interviews are critical to the kind of writing I do, I also did quite a bit of work in the Keeneland Racecourse Library in Lexington, Kentucky. Some of the world's best Thoroughbred Sales are held in the Pavilion at Keeneland, and there's also Thoroughbred racing there in the spring and fall.
The library contains extensive archives of paintings and drawings, letters and diaries, magazines, newspapers, rare books and journals about everything having to do with horses, plus owners, breeders, trainers and riders, and their various histories. I sat for hours in silent splendor in lushly carpeted research rooms at polished mahogany tables, and looked through all kinds of materials that taught me about the Kentucky horse industry in the early 1960s.
Still, in order to create the plot of Behind The Bonehouse I had to study the equine drugs that existed in '64 and '65, as well as those that hadn't been developed. Equine Pharmaceuticals (a family owned business, whose owner and managers play a large part in the Bonehouse plot) had begun work on a groundbreaking drug in the first Jo Grant novel, Breeding Ground, and I knew that drug would have to go forward toward commercialization in the second book.
I interviewed a very gifted chemical engineer who taught me what a small firm would face in trying to manufacture its first paste product, which helped the story develop. It also meant that I had to draw floor plans (the way I always do to make a setting real), this time of Equine's lab, plant, and offices, since their relationship is critical to the plot.
Even so, I had to work the hardest on the police procedures that existed then in investigating a crime scene, as well as the indictment and court appearance processes in Woodford County in 1965. I interviewed a lawyer friend here in Ohio, then another in Versailles, Kentucky, who told me right off, "I don't do criminal cases, so I can't help you a whole lot. No, I b'lieve you should talk to Squirrel. He's been a Woodford County Deputy, as well as Woodford County Sheriff, and he's now a U.S. Marshall. I'll see what I can do. He's an interesting man, and I think you'll enjoy it."
Squirrel turned out to be very dignified, with something clearly military in his bearing, who said, "Yes, ma-am," and "No, ma-am," the way folks used to do, without any slip toward the first four letter word the cop shows are peppered with today. It was a very substantive conversation that gave me what I needed to know, along with a handful of local expressions and pronunciations. (And, yes, I did ask him why he's called Squirrel, which isn't a short story!)
Though he was in high school in the late sixties, he was interested in law enforcement even then, and was taken for "ride alongs" by friends in the Sheriff's Department, so he knew all kinds of things I wouldn't have learned without him – like the Sheriff's Department didn't own cars. The Sheriff and his deputies had to drive their own vehicles, sticking lights on their roofs with a magnet, gluing decals on their car doors too, in order to look official.
Squirrel described the uniforms in great detail, and walked me through the complicated legal steps I needed to be accurate. Crime scene procedures were different back – perhaps the best example being that they wouldn't have worn gloves. When I asked him a question about the public phone boxes in Versailles, he told me something unexpected that rescued me from a pitfall in the plot that'd been waking me up in the night.
The horse parts I didn't have to research much. I rode for thirty years – not super well, but very happily with one horse in particular. You can see much more about the real Max in Watches Of The Night (a Ben Reese mystery that revolves around an archivist/ex-WWII Ranger with a backstory from the war). I call Max Sam in Behind The Bonehouse (and let him keep both his eyes, which he couldn't do in real life) while I relive our years together – his character, and the pleasure he gave me – though I talk about other horses I've known, and make up composites as well.
Spending time around Lexington, watching hundreds of horses grazing the hills, staying on farms with friends I made long ago, getting to know something about the culture, while I study its history, and do esoteric research, actually makes my endless rewriting more of a pleasure than normal.
It wasn't until thirty years after the attacks, and the lies, and the intricately orchestrated death, that Jo Grant Munro could bring herself to describe it all in Behind The Bonehouse. Her work as an architect, and the broodmare farm she ran with her uncle, and her husband Alan's entire future – all hung by a thread in 1964 in the complex Thoroughbred culture of bluegrass Kentucky, where rumor and gossip and the nightly news can destroy a person overnight, just like anywhere else. It was hatred in a self-obsessed soul, fermenting in an equine lab, boiling over and burning what it touched, that drove Jo and Alan to the edge of desperation while they fought through what they faced.
Enjoy an Excerpt:
When I was lying in the hospital three months or so ago, after the boys and their children had gone home, Alan came back and kissed my forehead, and said, "It's time you wrote it down." He handed me a spiral notebook. Which I set on the bedside table without saying a word.
I didn't have to ask what he meant. Even after I'd finished writing Breeding Ground, when I wanted to tell a whole lot more of what we've watched here in horse country, this memory wasn't one I could touch. And what you won't look at festers, especially since I'd been putting off lancing it for a good many years with conscious intent.
Once I got home, and got stronger again, I got busy with every other part of my life. Till one night I dreamt about the river, and woke up sick and sweating, and it came to me, the way it always has, when I've made a decision in my subconscious mind, that the time had come to get it done.
It started thirty-two years ago, months before the wounding in the river, when the Woodford County Sheriff Alan and I saw as a friend stood right here on the family farm saying words that tore our lives asunder without looking us in the eye.
It'd grown out of something we've all had happen—lies getting told about you by someone with implacable intent. Malicious intent, in this case, because it was no misunderstanding. It was someone setting out to twist the truth toward his own perverse purpose. It was his word and deeds against ours, which has always been part of living in this world, and will be till the last of us gets over being human.
I'd just turned thirty-four when it happened, and I didn't have the experience then to put it in perspective. I need to try now, while I still can, because the disease that's started eating into me makes delay a kind of denial.
About the Author: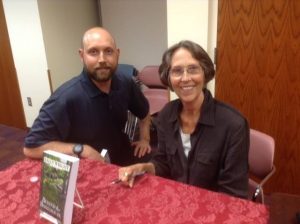 Edgar Alan Poe Award Finalist Sally Wright has studied rare books, falconry, early explorers, painting restoration, WWII Tech-Teams, the Venona Code, and much more, to write her university-archivist-ex-WWII-Ranger books about Ben Reese, who's based on a real person.
Breeding Ground, Wright's most recent novel, is the first in her new Jo Grant mystery series, which has to do with the horse industry in Lexington, Kentucky. Wright is now finishing the second Jo Grant novel.
Sally and her husband have two children, three young grandchildren, and a highly entertaining boxer dog, and live in the country in northwestern Ohio.
Facebook | Website | Twitter
Buy the book at Amazon.