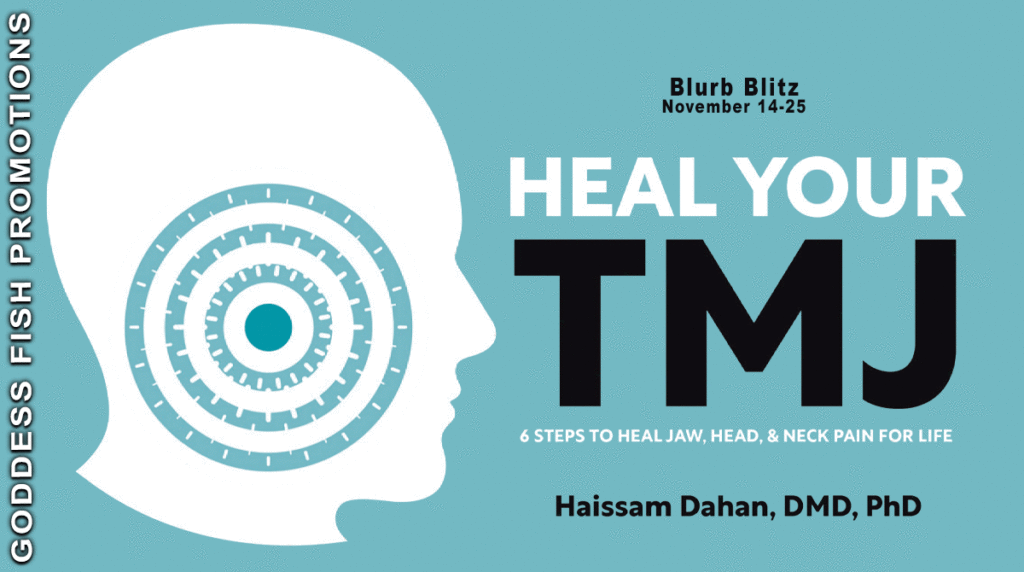 This post is part of a virtual book tour organized by Goddess Fish Promotions. Dr. Haissam Dahan will be awarding a $15 Amazon/BN GC to a randomly drawn winner via rafflecopter during the tour. Click on the tour banner to see the other stops on the tour.
TMJ clicking. Jaw locking. Headaches. Migraines. Ear pain. Stiff Neck. The evidence is overwhelming: the roots of these issues may be caused by your TMJ! TMJ is the name of the joint of the jaw, and groundbreaking research has now revealed that it may be the cause of many chronic pains we suffer. TMJ is the second most common musculoskeletal pain, and as many as 1 in every 3 people will experience TMJ pain in their lifetime. For the longest time, people suffered in silence with TMJ pain, but new breakthrough advancements in research and treatment reveal that you can life a life TMJ-pain-free!

Drawing on his private practice, where he works with people suffering with TMJ, Dr. Dahan reveals in this book his 6 steps to eradicating chronic TMJ pain from your life. He will draw experience from his years working with TMJ sufferers to teach you how to heal your TMJ and live your best life ever!
Enjoy an Excerpt
After years of studying, treating, and learning about chronic pain, I know one thing for sure: Pain is a mask of something else. Pain is a thermometer of your life. Pain is a warning that your life is heading in the wrong direction. Essentially your body is saying, "You've made some stupid decisions, and I'm not happy, so I'm going to let you know." So your pain isn't a curse but is, in fact, a blessing.
About the Author:
Dr. Haissam Dahan became a dentist in 2005, and furthered his education by completing a clinical fellowship in orofacial pain at the world-renowned Massachusetts General Hospital in Boston. He conducted TMJ research, earning a PhD from McGill University in 2014. He has lectured at Harvard, McGill and Tufts University, and has spoken at national and international conferences. He has a successful private practice in Ottawa helping patients who are suffering with TMJ pain.
Dr. Dahan lives in Ottawa with his wife, and has two young boys and a girl. He enjoys running, cycling, and spending time outdoors with his family and friends.
Instagram | Facebook | LinkedIn

Buy the paperback or ebook at Amazon.