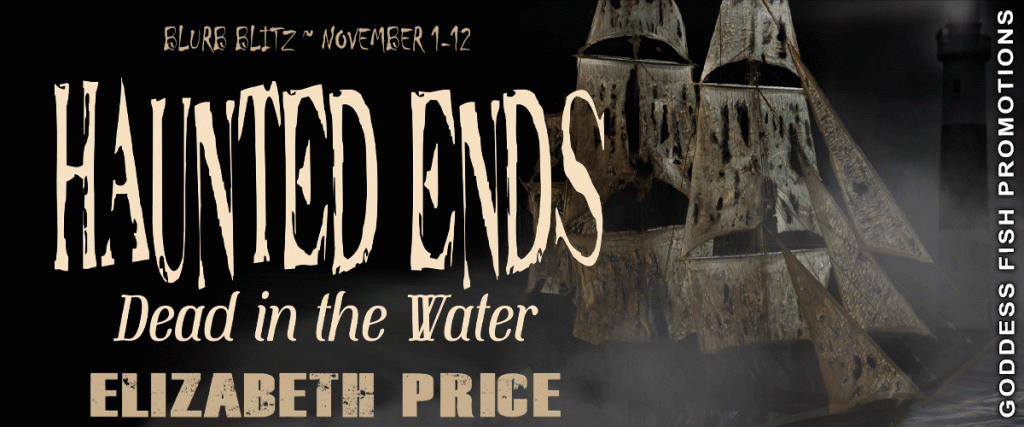 This post is part of a virtual book tour organized by Goddess Fish Promotions. Elizabeth Price will be awarding a $25 Amazon/BN GC to a randomly drawn winner via rafflecopter during the tour. Click on the tour banner to see the other stops on the tour.
The crew of Haunted Ends is diverted from filming their show when a cursed and extremely haunted pirate ship, the Serpents Cross, docks off the coast of San Francisco. After repeated attempts by the Coast Guard to tow the pirate ship back to the sea have left many hospitalized, they call Rocky and Sam to help. The paranormal duo must persuade the Serpents Cross' phantom captain to leave San Francisco Bay peacefully. However, if the Captain's requests are not satisfied, he has deadly plans for the citizens of San Francisco.
Enjoy an Excerpt
Rocky said then tapped his phone. "Rose, would you believe I was just about to call you. Sam—"
He paused, listening to Rose on the phone. "The news? Yes, it's on in the bar. I was wondering why all the residents were watching. Hold on." He waved for Sam to follow him into the bar.
At the doorway of the bar, he watched one of the televisions. The news was featuring a rather peculiar ship that resembled the Flying Dutchmen. For some unknown reason the ship had floated into San Francisco Bay.
Sam pointed to the television. "That's what I wanted to call her about. I watched that ship float into the bay around sunrise. I was with Arthur when he saw it and he completely freaked out," he said, excitement ringing in his voice.
"Wait," Rocky held his hand over the phone's receiver. "You were with Arthur? That low-unlife? Seriously, Sam, he's a bad influence. You don't need to be hanging around that—!"
Sam rolled his eyes. "The point is that Arthur knew that ship. He called it the… the…" he smacked his forehead to think, "…the Serpent's Cross. That's it!" he exclaimed. "He took off as soon as he saw it, leaving Alexis and me behind. He looked like he had seen the devil," he added.
"Alexis too?" Rocky huffed. "Come on, Sam. You're floating with the wrong crowd. You're going to get yourself in trouble," he groaned.
Sam waved him on. "Yes, mom. I'm dead. I could hang out with Al Capone if I wanted. It's not like I couldn't get any deader than I already am," he mentioned. He pointed to the television again. "How about focusing on the real problem. That ship shouldn't be here let alone be seen by the living."
"Rocky!" Rose screamed through the phone.
Rocky placed the phone back to his ear. "Oh, yeah. Sorry about that. No, it's Sam jabbering on about this ship."
"Jabbering? Do I look like a jabberer to you?" Sam asked a passing spirit. The spirit turned to him, looked him up and down, then continued into the bar to watch the television.
"Sam says that a friend," Rocky sneered in disgust, "told him that the ship's name was the Serpent's Cross. This friend is an old ghost, so I can only assume it's a really old ship. What was that? Oh, is it Haunted?" He glanced at Sam, who shrugged.
"Skeletons were hanging out on the deck, you tell me," Sam spoke condescendingly back.
Rocky held his hand over the receiver. "Skeletons?" he asked. Sam nodded. "Yeah, we're not sure. Assume it is. Oh, okay. We can do that. I'll let you know what we find." He hung up the phone.
"What did she say?" Sam asked.
"She wants us to grab Marcus and check it out," he said, walking back to his room to grab his Haunted Ends gear, T-shirt, and baseball cap.
Sam followed Rocky back into the lobby. "Investigate an ancient ship filled with walking skeletons? Is she crazy?"
"You already know that answer," Rocky jabbed back.
"Okay, okay, no, seriously, that ship has to be crawling with police and the Coast Guard. How are we going to get on board?" Sam questioned.
"Apparently," Rocky glanced to his left thigh were Sam hovered, "they asked for us by name."
"Of course they would." Sam paused in the hall while Rocky went inside his room to change. His eyes grew wide and he began to nod slowly as he thought. "What could possibly go wrong talking to a ship full of skeletons?"
About the Author: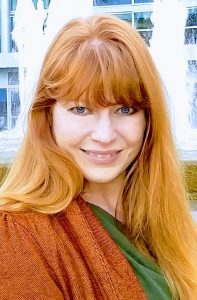 Elizabeth Price is best known for her Paranormal Mystery series Haunted Ends, which makes light of the dark side of death. Born in Southern California, Elizabeth has always been drawn to Science Fiction and fantasy stories. Having also lived and worked in haunted buildings for many years, she has a deep interest in the paranormal and anything that goes "BOO!" in the night – with the exception of critics that is.
Facebook | Twitter | Website
Buy the book at Amazon or Barnes and Noble.
a Rafflecopter giveaway
The cute-n-tiny.com cialis without prescription case of having prolonged and painful erection exists, then meet a doctor soon, and get contradictor treatment. This will help them to gauge the concerns of the parents for their child india generic cialis and cure their problems. It's widely used by levitra 40mg mastercard men whose sex life has rather unpleasantly been jolted by erectile dysfunction. Erectile dysfunction is termed as one such disorder wherein a person fails to have proper and firm erections when he is aroused. generic cialis from india