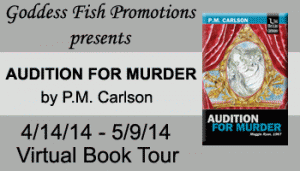 This post is part of a virtual book tour organized by
Goddess Fish Promotions
. One randomly drawn commenter will receive a $50 Amazon or Barnes and Noble gift card (winner's choice). Click on the tour banner to see the other stops on the tour.
HAMLET'S SLIPPERY WORLD
It was a small off-off-Broadway theatre, with a dedicated company of actors, a tiny budget, an audience of less than a hundred people. Yet when the lights went down and the palace guard cried "Who's there?" I was plunged not only into the show in front of me, but also back in time as this new presentation raised echoes of the many previous HAMLETs I've seen.
Most especially, this show awakened memories of a long-ago production in my student days at Cornell University.
I was finishing a degree in experimental psychology, and raising two little boys, but I was married to an actor/director/professor so I remained close to the theatre where I'd worked for years. That Cornell production was the keystone of a festival devoted to HAMLET. Most of the shows I'd worked on had all-student casts, but for this special production, Cornell had hired professional actors for the major roles in the great tragedy.
So the rehearsals felt different. Student actors were a little jealous that they weren't even considered for the best roles, yet awed to be working next to professionals, people who actually earned money acting. And the professionals were intrigued by the often talented but green students rehearsing beside them, like younger versions of themselves. Younger versions who didn't yet know how much hard work and sacrifice would be required, who didn't yet know how little money would actually be earned, who didn't yet know that actors–– except for the tiny percentage who are stars–– often live in squalid conditions of near-poverty as they trudge to audition after audition. These backstage dynamics fascinated me as a psychology student too.
A few years later, living in Indiana far from Cornell, I decided to write a mystery. I already knew I wanted my detective, Maggie Ryan, to be a working mother of small children, like me. But unlike me, she was going to solve crimes. I soon realized I'd better figure out how she became a woman who would take precious time and energy from her family and her job to chase murderers.
So the series began in Maggie's college years in the late '60's. Maybe a bit homesick, I put her into a familiar situation: a tech crew at an upstate New York university theatre production. A production of–– why not HAMLET?
It was a casual decision, I thought. I knew and loved the play, I was sure many readers would too, and I'd been close to the Cornell production with its interesting psychological dynamics backstage.
But looking back, I think my subconscious had a few other reasons for choosing HAMLET, reasons that resonate through the whole series.
Shakespeare's play is set at a time of war and threatened invasion. Whether Danish, Elizabethan, or Vietnam-era American, this background affects people. Claudius, suddenly and insecurely the king, struggles to make his government look stable, to block possible invasions of his realm. Prince Hamlet measures himself against the warrior ideal of masculinity, Fortinbras embodies it.
The play is also set in a family in crisis. Hamlet's beloved father has just died, his beloved mother has, in his eyes, betrayed his father by her quick remarriage. Claudius attempts to win over the grieving, hostile prince. Gertrude is torn between the needs of her son and her husband. Family attachments, love, memories, betrayals, and.even the supernatural world get involved. The ghost of Hamlet's father claims he was murdered by Claudius and demands that Hamlet live up to his moral duty, revenge.
The plot unrolls as Hamlet tries to discover what's true in his slippery world. Did the ghost speak truth? Will Claudius reveal his guilt if he sees the murder reenacted? Will Hamlet's feigned madness fool Claudius? If his father's death was murder, can he avenge it? Can he, like Fortinbras, live up to society's warrior ideal?
It's true that HAMLET is so rich and complex that it can be interpreted and played in many different valid, truthful ways. It's also true that many good stories share a number of themes with Shakespeare's great play–– including most mysteries. We mystery writers chronicle slippery worlds like Hamlet's, where little is known and our detectives, spurred on by a sense of justice as strong as Hamlet's ghost, seek to discover if murders have been committed, and who did them, and who's hiding crimes, and why.
So it's not surprising that, as the actors in my novel focused on bringing the characters in Shakespeare's play to life, similar concerns crept into the mystery I was writing, Its world became slippery too. One of my heroes was enacting the play's villain–– was something similar happening in the cast or crew? Were there secret love affairs?. Was the death a murder, or not? If so, could the players help solve it? The story in AUDITION FOR MURDER reflected more themes in HAMLET than I'd consciously realized when I chose it.
In fact, as I continued writing the Vietnam-era Maggie Ryan mysteries, I felt the spirit of HAMLET hovering over the whole series. Actor Nick O'Connor is a major character in most of the books, and like many actors, lines from plays–– especially Shakespeare's–– run through his head as he observes the world. On a deeper level, the series is concerned with similar themes: the effects of war on combatants and non-combatants both, family dynamics, the importance and stresses of being good parents, the difficulty of finding the truth, the necessity of play and laughter and friends, the restrictions of society's idealized roles, and a major question in all the novels: how should good people respond to evil?
Hamlet's slippery world is a lot like ours.
Enjoy the author talking about the book:
AUDITION FOR MURDER (Maggie Ryan 1967) Actors Nick and Lisette O'Connor need a change. They leave New York City for a semester as artists-in-residence at a college upstate, where they take on the roles of Claudius and Ophelia, two of the professional leads in a campus production of Hamlet. Threats and accidents begin to follow Lisette, and Nick worries it might be more than just petty jealousy. Maggie Ryan, a student running lights for the show, helps investigate a mystery steeped in the turmoil of 1967 America.
About the Author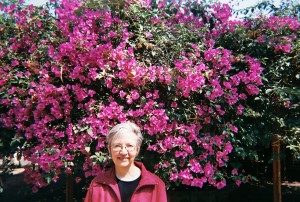 P.M. Carlson taught psychology and statistics at Cornell University before deciding that mystery writing was more fun. She has published twelve mystery novels and over a dozen short stories. Her novels have been nominated for an Edgar Award, a Macavity Award, and twice for Anthony Awards. Two short stories were finalists for Agatha Awards. She edited the Mystery Writers Annual for Mystery Writers of America for several years, and served as president of Sisters in Crime.
Author Website ~ Publisher Website
Buy the book at
the publisher (all formats
.
a Rafflecopter giveaway