Love Witches and Halloween
by Wendi Zwaduk
I love Halloween. I love when it's spooky. Okay, I'll admit it. I'm not wild about being scared. I don't like surprises and I hate when people jump out at me. You're liable to get a fist to the face. But I love the spookiness of Halloween. There's something sexy and fun about crushing against the one you love when you're having the crap scared out of you. Plus, there are some really hot witches.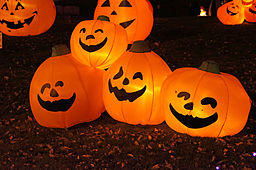 When I set about to write Candlelit Magic, my witch story, I didn't want to write a typical wart encrusted, green-skinned witch. Nope. I wanted mine to be sexy and to sort of blend in. I'd done a lot of research on the Salem witches and while I don't know if those folks were really witches, I ran with the idea of real people with special abilities. But writing about a witch isn't easy. Nope. There's a little more digging to be done. Like…the stones and their meanings for the witches. Or the different herbs. And the spells! Can't forget those. What happens if a witch decides to cast a spell? Can the spell really come back to haunt him or her? Oh! And what about male witches?
Yeah, I did a lot of research. Granted, my witch isn't conventional. She's a love witch who has some powers, but still has to come into her own. She's also got some serious issues—she's not conventionally pretty, but she's got a big heart. Oh, and she's got blue hair. Not your typical knockout. She's got her friend, Cian – another witch – and her store selling potions and Halloween fun, but it's not enough. She wants love, too. The theme of the story is finding the perfect someone even when perfect isn't possible. Havan, my witch, is looking for her special someone. You'll have to read Candlelit Magic to see if she does.
Comment and you're entered to win a bracelet/earring combo made by the author and an author swag pack (US only)!
~ ~ ~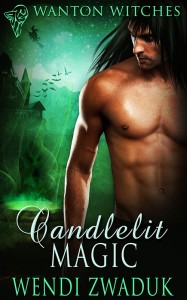 Here's a little bit about Candlelit Magic:
Even love witches get the blues.
Havan's magical potions bring couples together and give them the happily ever after of their dreams. Too bad her spells don't work for her. In Erie View, the townspeople see nothing more than a witch. All she wants is to find that special man to embrace her quirks and love her. Will she be able to accept the blessings of the Goddesses or lose faith in herself?
Neil doesn't believe in magic. It's trickery for television and movies. No one creates a spell for people to fall in love. Hell, he doesn't even believe in love. After a string of crappy dates and dead-end romances, he's through with relationships. But a chance meeting at the grocery store changes his mind. Havan's nothing like he expects—but is the blue haired witch enough to make him give romance another shot?
Available here: http://www.total-e-bound.com/product.asp?strParents=&CAT_ID=&P_ID=2346
~ ~ ~
Here's a little more about Wendi:
I've always dreamt of writing the stories in my head. Tall, dark, and handsome heroes are my favorites, as long as he has an independent woman keeping him in line. I love playing with words and letting the characters run wild.
NASCAR, Ohio farmland, dirt racing, animals and second chance romance all feature prominently in my books. I also write under the pen name of Megan Slayer. I'm published with Total-E-Bound, Resplendence Publishing, Changeling Press, Liquid Silver Books, Turquoise Morning Press, Decadent Publishing and The Wild Rose Press. Come join me for this fantastic journey!
If you like my work, tell your friends and email me. I love hearing from readers!
Site: http://wendizwaduk.com/
Blog: http://www.wendizwaduk.net/
Wordpress blog: http://wendizwaduk.wordpress.com/
Twitter: https://twitter.com/WendiZwaduk
Fan page: http://www.facebook.com/pages/Wendi-Zwaduk/195277927167481?ref=tn_tnmn
Amazon: https://www.amazon.com/author/wendizwaduk
Goodreads: http://www.goodreads.com/author/show/3495446.Wendi_Zwaduk
On Pinterest: http://pinterest.com/wendizwaduk/
On Google+ : https://plus.google.com/115637543946745656739/posts
On Romance Novel Center: http://www.romancenovelcenter.com/wendizwaduk
Newsletter sign up: http://ymlp.com/xgjmjumygmgj