A Haunted Memory
Our family moved to Wichita from rural Arkansas in 1943. Because of the war, my dad was going to enlist in the Navy to prevent being drafted into the Army, and so our parents decided to move somewhere that my mother could find employment. That meant Wichita and Boeing, where she later went to work as a "Rosie the Riveter."
My brother Freddie was five and I was seven. Blackouts were enforced, so we were scolded a lot to make sure and come in the house before dark. In those days it was safe for kids to play outside and wander a bit, and so we did. One afternoon we crawled into a thick growth of bushes, hiding from enemy soldiers. Coming out on the other side, we saw the haunted house for the first time.
It was large, with a wrap-around porch, a second story and a window at the peak that looked out of the attic, where we were sure ghosts lived. Wasn't that a light we saw wavering around up there just as mom called us in for the night? We discussed all the possibilities and decided that one afternoon soon, we would go there as soon as I got home from school.
Whether he let it slip or told on purpose, which he sometimes did cause he was just a little kid, my mom told me in her most serious tone, "Don't go near that house. It's dangerous. You could fall through the floor or get a rusty nail in your foot."
Naturally, having that information, we could not resist.
"We'll go tomorrow when I get home from school," I told Freddie. "And don't you tell, either."
"But we won't go inside, will we?"
"Let's just wait and see," I said, but I was fibbing. I was definitely going in, whether he did or not. The old haunted house was simply too inviting.
So, the next afternoon, as we ran out to play, mom called, "It looks stormy, don't you kids go far. And come in if it starts to thunder."
"We will, we will," we promised. I could hardly contain myself. A storm and a haunted house combined was too much to ever wish for.
We skipped off down the street. Most of the outlying streets were dirt in those days, so we kicked gravel and threw rocks as we ran.
"Come on, let's sneak up, just in case," I said, and took my brother's hand. We hurried to the bushes that surrounded the old house, crawled under them and lay there on our stomachs for a while staring at the windows. Some were broken out and a couple on the ground floor near the porch were boarded up.
"Look," I whispered. "Did you see that?"
"I didn't see nothing," my little brother said.
"Up there. I saw something move behind that window."
He began to whimper. "I'm not going in there, then."
"You stay here, I'll reconnoiter." I loved learning big words and their meanings and that was one of my favorites.
"What's that mean?" he asked.
"I'll go look around first, then signal you when it's clear."
He nodded.
Heart in my throat I snuck through the yard, crept up on the porch and to the door, which stood ajar. Once inside, I listened for the sound of anyone moving about. Old wallpaper hung raggedly, some of the ceiling had fallen down. Above me, the floor creaked like someone walking around. The hair on my neck stood straight out.
Just as I started backing up, the air raid sirens went off, which happened frequently in Wichita during the war. I never was a screamer, being a tomboy, but that screeching noise startled me so bad I jumped right up in the air, yelped and ran lickety-split out the door, across the porch and leaped to the ground without ever touching the steps.
We ran all the way home, and even though I never actually saw a ghost, in my childhood memories that house has always been haunted.
Leave a comment for a chance to win a print copy of The Purloined Skull by Velda Brotherton.
About the Author: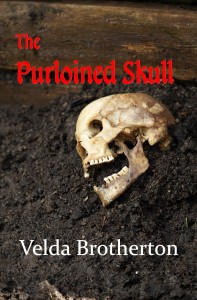 Velda Brotherton has always loved to read mysteries, but in her long writing career, she has just recently had her first mystery, The Purloined Skull, published. She writes from an office in the home she shares with her husband. Located on ten acres of land that borders against the Ozark National Forest in Arkansas, she often goes for days without seeing another human being. Visitors include herds of deer, red foxes, bobcats and occasionally a shy black bear, along with all the tiny critters that habitate the Ozarks. Since 1988 she has been multiply published in historical nonfiction and fiction, as well as short stories and articles.
Velda is the co-chair of a large critique group; she mentors young writers, holds workshops and speaks at conferences.
Website: http://www.veldabrotherton.com
Blog: http://www.veldabrotherton.wordpress.com
Facebook: http://www.facebook.com/vebrotherton
Pinterest: http://www.pinterest.com/veldabrotherton
Twitter: http://www.twitter.com/veldabrotherton
Amazon Page: http://www.amazon.com/Velda-Brotherton/e/B001KCC0ZU/
Buy Link: http://www.oaktreebooks.com