Autumn is my favorite time of year. Not just because it's sweater weather, the start of football season and chili cook-offs, but because nature shows some of it's most glorious colors. Even though I live in Texas and the trees around here don't really turn any other color than brown before the leaves drop, I've lived in the Midwest for several years and have seen those fabulous yellows, reds, oranges, and even purples (all mixed in with the deep evergreens).
I'm envious of the fall in the northeast. Where they experience all four seasons in full glory with relative predictability.
Here in Texas however (specifically Dallas/Ft Worth area), our four seasons are different:
*Warm – about 2 weeks, watch out for those legendary hailstorms and the occasional tornado
*Hot – maybe a month
*Freakin' Hot – 10 months, accompanied by city water restrictions
*Spitting of Cool – lasts about a week. Although we never know which week, and only a day or two at a time. On the rare occasion it flurries, the entire metroplex shuts down, along with schools.
East Texas is a little different, which is probably why I chose that setting for Audrey's Promise. I really wanted those beautiful fall colors on the cover. Reminds me of my childhood in Ohio, where Halloween trick-or-treating wasn't sweltering in 99 degree heat, but instead a mild chill that kept our feet moving from one house to the next and then return home with slightly rosy cheeks and toddler-grins. Just in time for hot cocoa and the annual reruns of Charlie Brown and the Great Pumpkin and Hocus Pocus.
What are your favorite traditions of autumn?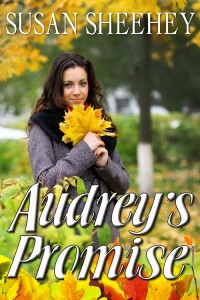 One lucky commenter will win a prize! Provide your email address along with your answer to the above question in your comment. The winner will choose either a free e-book of Audrey's Promise, or a fall-theme prize that includes Hot Apple Cider mix and Autumn-scented soaps. Good luck!
Susan writes contemporary romance, romantic suspense and women's fiction. After spending six years in the corporate world, her true passion wouldn't let go and she's been writing ever since. She lives and laughs in Texas with her husband and son. Follow Susan at http://www.SusanSheehey.com or on Facebook (Susan Sheehey) and Twitter @SusieQWriter. GoodReads.
AUDREY'S PROMISE is available at Amazon Kindle.