Halloween Movie Fun
By N.J. Walters
I really enjoy autumn and Halloween. Hubby and I don't dress up in costumes and go out partying on Halloween night. What we like to do is light the candle in the carved pumpkin, turn out the lights, grab some snacks, and watch our favorite spooky movies.
There are so many of them we never manage to see all our favorites every year. It's always a discussion on which ones we'll watch. The Crow is one of my all-time favorites. It's such a heart-wrenching story of a love that transcends death in search of justice. Plus, there's great kickass action. Dracula (the Francis Ford Coppola version) is also one we watch most years. Gary Oldman plays Count Dracula just right. I love the Annie Lennox song Love Song for a Vampire, which is part of the soundtrack. The Lost Boys is another vampire favorite and 1987 classic that holds up well over time. The vampires in this one are young and hip, and like to hang out at the California shore. Great soundtrack for this movie!
A classic vampire movie that still scares me to death is Nosferatu, the silent black and white 1922 classic based on the book Dracula. Max Schreck plays Count Orlok and with little special effects or makeup and no sound is one of the most frightening monsters of all time. If you like this movie, you have to check out Shadow of the Vampire, a 2001 movie starring Willem Defoe and John Malkovich. This movie uses the original filming of Nosferatu as its premise with Willem Defoe playing Max Schreck.
If you're looking for lycans and vampires then look no further than the Underworld series. Kate Beckinsale plays Selene a vampire who falls in love with a lycan—the mortal enemy of her people. Underworld, Underworld: Evolution and Rise of the Lycans (a prequel) are all great movies. Underworld: Awakening didn't live up to the others in the series, in my opinion. They had a great idea, but the script was weak and they were missing the original male lead (Scott Speedman) and used archived footage of him for the few scenes they needed him in. I'm hoping they'll try again as I love these characters and this complex world.
If Zombies is your thing, I recommend checking out the Resident Evil series. Or at least the first three movies. I wasn't as fond of the ones that came after that. Milla Jovovich plays Alice, one of the best kickass heroines of all time. If you enjoy humor with your zombies then you need to check out Shawn of the Dead and Zombieland. The latest zombie offering this past summer—World War Z with Brad Pitt was more suspense thriller than actual horror, but I enjoyed it.
Another movie I love is The Legend of Sleepy Hollow. I own the Disney animated version, which is still amazing after all these years, and the 1999 Tim Burton version starring Johnny Depp as Ichabod Crane. The headless horseman gives me the shivers. When Washington Irving wrote the story back in 1820 he had no idea it would still fascinate people all these years later. And now there is a new television series based on the characters and story starting this fall. I intend to be watching.
The Legend of Sleepy Hollow inspired me so much, I actually used the legend in one of my own books Out of Shadows.
Be sure to leave a comment as I'll be giving away a print copy of Out of Shadows to one lucky commenter! (Contest open to readers in USA and CANADA only)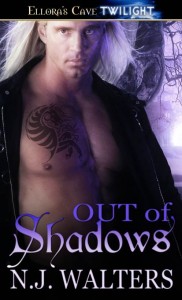 BLURB:
Dovina Horne has arrived in Sleepy Hollow to study the legend of the horseman. She believes it's only a myth until she's threatened by a horse and rider while walking on a deserted trail in the woods. Only the sudden appearance of a warrior saves her from the horseman's sword. She feels an instant connection, both sexual and emotional, to this protective stranger.
An immortal warrior of the Shadow Realm, Hadeon's mission is to protect Dovina at all costs. He knows the horseman is not what he seems, but something more powerful and sinister in disguise. The longer Hadeon spends with Dovina, the more he wants her. He finds his way into her bed and her heart, but their relationship is doomed. He is an immortal from the shadows and she is a human filled with light. But when the final battle comes, they must use all that is between them if they hope to survive.
Available in Print and Ebook from Amazon: http://www.amazon.com/Out-Of-Shadows-N-J-Walters/dp/141996867X/ref=tmm_pap_title_0?ie=UTF8&qid=1378648266&sr=1-14
Available in Print and Ebook from Ellora's Cave: http://www.ellorascave.com/out-of-shadows-1.html
N.J. has always been a voracious reader, and now she spends her days writing novels of her own. Vampires, werewolves, dragons, time-travelers, seductive handymen, and next-door neighbors with smoldering good looks—all vie for her attention. It's a tough life, but someone's got to live it.
Visit me at:
Website: http://www.njwalters.com
Blog: http://www.njwalters.blogspot.com
Newsletter Group: http://groups.yahoo.com/group/awakeningdesires/
Facebook Author Page: https://www.facebook.com/N.J.WaltersAuthor 
Twitter: https://twitter.com/njwaltersauthor
Goodreads: http://www.goodreads.com/NJWalters
Amazon: http://www.amazon.com/author/njwalters