The Days Are Getting Shorter
by Lucy Felthouse
I'm from the UK, where Halloween isn't as big a deal as in the US – though it's definitely increasing in popularity. I don't have children and I'm too old to go trick or treating, but I'll try and take in a spooky event if I can.
Otherwise, the time of year basically means to me that the days are getting shorter, something I dislike. I love the sun, I love long days, daylight, spending time outdoors. I also dislike the cold, so being reminded that winter is on its way is not a good thing, in my opinion. Autumn is very beautiful in terms of the leaves changing colours and falling—there's not a sight like it, but the season often brings a ton of rain and dull days here in England.
On a lighter note, though, as I don't like to be too negative, I make the most of the colder, shorter days, as it generally means that I write more. I don't have the temptation to go out into the garden when I should be working, or to stare out of the window at the lovely sunshine. I find it much easier to hole up, try and keep warm and get my fingers flying over the keyboard. I'll often write summer scenes, sunny stuff, to keep my spirits up. And whatever gets me working, gets me writing, can't entirely be a bad thing, in my book.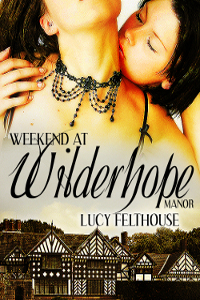 As some of you may know, I like to play around with different themes in my books and stories, and autumn and Halloween have definitely featured in my writing. My short story, "A Party to Remember," features in the just-released The House of Erotica Witching Hour, and my lesbian novella, Weekend at Wilderhope Manor is set around a Murder Mystery weekend taking place on Halloween. Ghosts and vampires galore in these two stories!
So, I may not be an autumn fan, but it sure comes in handy for my word count! 😉
About the Author: Lucy Felthouse is a very busy woman! She writes erotica and erotic romance in a variety of subgenres and pairings, and has over eighty publications to her name, with many more in the pipeline. These include Best Bondage Erotica 2012, 2013 and 2014 and Best Women's Erotica 2013. Another string to her bow is editing, and she has edited and co-edited a number of anthologies. She owns Erotica For All, and is book editor for Cliterati. Find out more at http://www.lucyfelthouse.co.uk. Join her on Facebook and Twitter, and subscribe to her newsletter at: http://eepurl.com/gMQb9.
COMMENT TO WIN!
Leave a comment on this post to be entered to win a PDF copy of Weekend at Wilderhope Manor. Be sure to leave your email address in the BODY of the comment. I'll swing by and choose a winner on the 4th November.