Jailhouse Spook
a true ghost story by Eric Garrison
Years ago, I was out with a ghost hunting group, investigating the Rotary Jail Museum in Crawfordsville, Indiana. The sun had set, and we'd toured the upper parts of the jail and ended up on the lower level, among the great engine and gears that turned the whole metal structure containing the cells above.
The lower level consisted of a central gear room and passages leading out to a doughnut corridor surrounding it. Windows set high in the walls let in only the occasional yellow of streetlights outside. Anywhere we stood, all that could be seen in the nearly total darkness was about 15 feet of hallway as it curved around, out of sight. Our flashlight beams played on the old stone of the foundation, and we kept our voices quiet as the leaders of the group told us history and shared some stories of past visits to the place.
My fascination was with using gadgets and technology to get evidence of paranormal activity. Many of us had digital voice recorders or small tape recorders going. I'd also brought a Trifield Natural Electromagnetic detector with me. It was one of the group's most expensive gadgets, but I hoped to get some use out of it. A Trifield can sense minute changes in the local magnetic field, but can be set too sensitive, getting set off by ghost hunters, rather than ghosts. I went almost around the bend ahead of our group and set it on the floor and tuned in the sort of balance point of sensitivity. When I had it just low enough not to screech aloud with everyone where they stood, I backed away from it, rejoining the group. The Trifield let out a quiet squeal as I moved, but silenced again when I stopped.
We all quieted down to do an "EVP session". EVP is "electronic voice phenomena", voices that get recorded that we don't hear aloud. The idea is to review the recording afterward, headphones on, volume turned high, to listen for those voices as evidence. We often take turns asking questions to the air, as though someone was there to ask. In case someone is listening and wants to answer. I tried not to move much, so as not to spoil my recording or set off the Trifield.
Then it happened. The Trifield burped and screeched, and we all looked over, peering around the bend to where it sat on the floor. I couldn't keep from swearing out loud as I saw a faint white outline, like an inverse silhouette of a person, peek its head around the bend at the limits of my sight. The shock I felt in the moment made me taste metal in my mouth, and made the hair on my arms stand up with literal goosebumps. Despite years of ghost hunting before that night, I'd never seen anything paranormal with my own eyes.
I asked if anyone else had seen it, and a couple of people at the front with me had. The leader seemed nonchalant, as she'd seen things like this before. I kicked myself for not having a video camera rolling at the time.
At the next meeting, one of my fellow ghost hunters came up to me, excited about an EVP they'd gotten right at the time we'd seen the ghost!
I had to laugh, because it turned out to be me cursing under my breath, unfortunately not evidence of the paranormal sighting we'd had.
I will be giving away a free ebook of my novel, Four 'til Late, to a random commenter on the post 24 hours after it is posted.
About the Author:Eric Garrison is active in the writing community in Indianapolis, Indiana. He lives in the Circle City with his wife, step-daughter and a cabal of cats. He also enjoys gaming, home brewing beer, and finding innovative uses for duct tape.
Eric's novel, Reality Check, is a science fiction adventure released by Hydra Publications. Reality Check reached #1 in Science Fiction on Amazon.com during a promotion in July 2013.
Eric's supernatural fantasy novels include the Road Ghosts trilogy, released through Seventh Star Press. The first in this series, Four 'til Late, was released in July 2013. His novels are dark supernatural fantasies, dealing with ghosts, demonic possession and even sinister fairy folk.
Eric's short story, "Drag Show" appeared in the Fall 2011 edition of Strange, Weird and Wonderful Magazine. His flash piece, "Dark Reflection", appeared in the Indiana Horror 2011 anthology.
Website/Blog: http://sillyhatbooks.com
Facebook: https://www.facebook.com/EricGarrisonAuthor
Goodreads: http://www.goodreads.com/author/show/1978111.Eric_Garrison
Amazon: http://www.amazon.com/Eric-Garrison/e/B005H63TLE
Twitter: https://twitter.com/erichris
G+: https://plus.google.com/117572041782679864253
Four 'til Late by Eric Garrison
See the Four 'til Late book trailer on YouTube!
Published July 2013 by Seventh Star Press.
Cover and interior art by Bonnie Wasson.
A Haunted Road Trip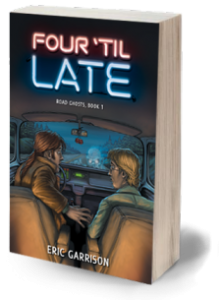 Amateur ghost hunter Brett and his friends Gonzo, Jimbo, and Liz are on a road trip with dangerous detours, dreadful dreams and dire warnings. But that won't keep them from reaching their goal: New Orleans. Along the way they discover that some spirits leave you with more than a hangover and regrets. Can they get there in one piece, or will they be stopped and rest in peace?
The bags are packed, the engine's running. Time to turn up the radio and get moving. Because the road ghosts are waiting, and it's Four 'til Late.
Amazon: http://www.amazon.com/Four-Late-Road-Ghosts-ebook/dp/B00E4WO7YA
Nook: http://www.barnesandnoble.com/w/four-til-late-eric-garrison/1013893134
Kobo: http://store.kobobooks.com/en-us/books/four-til-late/
iBookstore: https://itunes.apple.com/us/book/four-til-late/id691150466