Ghosts on the Isle of Skye
The Lodge at Edinbane has got to be my favorite B&B on our entire trip in 2008. It was wonderful! Large, rambling property, lots of rooms, a pub and dining room on property, everything run by Hazel, Pete and Cal. It even had resident ghosties to keep you company at night! And yes, even though all the rooms on the website were pink, she had some purple and even some blue rooms available, never fear.
The pub had some wonderful meals – we had dinner there a couple nights, and breakfast was part of our B&B rate. They offered everything from cheese salads to beef bourguignon. One night I had a lovely smoked mackerel salad, and it was quite strong! The cheese salad does sound strange, but looked tasty – a nice salad of greens and veg with several different cheeses on it, including brie, cranberry stilton, feta, etc. One evening, four of us continued to have drinks at the pub until almost midnight, out-waiting several locals who were shepherds drinking in the bar. One decided that he should start serenading us. It would have been lovely if we could have figured out what he was saying or singing.
Hazel always wowed us with her breakfasts. She made Scottish pancakes for all, which are sweeter than the American version. She also served this crystallized ginger preserve with them that was simply delectable, and very addicting. My friend, Kim, practically growled when we tried to take some of hers.
We had a couple ghost encounters – Kim saw a shadowed figure in her room one night, though she felt no fear of it. It went away rather quickly. Jason heard rapping on the closet door (which was right next to where I was sleeping). He looked for any reason for it – air vents, mechanisms, etc., and couldn't find a rational explanation for the tapping. We were told that the ghost in that room was a rather prim Victorian lady, and if we told her we were married, she would stop complaining. Jason also heard a ghost dog walking across the hardwood floor in front of him. Now, he had been sipping whisky in front of the peat fire, relaxing that afternoon, and while the place had three dogs, they were all big dogs (Labradors) and all outside. This sounded like a small dog, like a terrier, click-clicking along right in front of him.
Hazel and her family made us feel so much at home, that we will definitely be back the next trip we make to this place. And Skye is such a fantastic area, that we can't help but go there again!
Leave a comment for a chance to win a digital copy of Ireland: Mythical, Magical, Mystical.
About the Author: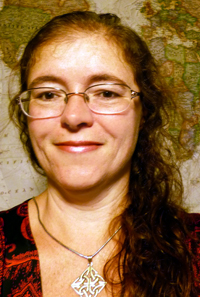 My name is Christy Nicholas, also known as Green Dragon. I do many things, including digital art, beaded jewelry, writing and photography. In real life I'm a CPA, but having grown up with art and around me (my mother, grandmother and great-grandmother are/were all artists), it sort of infected me, as it were. I love to draw and to create things. It's more of an obsession than a hobby. I like looking up into the sky and seeing a beautiful sunset, or a fragrant blossom, a dramatic seaside. I then wish to take a picture or create a piece of jewelry to share this serenity, this joy, this beauty with others. Sometimes this sharing requires explanation – and thus I write. Combine this love of beauty with a bit of financial sense and you get an art business. I do local art and craft shows, as well as sending my art to various science fiction conventions throughout the country and abroad.
Find Christy here:
www.GreenDragonArtist.com
www.facebook.com/greendragon9
www.facebook.com/greendragonartist
www.facebook.com/greendragontravel
www.facebook.com/music-from-ireland-for-your-pleasure
www.facebook.com/musicfromscotland
www.twitter.com/greendragon9
Find Christy's book at her publisher and at other eBook stores.
Do you find yourself drawn to the magic of the Emerald Isle? Would you like to see places beyond the typical tourist traps? Come, join me on a journey through the mists of legend, into the hidden places of mystery. Immerse yourself in the legends and myths, the history that has made this island precious in the hearts and minds of millions. Along with the tales and history, there is practical information on planning your trip, budgeting your costs, and finding the best places to while away the magical hours of your holiday.