A Witch Shares Samhain
Ever wonder what a Wiccan, Pagan or witch does on October 31st during Halloween? Then let me share Samhain, pronounced (Sow en) and the Celtic New Year with you.
In a pagan's world that includes members like wizards, faeries and witches, Samhain is a time where the veil between the spirit world and the living is at its thinnest. Many pagans will hold a dumb supper. Last year I shared my supper with my mother, this year I will contact my grandfather, Arthur. I may participate in a séance with other pagans to honor the ancestors who came before us.
Samhain is a Sabbat for pagans. For three consecutive days, we hold rituals (circle) and give thanks to the gods, Lord and Lady. Many pagans will give thanks to the animals that have touched our lives. We will share our knowledge, pass home baked goodies to trick or treaters and visit with our family and friends with end-of-harvest feasts.
Many pagans will wrap up old issues and prepare for the Celtic New Year with resolve and a list of how to change our future lives for the better. Pagans are major protectors of Gaia (Earth). We save cans, we live green and keep a small footprint on the planet. So many pagans will volunteer to clean up beaches, parks and give goods to food banks.
With three days to celebrate the end of the calendar year, the Celtic New Year begins the dark side of the witch's wheel when Gaia's harvest and warmth dies until Spring.
Samhain is here, and it is a time of transitions.
The winter approaches, and the summer dies.
This is the time of Dark Mother,
a time of death and of dying.
This is the night of our ancestors
and of the Ancient Ones.
~Patty Wigington, About.com Wicca/Paganism~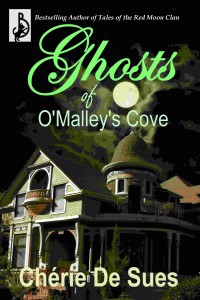 I find that I write more during this time of the year, my juices really flow.
Please stop by my website at

http://www.cheriedesues2.com

for your ebook choice from three of my erotic Halloween novels. West Salem, Next and Ghosts of O'Malley's Cove. There will be three winners chosen to honor the three days of feasting with the Lord and Lady.
Blessed Be,
Cherie De Sues
About the Author: Chérie De Sues is an international "critically acclaimed", "award winning" and "bestselling" author of erotic thrillers, paranormal and contemporary suspense romances. A member of Romance Writers of America (RWA), and RWA participant in both the RITA and Prism Awards.
When Chérie takes a break from writing novels, you can find her at romance conventions, book signings, online, or traveling to research her next novel. She shares her cottage near Lake Gregory in California, with her Irish terrier, Reilly.