DO GHOSTS EXIST?
By Charlene Raddon
Years ago, my sister and her husband bought a turn-of-the-century house in a small Utah town and invited me to share it with them. The house boasted of three floors, but nothing had been done with the third one, the "attic". We dug in and cleaned out decades of dust and dirt. While we sorted through the few items stored there, I felt another presence. I glanced about, expecting to see a niece or nephew sneaking up on us, but saw no one. More than once I felt fingers lightly caress my cheek or hand—an eerie feeling, but without malevolence. Once the attic had been habitable, I never felt those sensations again.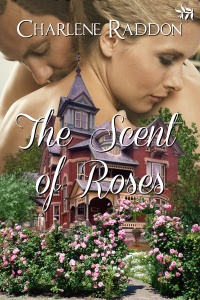 After a year, I moved to a place of my own, but I loved my sister's old house. We enjoyed searching with the children for secret passageways because it seemed the sort of house that should have a few. Alas, we never found any. I created my own years later while writing a historical romance novel, The Scent of Roses, set in a house I patterned after my sister's old home. I even added a ghost.
Almost twenty years ago now, my sister passed away. We were very close. During her long struggle against the cancer that robbed her of life, we talked of what was to come. I told her how much I would miss her and begged her to find a way to communicate with me after she was gone. The church's huge doors to the meeting room were closed. The anti-room doors were closed, and those to the foyer. No windows were open. Yet, as I sat there during the service, I felt a familiar sensation: fingers lightly caressing my cheek. A breeze, I told myself, but always wondered. My step-daughter who sat next to me felt nothing. Had my sister tried to tell me she was there? I truly like to think so.
About the Author: Charlene Raddon began her fiction career in the third grade when she announced in Show & Tell that a baby sister she never had was killed by a black widow spider. She often penned stories featuring mistreated young girls whose mother accused of crimes her sister had actually committed. Her first serious attempt at writing fiction came in 1980 when she woke up from a vivid dream that compelled her to drag out a portable typewriter and begin writing. She's been at it ever since. An early love for romance novels and the Wild West led her to choose the historical romance genre but she also writes contemporary romance. At present, she has five books published in paperback by Kensington Books (one under the pseudonym Rachel Summers), and four eBooks published by Tirgearr Publishing.
Charlene's awards include: RWA Golden Heart Finalist, Romantic Times Reviewer's Choice Award Nomination, Affair de Coeur Magazine Reader/Writer Poll for Best Historical of the Year. Her books have won or place in several contests.
htp://www.charleneraddon.com/
http://www.charleneraddon.blogspot.com/
https://www.facebook.com/CharleneRaddon
http://www.twitter.com/CRaddon
http://www.amazon.com/Charlene-Raddon/e/B000APG1P8/