Halloween Memories
Among my very favorite Halloween memories are the hayrack rides. It's been years since I've been on one, but I still remember the earliest rides: the excitement, the air brisk enough to cause rosy noses and cheeks as we snuggled with our parents into woolen blankets, the giggling when we kids played hide and seek among the bales of straw or hay. On a farm outside the small town where I grew up, the farmer arranged special rides just before Halloween. He dressed up as a scarecrow and drove a hay wagon pulled by two horses draped in white sheets with holes cut for their eyes, ears and noses. When we returned to the farm house, his wife, in a witch costume, had mugs of hot chocolate waiting, and we fixed S'mores outside over a campfire. What's not to like about that?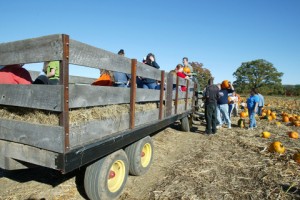 As I got older, hayrides were more romantic. Several high school couples banded together to fill an entire wagon, and we'd steal kisses from the boyfriend or girlfriend when the farmer wasn't looking. It wasn't easy—he kept a sharp eye on us! Eventually the horses were replaced by a tractor, the wagon was replaced by several wagons hooked together to accommodate more people but less privacy, and the hot chocolate became hot cider served in plastic cups. Still, it was magical.
When the air turns crisp every October and I can almost smell the pungent odor of burning leaves, I still think about hayrides. My children have never been on one, and I think that is their loss. What's your favorite fall or Halloween memory? Have you been fortunate enough to take a hayride?
Share your memories. A random commenter will receive a $10.00 Amazon gift certificate or any two of my urban fantasy ebooks – your choice!
~ ~ ~ ~ ~
ABOUT THE AUTHOR:
Ally Shields is the author of the Guardian Witch urban fantasy series. She was born and raised in the Midwest, along the Mississippi River, the setting for her books. After a career in law and juvenile justice, she turned to full-time writing in 2009, and Awakening the Fire, the debut novel in her series, was released in September 2012. When not writing or reading, she loves to travel in the US and abroad. Way too often she can be found on Twitter (@ShieldsAlly).
Author contact links:
Website: http://allyshields.com
Blog: http://allyshields.com/blog.html
Facebook: http://facebook.com/AllyShieldsAuthor
Goodreads: http://www.goodreads.com/author/show/6527209.Ally_Shields
Twitter: http://twitter.com/ShieldsAlly
Buy Links:
Amazon: http://amzn.to/13LH078
B&N: http://www.barnesandnoble.com/s/?series_id=842187
ARe: http://bit.ly/1gutLyl
Kobo: http://bit.ly/18unCxl
Book trailers:
Awakening the Fire (book 1): http://youtu.be/BIXnMGOlztQ
Fire Within (book 2): http://youtu.be/XAJNzDXn6FM
Burning Both Ends (book 3): http://youtu.be/TaIBPNFaWG8
Blood and Fire (book 4): coming soon!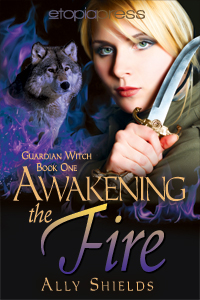 Book one blurb: Awakening the Fire
Twenty-three-year-old Ari Calin has sworn to keep the peace in the Olde Town district of Riverdale, and most of the time the Otherworlders cooperate. The vampires, werewolves and other magical creatures go about their business, living side by side with humans, until the foreign wolves arrive and a virtual reality drug hits the streets. When violence erupts, Ari needs more than her witch fire, weapons and potions to stop the madness.
Joining forces with a human police officer, Lt. Ryan Foster, and a way-too-sexy vampire singer, Andreas De Luca, Ari hunts for the enemy—from the vampire strip clubs to the caverns under the city. But each step draws them deeper into an old feud and closer to the brink of a supernatural war.