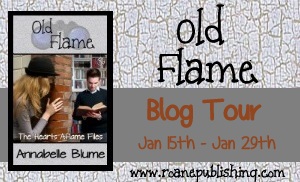 This post is part of a virtual book tour organized by the publisher. Leave a comment for a chance to win a digital copy of
Old Flame
, which has just been released.
Learning to Read the Signs
I have always been a superstitious person. The older I get, the more deeply ingrained these ideas become. Because of my penchant for ascribing serious messages to everything, I can take something as banal as my son stubbing his toe and think it means the Universe is trying to tell me I shouldn't be going to the grocery store that day.
Even with all of this sign watching I've done throughout my life, I failed to notice the biggest and most glaring one of all: That I was meant to be a writer. Looking back, I can pinpoint each instance, but at the time, they flew right past me.
When I was in 8th grade, our teacher gave us an assignment to write an essay on a life changing event. How he expected a bunch of thirteen and fourteen year olds to have anything in the way of life changing events they could write about is beyond me, but he assigned it, nonetheless. I chose to write about the day I fell off my bike and chipped my front tooth. Mr. Churnside said it was the best essay he'd received and read it to the class. I wasn't embarrassed, but I never thought much of it, either.
Most of high school went by without much to note. Yet, during my junior year, my American history teacher gave us a choice of midterm projects. We could either read a whole boatload of these terribly tedious history serials or write a paper on a major event in US history. I turned in a twenty page paper documenting the political, social, and economic climates of the 1920's which led to the stock market crash of 1929 and the subsequent Great Depression. A few days later, several of my teachers in other subjects came to tell me he had shared my paper with them. The only thing I thought was that now ALL of my teachers were going to expect way more from me.
In college, a teaching assistant described my writing as dry and boring. She was right, because I had almost perfectly mimicked the dry and boring sociology studies I spent all my time reading and dissecting.
Then, I graduated and got a job. Within a year I was selling radio advertising and writing all the copy for my clients' commercials. I hated that damn job, but I did it for over 3 years. Finally, I quit and got a job at a home electronics magazine as a sort of Jill-of-all-Trades, supporting the sales staff, helping with mapping, and anything else they needed. There, I had the opportunity to write a short paragraph on what I wanted for Christmas. You know, surround sound system, flat screen TV, what have you, all blatant product promotion. I chose to write a letter, not to Santa, but to an "Unobtrusive Non-Denominational Holiday Figure". The editor liked it so much he asked me to write some reviews of DVDs. Nope, still not a writer.
I had kids, stayed home with them, tried my hand at being a crafter and cottage business owner, but it never really took. Always an avid reader, eventually learned about fanfiction. Yes, I started writing in a fanfic community, but even that wasn't my idea, because I was only helping out a friend who was a writer. I'm not ashamed. I think fanfic is great. I have some strong opinions on its place in literature, but that's for another time. As it turned out, I was decent at writing fiction, good even. A close friend encouraged me to find a way to write for a living. And I did. My boss at the electronics magazine now owned and operated several regional lifestyle magazines. With shaking hands, I sent him an email asking if I could have a shot at writing for him and he gave me a chance (Thanks, Terry!).
From there it blew up. Within a year I was writing for all three branches of the magazine group, had a full time content blogging job as The Bombshell Mommy for a Fortune 500 company, and a book contract with an indie publisher.
They say hind sight is 20/20, and they might be right, but there's no denying I missed a lot of signs all trying to point me in the direction of my future. What signs could you be ignoring? What's waiting for you?
About the Author: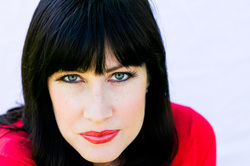 Annabelle is a best selling Romance and New Adult author, that is, when she's not checking homework or begrudgingly cooking dinner. Wife, mother, and creator of alternate worlds, Annabelle has a penchant for that which is outside the norm.
Her degree in Sociology has given her the ability to construct worlds that exist only in her head and translate them passionately to the page. The time spent studying individuals, interpersonal relationships, and particularly, women, within the constraints of our society led to Annabelle's unabashed ability to talk about sex as it fits into our modern lives.
She's also the author/personality of The Bombshell Mommy at Vitacost.com where she helps modern Bombshells and their families live "green".
Personal Links:  Website  /  Facebook  /  Twitter
Hannah Sullivan has spent the past three months stalking her ex-boyfriend, lurking in the bushes and hiding behind fake social media personas, convinced she can eventually rekindle the love they once shared. But when she meets Marc, who is everything James never wanted to be and more, she begins to wonder if she's got it all wrong. Hannah must come to terms with her own demons before she can decipher between her delusional mission the man of her dreams.

Amazon
Amazon (UK)
Barnes and Noble
KOBO
All Romance eBooks
Smashwords