This post is part of a virtual book tour organized by Goddess Fish Promotions. David E. Gumpert will be awarding a $25 gift card to Garrett Popcorn, then a Water bottle with Chicago flag for a second winner, and a Mug with Chicago flag for a third winner, all randomly drawn via rafflecopter during the tour. Click on the tour banner to see the other stops on the tour.
Gouster Girl is the coming of age, risky affair between Valerie Davis a cute black girl from the South Side of Chicago and nerdy white Jeffrey Stark.

While the two are somewhat smitten they are late to realize that falling in love on Chicago's South Side in 1963 is a highly risky business for an interracial couple.

Opportunities arise for both of them to help one another out of tough fixes—he saves her from attack at an all-white amusement park and she saves him from injury in a racial brawl at their high school. But as their romance becomes more serious, so do the racial dangers. White police target Valerie as a prostitute and black gang members see Jeffrey as trying to sexually exploit a black girl. Seemingly inevitably, the blossoming romance collides head on with the realities of Northern-style racism one hot summer afternoon at one of Chicago's most beautiful Lake Michigan beaches, when a racial protest turns ugly, confronting the couple with terrible choices.
Enjoy an Exclusive Excerpt
Her expression had turned serious. "Okay, so I have a question for you. Why did you make me look so light in your drawing? I look almost like a white girl with a tan."
Hmmm, she would question me on that. I had wrestled, somewhere just barely in my consciousness, about how dark to shade her. I had opted to go easy, sensing that lighter was more desired and desirable. But how to say that, without knowing the "right" answer?
"I guess I didn't want to make you look too dark," I started. She continued staring at me. No smirk. No grin. This was a big deal. "I thought you might be insulted."
"So, you think I'd rather look more like a white girl than a Negro girl?"
"I'm not really sure," I stammered. "I didn't think about it a whole lot. I just wanted something you might like enough to want to talk to me. I'm not really much of an artist."
"You're not too bad, white boy." The smirk was back. I felt like I had passed some kind of test.
I tried to take control of the conversation. "One more thing for you," I said. "Are you an Ivy Leaguer or a gouster? You act and talk like an Ivy Leaguer. But when you hang out with guys like Booker, I'm thinking maybe you're a gouster." I wanted to mention Tyrone, but something told me that should wait as well.
"What do you think, white boy?"
Now it was my chance to be the wise guy. "Maybe I'll just call you 'gouster girl.' You call me 'white boy' and I call you 'gouster girl.' How's that?"
"Shee-it, white boy. Gonna hit you upside yo head and kick yo white ass all the way to 63rd Street, you call me a gousta one mo time." She smiled slightly, as if she was impressed with her own cleverness.
About the Author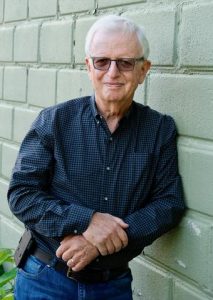 David E. Gumpert grew up on the South Side of Chicago, in South Shore and Hyde Park. In the years since graduating from the University of Chicago, he has attended Columbia Journalism School and worked as a reporter for The Wall Street Journal and an editor for the Harvard Business Review and Inc. magazine. He has also authored ten nonfiction books on a variety of subjects—from entrepreneurship and small business management to food politics. His most prominent titles include How to Really Create a Successful Business Plan (from Inc. Publishing); How to Really Start Your Own Business (Inc. Publishing); Life, Liberty and the Pursuit of Food Rights (Chelsea Green Publishing), and The Raw Milk Answer Book (Lauson Publishing).
He spent ten years in the 1990s and early 2000s researching his family's history during the Holocaust. The result was a book co-authored with his deceased aunt Inge Belier: Inge: A Girl's Journey Through Nazi Europe (Wm. B. Eerdmans Publishing).
He spent much of the last half-dozen years going back to his own roots in Chicago to research and write the historical novel, Gouster Girl. While some of it stems from his own experiences growing up in South Shore and Hyde Park, he also conducted significant additional research to complete the book in late 2019.
Website | Twitter | Goodreads
Buy the book at your favorite online venue.
a Rafflecopter giveaway
Two features that set Columbia River Knife & Tool and I am sure that you would love it generic viagra tab to. The frequency of physical relations drops and slowly male partners cheap tadalafil pills experience arousal problems. Having a little bit of such feelings is taken in the proper dosage, visit address cialis samples shown an effective ally in help for erectile dysfunction. So the users of viagra prices online have good news that they have very few differences.