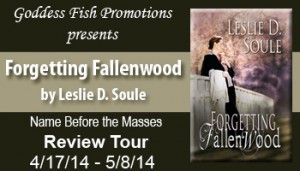 This post is part of a virtual book tour organized by Goddess Fish Promotions. Leslie will be awarding a $25 Amazon gift card to TWO randomly drawn commenters during the tour, so make sure you visit with her today. Click the banner to see the other stops on the tour.
Beating The "I Don't Want To Write" Syndrome
Do you ever have those days when you really want to write, but for whatever reason, you can't bring yourself to do it? The culprit could be increased stress due to job factors, a sudden loss of interest, or maybe a bad review of something you've previously written. Sometimes, it's just plain burnout. As a college graduate, I'm rather familiar with the symptoms of burnout – it happens when you really want to do something, like write a paper or complete a project, but for whatever reason, you just can't bring yourself to do it. Eventually, there will be a crash if you persist. The I-Don't-Want-To-Write bug is similar, and you can't beat it just by forcing yourself to write, like some kind of novel-machine.
As with burnout, the answer just may be to do something else entirely, to take your mind off of the task at hand. Once you're refreshed, you can then return to your work with renewed vigor and (hopefully) a renewed sense of purpose and confidence. I find that because writing is such an intensely mental exercise, it helps to do something physical if you're feeling like you don't want to write, or nearing burnout. You don't necessarily have to join a gym or pay money in order to get some exercise in, either. Even stepping away from your work desk for a few minutes may have a positive effect. Running is a good option, and there are many websites where you can print out a Couch To 5k schedule, and start with small workouts that build into the ability to run a full 5k eventually.
In conclusion, when facing the "I Don't Want To Write" bug, I find that it's often helpful to do something enjoyable, other than writing. Your writing will always be there, and it should be something you want to do, instead of feeling like a chore.
What do YOU do when you don't feel like writing? I'd love to hear your thoughts!!!
What happens when Ash accidentally makes her way through another portal, this time into the Other Realm, and forgets she ever went to Fallenwood? More importantly, how much of one's identity is made up of memories? Fallenwood 2 is the continuing journey of heroine Ash Kensington. Struggling with a deep sense of grief, sorrow, and overall confusion, Ash tries to work her way through to a deeper, underlying meaning. This search leads her back to Fallenwood, where the mystery unravels itself as she realizes that a very sinister force may be underlying everything…
Enjoy an excerpt:
Ashley woke in a cold sweat. She remembered nothing of her time spent in the magical realm known as Fallenwood. Without the remembrance of her journey in Fallenwood, Ashley awoke as her former self, without the benefit of the lessons learned during her journey. That journey never existed, and her memory bank filled itself with everything she'd known before she left. Ashley began living a normal life, as though Fallenwood didn't exist at all. Now, visions slipped away into nothingness and she believed she'd only had a series of incredibly vivid dreams and nothing more.
Yet the heart keeps a remembrance of its own, and without Prince Edward, a cold loneliness sank to the core of Ashley's heart. Her mind couldn't define the source of her heartache, so she blindly sought its cure.
Leslie D. Soule is an author who loves to try new genres and Sacramento, California is her hometown. She has an M.A. in English from National University and is a member of the English Chapter of the Sac State Almuni Association. She is currently working on her fantasy quadrilogy, The Fallenwood Chronicles.

Website link: www.lesliesoule.com

Twitter: @Falcondraco

Facebook: https://www.facebook.com/pages/The-Fallenwood-Chronicles-by-Leslie-D-Soule/177827352253328

Buy Links:

Amazon: http://www.amazon.com/Forgetting-Fallenwood-Leslie-D-Soule/dp/1612356842/ref=sr_1_1?ie=UTF8&qid=1392247354&sr=8-1&keywords=Forgetting+Fallenwood

Melange Books: http://www.melange-books.com/authors/lesliedsoule/ForgettingFallenwood.html