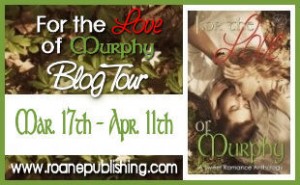 This post is part of a virtual book tour organized by
Roane Publishing
. A $10 Amazon gift card and a paperback copy of
For Love of Murphy
will be given away via the Rafflecopter at the end of the post. Click on the tour banner to see the other stops on the tour.
If you had to do your journey to getting published all over again, what would you do differently?
Michelle Ziegler
:
I would have gone to a conference sooner so I could meet my critique partners before I wasted my time writing 300,000 words. Turned out that wasn't a novel, it was an epic story that only the Greeks could get a way with. Other then that, there isn't much I could change. Except maybe taking a creative writing class and learning about show vs tell and grammar. Okay. That would have helped too.
I don't know I would do a whole lot differently. Perhaps I would have attempted to branch out by being published with multiple publishers a whole lot sooner than I did, but other than that, probably not much else.
I'd have taken my time more with my debut novel, Call of the Sea. I'm not known for my patience, and I scrambled to finish the novel when the publisher sent me an email saying the story seemed like something they'd like to publish if I would consider sending the manuscript to them for review. They accepted it, and things moved quickly from there. I really feel it hurt the story to not have put it aside for a while when I finished and going back over it again before starting the query and submission process. Overall, the story could have been stronger, and if I had it to do over, I would have made sure it was that way before I sent it out.
Ultimately, I had a novel published, and for me, it was a huge bucket list item crossed off, so I really have no room to complain at all. But, hind sight is also twenty/twenty.
I would tell myself to stop sulking over rejections, fix the problem, and resubmit somewhere else. Had I done that, I would have been published almost two years earlier. Instead, I took the rejection personally, and filed away my first published book for seventeen months before I got up enough courage to resubmit. It was accepted immediately at the new publishers.
If I had to do it all over again, I would have had more confidence in my abilities. I have a tendency to sell myself short, and I really, truly didn't believe anyone would be interested in publishing my books. I wrote my first book, after doing diligent research on everything from self-editing to querying, making sure to be fully prepared for everything including the slew of rejections every that come with the territory. What I wasn't prepared for was offers. I was a basket case for a full week while I worked to decide which offer to take!
No Wrong Turns by Lisa A. Adams

Jessica Brannah is escaping from her last heartbreak with a loaded car and a new address. But, when Murphy's Law finds her stranded in a back country town, she realizes there's no outrunning love.

Falling For You by Michelle Ziegler

Darci's ready to move on. Too bad the dating pool stinks. Until, a ghost from her past resurfaces—the man she missed out on in college.
Andrew was the one man she'd always loved, but neither of them ever made a move. But, old feelings aren't the only thing resurfacing of late. Darci's ex comes crawling back at the most inappropriate time, and with all the testosterone flying, she might not end up with either man.

Coffee and Cufflinks by Annabelle Blume

Fresh out of a failed relationship and exhausted by a constant barrage of fiascos at work, Olivia Johnson doesn't see the man of her dreams standing right in front of her. She tells herself the morning coffee meet-ups with Daren are nothing but coincidence, but even she can't deny his unequivocal attractiveness. When a night entertaining clients takes a turn for the worst, and Daren shows up where she least expects him, failure starts to look more like fate.

A Slippery Slope by Rebecca Hart

Anne Montgomery is psyched for her girl's only weekend, despite her friends' choice of vacation locale—the snowy slopes of Harris Peak Ski Resort—where someone as notoriously accident prone as she has no business being. When Murphy's Law finally catches up with her, Anne is forced to consider there may be times when it pays to be unlucky.

The Shamrock Incident by London Saint James

Florist, Marissa Carmichael isn't usually a klutz, but she's in a hurry and having a bad day. In her haste, she loses her balance and tumbles from the back room of her shop, arms flailing. Her less than graceful entrance halted by a headfirst crash into a display case chock full of silk flowers.

Trey Cleary didn't think his day could get any worse, until he finds. himself picking the side view mirror of his BMW up from the ground. On a mission to do something about it, he locates the flower shop matching the name on the back of the van that mangled his 'baby'. But, his car is forgotten when a beautiful woman bursts into the room like an out of control whirling dervish, and takes one mother of a wipeout into the shop's counter. Coming to her aid brings out the hero in him like no one he's ever encountered, and leaves him with a need to know more.

For Marissa and Trey, this just might be the one time it pays to be unlucky.