Nina Rowan is visiting with us as part of a Virtual Book Tour organized by her publisher. Enter to win 1 of 5 copies of A Dream of Desire.
Five things we'd never guess about you
1. I used to be in the film department at UCLA and wrote a screenplay set during the American Revolution.
2. I've met an interesting array of celebrities, including Jodie Foster, Alec Baldwin, Carol Burnett, Anthony Hopkins, Gregory Peck, Geena Davis, Billy Joel, Sinead O'Conner, and Julia Roberts.
3. I used to do classical Indian Bharatanatyam dancing and still have the costume and ankle bells.
4. I've eaten ice cream in front of the Pantheon in Rome, the Winter Palace in St. Petersburg, Russia; the Victoria Memorial in Calcutta, India; the Louvre in Paris, and London's Buckingham Palace.
5. I know more about ninja than I ever thought I would.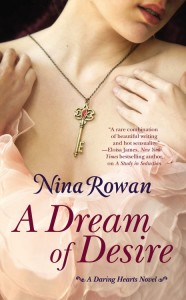 About A DREAM OF DESIRE
Talia Hall has long been in love with her adventurous friend James Forester, Baron Castleford. But rather than explore their mutual attraction, James chooses a year-long expedition over Talia. He discovers his mistake when he returns to London and finds himself desperately drawn to Talia's fiery beauty. However, now the storms of their irresistible passion might be too turbulent to endure.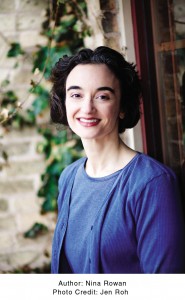 About the Author
Originally from California, Nina Rowan holds a PhD in Art History from McGill University, Montreal, with a specialization in 19th century French and Russian art. A librarian-at-heart, she also has an MA in Library and Information Sciences. Nina lives in Wisconsin with her atmospheric scientist husband and two children.
Website