Enter to win a DVD Set of The Walking Dead, Season 1, and a copy of Vampire's Thirst by Cynthia Garner.
Five Things We'd Never Guess About Cynthia Garner
1. She was in a bell choir in college
2. She sang in a mixed quartet in church
3. She tried—and failed—to teach herself how to oil paint with Bob Ross
4. She's a compulsive buyer.
5. She is a bit of a hermit.
VAMPIRE'S THIRST by

Cynthia

Garner

(

May 6, 2014

; Forever Yours E-Book; $3.99)
THE FEEDING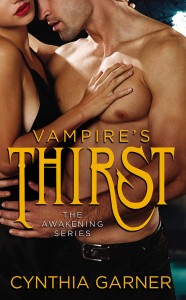 In a post-apocalyptic wasteland, civilization no longer exists, and only the strongest survive. The few remaining humans must band together with supernatural beings to battle unspeakable evil-or all hope will be lost.
After accidentally starting the zombie apocalypse, Kimber Treat now lives with her vampire lover in a compound where humans and vampires live together peacefully. A gifted necromancer who can summon the dead, Kimber is beyond happy when she learns she's pregnant. But as her body changes, Kimber fears that her powers are being influenced by evil, a fact she must keep from everyone, including Duncan . . . 

Duncan MacDonnough is preoccupied with his new role as leader of the local vampire conclave, but not so preoccupied that he doesn't notice that Kimber is acting strangely. She's grown distant, and Duncan is convinced she's hiding something. Duncan knows the key to stopping the apocalypse is Kimber's powers, but using them puts her life at risk. With the threat from the Zombie outbreak looming, will Kimber and Duncan learn to trust each other once more to save themselves, their unborn child, and the rest of the world?
About the author: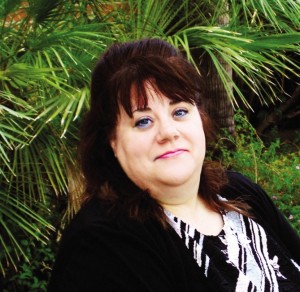 Cynthia
Garner
discovered her love for writing when her sixth grade teacher told the class to write a story that began "It was a dark and stormy night…" With that
Cynthia
's love for all things paranormal was born.  When she's not working her day job as a mostly mild-mannered Human Resources Manager, she's on her laptop writing or playing way too much Solitaire. Originally from Northeast Ohio,
Cynthia
now lives in the desert Southwest.
Social Media Links: