Finding that perfect someone…
 Everyone searches for their right someone, the one that makes them whole, complete.  I'm no different than any other in that search.  It just took me a little longer than some.
Have you ever just known in a heartbeat that something or someone was right for you?
I had that feeling when I first met my husband.  Now, we didn't meet in the usual fashion.  However it may be becoming more usual the more high-tech the internet gets.
Yep you guessed it, I met my hubby online.  It was quite by accident I must say.  It wasn't on a dating sight.  Lord knows there are tons of those out there these days.  This site was called Tagged.com.  Just another social site like Facebook I guess.  You befriend people, there are chat rooms and tons upon tons of cute little tags you can send your friends.
I don't even remember how it happened but somehow we became friends on this site.  After talking through the site for a couple months, we got daring and shared an email address.  Eventually we even exchanged phone numbers and gradually we got to where we are today, married with 4 kids(a his & hers type thing).
I swear I'll never forget the first time I actually saw him in person.  After months of correspondence, I felt like I'd known him forever and neither of us were nervous at all.  I think for us, meeting online took away all of the first date pretenses and pressures.  We didn't have to worry about the small talk or sex on the first date.  It enabled us to get to know each other and become friends first.   Funny how things like that work out huh?
In my Christmas Novella, Harper's Wish, Harper and Fin didn't meet online but they did meet in an unexpected way, at least for her.  I love this excerpt….it would totally be me lol.
A touch on her shoulder had her dropping everything.
 * * * *

"Damn, I'm sorry. Here, let me help you."
Fin bent to collect the plastic bowl before it could roll away from the woman he'd accidentally startled. He grabbed a few miscellaneous items, handing them to her while she shoved everything else into her bag. They reached for the last item at the same time, Fin looping his fingers in her key ring as he stood up."Guess you probably need these, huh?"
She nodded, not taking her eyes from him, but also not saying a word. Is she okay? Maybe the lady was having a heart attack.
The woman gaped at him for another few moments before a whispered thank you squeaked past her lips, then she promptly turned her back to him. He heard jangling as she fidgeted with her keys, reminding him there was a reason for his visit.
"I didn't mean to scare you, honest. I only needed to drop off this letter to Santa before clos—"
She whipped about. "What did you just say?"
Surprise had him catching his breath and Fin couldn't help but notice how striking the blue eyes boring into him were. The sparkle in their depths when she twitched her one eyebrow reminded him of the way tinsel shimmered in the firelight.
"Um, this letter…" He held up the white stationary envelope with colored Christmas trees all over it. "It's kind of a tradition with my nieces, and I never could lie to them…so when I see them tomorrow, I need to be able to tell them I dropped it into Santa's letter box myself."
She looked at him as if he were a lunatic, but still said nothing.
"It is still here isn't it? The box? Lord, I hope so. My brother said he saw it last week."
"Oh yeah, I mean, yes, it's here. You wrote a letter to Santa?"
Why did she sound so surprised? "Yes, ma'am, I sure did. You try telling three-year-old twins Santa doesn't exist. I do whatever those two gorgeous little rugrats tell me to. Hence this letter." He held it out to her. "I'm Finley Cole by the way. Fin for short. Are you the postmaster?"
I would love to hear how you met your special someone so please leave a comment.
~ Krista
About the Author: Born and raised in Northern Indiana, Krista now resides in Northern Lower Michigan.  She is married to a very supportive man who allows her to follow her true passion of writing and never complains when she is pirated away on her computer for hours.  He is excellent at bouncing ideas around with and even helps the occasional writers block.  He's also a terrific "in house" editor.  Krista is also a mother of 4 ornery children who keep her plenty busy.  With an addition of 2 beautiful chocolate lab sisters and a playful kitty, there is never a dull or spare moment in her household.
Krista has always loved to read and would often sit up for hours into the night not able to put down a book until she was finished.  She still reads when she can but her main focus is creating her own stories to share with the world.
She loves to communicate with her readers so please feel free to drop her a line anytime.
 Krista Ames' Links:
Website    Blog   Facebook   Twitter   Goodreads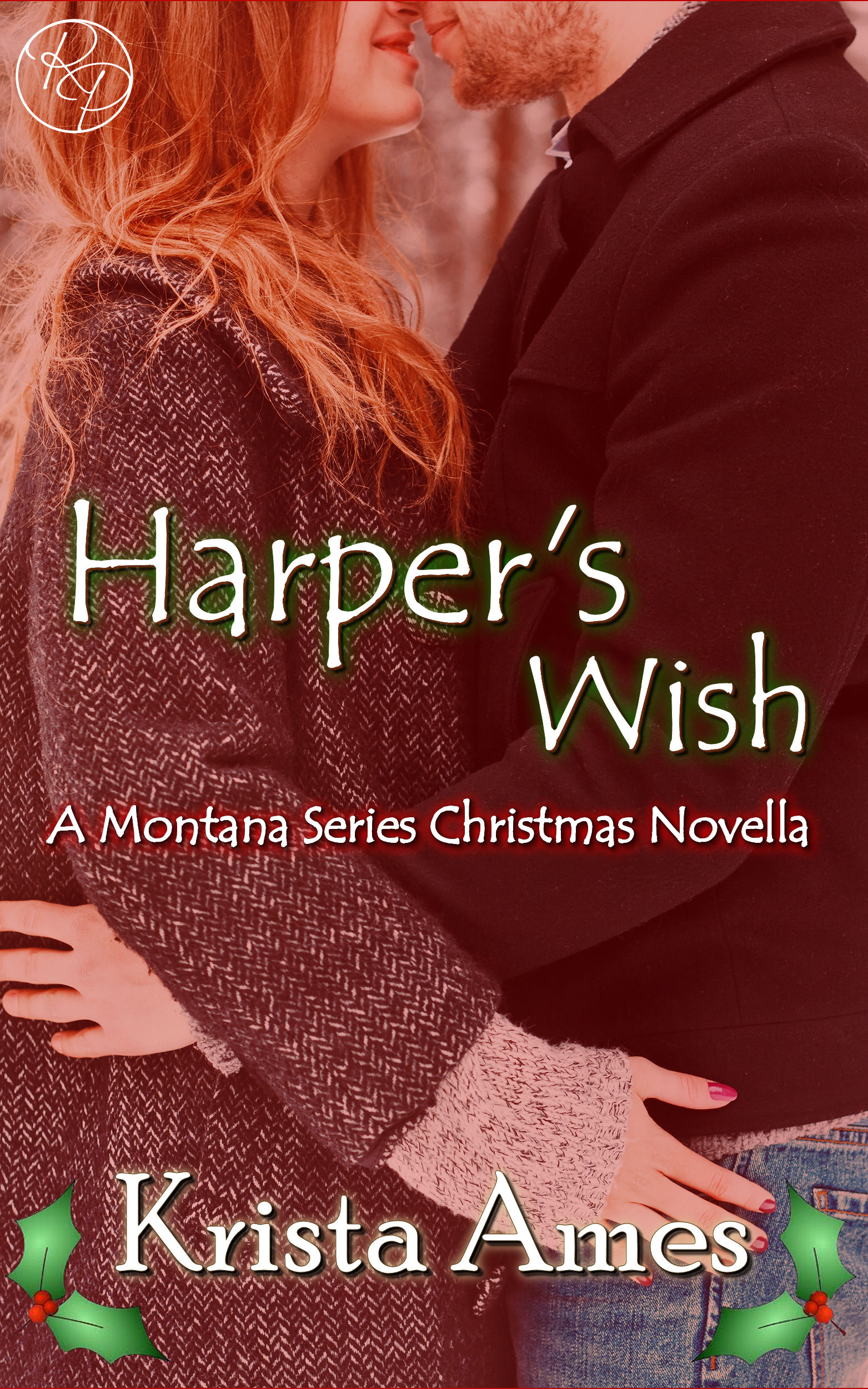 Christmas is supposed to be a joyous time of year, but for Harper Donaldson it's just another day. Orphaned at an early age, she doesn't have a single good memory of Christmas.
But, when a Santa's Mailbox mysteriously appears in the lobby of the post office where she works as postmistress, Harper wonders what it could hurt to send her own letter to Santa.
Could he bring her the family she'd always wanted?
Link for Harper's Wish on Goodreads:
https://www.goodreads.com/book/show/19046979-harper-s-wish?from_search=true