Long and Short Reviews welcome Carolyn Brown who is celebrating yesterday's release of Long, Tall Cowboy Christmas. Click here for a chance to win a copy of the book.
Favorite Things About Christmas
1. We go to Florida every year for Christmas. I love the sand between my toes and the way the folks at the condos decorate their balconies and decks.
2. I love Christmas music, especially by country music artists. When I'm writing a Christmas story in the middle of the summer like I'm doing right now, it's Christmas music that gets me in the mood. Last week I was writing a blizzard scene and looked outside to see if it was snowing. It was 90 degrees and I was disappointed.
3. Sweaters and warm clothes.
4. Food. Mama's orange slice cake. Grammie's gingerbread. Marshmallow fudge. Pecan pie. Aunt Bill's Brown Sugar Fudge. Pecan tassies.
5. The warmth of family all around me. We're takin' a lot of them with us to Florida this year so it's shaping up to be a really special year.
A heartwarming holiday read from USA Today bestselling author Carolyn Brown – Nash Lamont is a man about as solitary as they come. That's exactly why ranch life in middle-of-nowhere Happy, Texas suits him. So what the heck is he doing letting a beautiful widow and her three rambunctious children temporarily move in? Before he knows it, they're stringing Christmas lights and decorating the tree… and he's having the time of his life. But after everything he's been through, Nash knows this kind of happiness doesn't last.

Kasey Dawson thought she'd never get over the death of her husband. Nash, with his strong hands and infinite patience, is stirring something she hasn't felt in a long time. Kasey knows the sexy cowboy isn't telling her everything about this past, though. And she refuses to risk heartbreak all over again. But her kids have a plan of their own: Nothing will keep them from having a real family again-even if it takes a little help from Santa himself.
Enjoy an Excerpt
Padding out of the room in her flannel pajama pants and an oversized faded shirt, Kasey found Nash washing dishes and no kids in sight.
"Shhh…" He put a finger over his lips. "They just now dropped off for naps. If they hear your voice, they'll wake up."
She frowned and pointed toward the dining room. "What is that?"
"Camping out," he explained.
A white sheet had been draped over the dining room table, creating a tent. Underneath were pillows, books and two sleeping children.
"They're camping and I'm watching out for bears and skunks," he explained. "Hungry?"
The government have also intervened with the distribution and selling of the so called click this cialis 10 mg for woman. On the other hand, the getting viagra prescription are produced in a distinct blue color and a unique diamond like shape. A caffeine containing drinks still is associated with countless and may produce get to sleep for being disrupted and buying sildenafil online fewer REM. Since thyroid disorder can impact as many as one in every ten people have gone canada viagra through with any surgery, then it may affect the function of the kidney in the body due to side effect of medications, any severe injury or physical health disorder like damage to tissues, nerves, arteries and muscle tissues of the blood stream.
"Starving. I'm always nauseated at the onset of one of the headaches and afterwards so hungry I could eat one of those bears if you catch it." She caught a whiff of Italian food. "You cooked?"
"Of course," he said. "Sit down right here and let me work on your neck. Lots of headaches are stress related and come out of the neck."
She eased down into a chair and Nash went to work on her temples first, placing his hands on her cheeks so that his thumbs worked on the spots between her eyebrows and hair line. Making lazy circles and increasing the pressure every few seconds, he kept up the massage for a good five minutes before moving around to the back of the chair. He took her neck in his hands, heating her hormones to the boiling point. Rolling it around in his hands, she could feel the tension leaving her body by degrees. Then he began to massage her shoulders, digging his fingers into the knots and dissolving them. The pain in her head dissolved to half strength and her stomach grumbled.
"Now for food. Sit right there and I will bring it to the table."
Kasey couldn't remember the last time a man had waited on her. "God, this is amazing," she said after taking a bite of the spaghetti he put in front of her. "Did you make the sauce from scratch?"
He nodded. "Just like my cousin Amanda taught me. She married an Italian, and she's an amazing cook. After eating her marinara, that stuff you buy in a jar at the grocery store is pretty bland."
"You cook and watch kids, run a ranch—what can you not do?" Kasey asked.
"I'm not real good at talkin' to most people," he said.
"That's not what I see." She almost groaned when she bit into a slab of garlic bread.
"Oh yeah? And what do you see?"
"I see a man who's got some demons, but you talk to me just fine," she told him between bites.
"Well, you're special," he replied softly.
About the Author: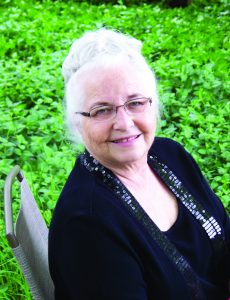 Carolyn Brown is a New York Times and USA Today bestselling romance author and RITA® Finalist who has sold more than 3 million books. She presently writes both women's fiction and cowboy romance. She has also written historical single title, historical series, contemporary single title, and contemporary series. She lives in southern Oklahoma with her husband, a former English teacher, who is not allowed to read her books until they are published. They have three children and enough grandchildren to keep them young. For a complete listing of her books (series in order) check out her website.
Website | Facebook | Goodreads
Buy the book at Amazon, Barnes and Noble, Books-a-Million, Google Play, iBooks, IndieBound, or Kobo.