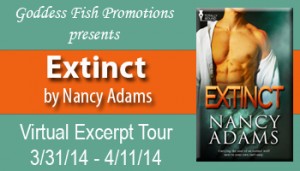 This post is part of a virtual book tour organized by
Goddess Fish Promotions
. Nancy will award one $20 Amazon GC to a winner randomly drawn via Rafflecopter below. Click on the tour banner to see the other stops on the tour.
Theo's sole purpose for the last ninety-eight years was to protect his wolf. That changed the moment he met Drew and the wolf called 'Mate'.

Carrying the soul of an extinct wolf alongside your own isn't easy. Swapping into said wolf is even harder. Ask Theo Grey—he's been doing it for ninety-eight years. Yet, after surviving two world wars, witnessing the space race and patiently enduring the eighties, you'd think he'd have seen it all, but nothing could have prepared him for meeting Tofino's new vet, Drew O'Bannion and according to the wolf, his mate.

Drew loves her dog, sleeping in and coffee. She also loves being a vet. The main reason behind her accepting the veterinarian practice offered to her from a family friend. Hoping for a slower pace at life Tofino seemed the ideal spot. What she didn't expect was Officer Theo Grey. Theo is tall, dark and drop dead gorgeous, a definite 10 on the 'wow' scale. Regardless of his looks, there is more to Theo, there is her unexpected attraction for him. It's unnerving and completely out of character for her, but she is able to match Theo's hungry kiss, for hungry kiss.

With their desire growing at an alarming rate and the threat of an unknown shooter roaming the woods of the coastal town, Theo must face the ultimate decision—let Drew go for her own safety or claim his mate for all time.

Reader Advisory: This story contains scenes of violence and threats of non-consensual sex.
Enjoy this exclusive excerpt:
"I need you to keep an open mind, Drew. Do you think you can do that?"
She blinked again, surprised by his question. A question she had never been asked before.
"I think so, yes."
He narrowed his eyes, studying her intently before nodding. "Hold on to the good feelings, baby. It will help push the nervous ones away." With that said he stood and walked to the bookshelves on the other side of the room. He pulled the copy of Peter Pan from the shelf then walked to his bag and pulled a large leather book free. He stopped in front of her once again, and after she sat up and covered her breasts with the blanket, he gave her the books then sat at the small table.
"Read the inscription in the front of Peter Pan first." She nodded and opened the old book, flipped through the first few pages until she saw the most elegant handwriting.
She began reading the message.
"April 15th, 1911
Percy,
I know how much you enjoyed seeing the play with your father so many years ago. When I heard that Mr Barrie's play was becoming a book, I requested a copy for you, so that you might read it whenever you want.
Happy Birthday, my darling son.
Mother"
Drew paused and looked up. "Who's Percy?"
"I'm Percy." He rested his elbows on his knees and sighed. "Percival, actually."
She raised a single eyebrow in doubt. "Percival? But you said…"
"Theodore is my middle name. My family called me Percy when I was living at home." He nodded toward the much larger book sitting next to her. "Read the next one out loud." He clasped his hands together. "Start from the beginning."
She nodded and did as he had asked. As she began reading, she had the distinct feeling that she had seen this same handwriting before.
"My full name is Percival Theodore Grey. Yes, Percival or Percy to my family and close friends. Thankfully, I haven't been addressed by my full name since before the war. I was born 15 April 1885 in London, England, to Lord Theodore Grey…"
About the Author: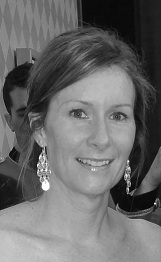 My name is Nancy Adams. I am a full-blooded Canadian, right down to the maple syrup running though my veins. I enjoy watching hockey but despise skating…and the cold. I enjoy a good helping of Tourtiere with a side of Poutine as much as the next person, yet I am only bilingual when it comes to swear words.Besides writing, I have three small – but legal – addictions: bed linens, lavender and books. All of which are replenished on a regular basis. Reading into the wee hours of the morning is one of my many bad habits, next to spontaneously rearranging furniture and randomly painting rooms in my house.
Website: http://fancynancyadams.wix.com/erotic-nancy-adams
Blog: http://fancynancyadams.blogspot.ca/
Twitter: https://twitter.com/Nancyadams_A
Facebook: https://www.facebook.com/NancyAdams.scribblingseduction?ref=hl
Buy the book at