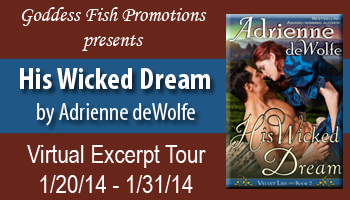 This post is part of a virtual book tour organized by
Goddess Fish Promotions
. Adrienne will be awarding a $20 Amazon Gift Card to one randomly drawn commenter during the tour, a $15 Amazon Gift Card to another randomly drawn commenter during the tour, a TIN-STARS AND TROUBLEMAKERS (4 full-length ebooks in a box set by best-selling Western Historical Romance authors Adrienne deWolfe, Patricia Rice, Sharon Ihle, and Patricia Hagan) will be awarded to one randomly commenter during the tour, another randomly drawn commenter will win the best-selling WILD TEXAS NIGHTS series by Adrienne deWolfe (3 books, total) during the tour, and last but not least, the award-winning VELVET LIES series by Adrienne deWolfe (ebooks 1-3) will be awarded to one randomly drawn commenter during the tour. Click the banner to see the other stops on the tour.
Haunted by scandal, Eden Mallory is determined to start over in a small Kentucky town. But she won't soon forget the sexy, rugged doctor who rescued her from an outlaw, then rode off into the storm.

After losing his kid-brother to consumption, Dr. Michael Jones is obsessed with saving lives. He has no room for love or a wife. But the nights are lonely, and Eden haunts his dreams.

When Eden becomes his backdoor neighbor, she turns his world upside-down with her unconventional healing skills and sweet temptations. Then outlaws return, forcing Michael to confront his past if he is to save the most precious life of all.
Enjoy this excerpt:  "Dreams Made Flesh"
Eden sniffed. "Beastly boring, that's what growing up is. When's the last time you did something outrageous? Something scandalous, just for the fun of it?"
Michael fought back a grin. Well now, this was a side of Eden he hadn't anticipated.
However, his kid sister's friend—not to mention his kid sister herself—shouldn't be privy to the sorts of skeletons rattling around in his closet: the ale-chugging contests in the church chancellory, the naked widows he'd romped with through cornfields, the hundreds of times he'd wound up snoring with a bottle of rotgut in the Jade Rose Saloon.
"Well, let's see." He rubbed his chin. It was already growing rough with evening stubble. "I hid a dime novel in my prayer book, once."
"And?"
"And Papa was livid."
"That's it?"
He cast her a sideways look. "You've never seen Preacher Jones livid."
She wrinkled her nose. "I suppose that's true."
Thanks to the breeze, a tendril of hair kept slithering across her cheek, and while it didn't seem to bother her, it was a sore temptation to him. He had to lean his weight back on his hands just to keep from reaching for her.
"I fell in love with a married man, once," she volunteered.
A bolt of jealousy crackled all the way to his toes.
"Of course, I didn't know he was married at the time," she admitted.
He was relieved to hear that.
"Loving Paul was probably the most wicked thing I've ever done. But I stopped loving him when I realized how he'd lied to me. I don't think there should be any room for lies in love. I mean, if you have to lie, you can't really love the person, can you?"
He squirmed inside. But what if the lie serves that person better than the truth?
"Have you ever been in love?" she ventured.
He dared to meet those ocean-sized eyes and quietly, helplessly, drowned. He managed a weak nod.
"With Bonnie?" she whispered, sounding faintly hurt.
He nodded again, hating that he'd ever found anything at all appealing in Bonnie's catty, underhanded ways.
Eden plucked at her skirt. "Bonnie is very pretty."
"That has nothing to do with it." He winced. He hadn't meant to sound so harsh. "What I mean, is that things were different then. I was preoccupied with school, studying feverishly, reading everything I could get my hands on to save Gabriel…"
His voice trailed as the old grief pushed its way to his throat. All the medical knowledge in the world had been at his disposal, and yet he'd still stood helplessly by as Gabriel's flesh stretch tighter and tighter over his ribs.
"I'm sorry, Michael," Eden murmured.
She pulled her feet from the water, and he turned his face away, grateful for the distraction. Was it the wine or the heat that was making him maudlin?
She rose, giving his shoulder a gentle squeeze before walking away. He swallowed, wondering why she was leaving him, wondering why the hell he was letting her go.
She picked her way across a patch of wildflowers. Each time she stopped to bend over a petal or finger a leaf, her hair spilled further out of its knot, cascading in burnished waves over her left shoulder. A crushing sense of loneliness seized him. He couldn't bear for her to slip away, to vanish as she had so many times in his dreams. He rose, thinking to follow. Her gasp of excitement stopped him.
"Michael, look!"
He did, and his chest constricted. A swallowtail butterfly had fluttered onto her hand. It beat its wings for a moment before launching again for the sky. Laughing, she gave chase, disrupting what he'd thought had been a palette of orange and yellow flowers.
Suddenly, she was surrounded by saffron wings. She threw her arms wide, spinning in the golden storm, rousing more butterflies from their slumber.
It was the scene from his dreams. The realization exploded through him with the force of a cannonball. He cursed as his legs suddenly, inexplicably failed.
"No, dammit," he panted, "not now."
But the attack of his sickness was relentless. He groped desperately for a tree limb, hoping against hope that Eden wouldn't see how he tried to hang on.
He fell hard to his knees anyway.
About the Author: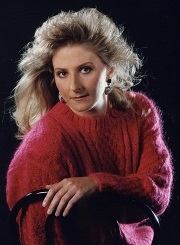 Adrienne deWolfe is a #1 best-selling author and the recipient of 48 writing awards, including the Best Historical Romance of the Year for Texas Wildcat (Book 3, Wild Texas Nights) and Doubleday's Book of the Month Selection for His Wicked Dream (Book 2, Velvet Lies.) Adrienne is excited to announce that she will be donating a portion of her royalties from the Velvet Lies Series to urban reforestation efforts.
Fascinated by all things mystical, Adrienne writes a weekly blog about dragons, magic, and the paranormal at http://MagicMayhemBlog.com to help her research her upcoming paranormal romance series. She also writes a weekly blog featuring tips about the business of writing at http://WritingNovelsThatSell.com. She enjoys mentoring aspiring authors and offers professional story critiques with her book coaching services.
Follow Adrienne deWolfe
• Facebook
http://facebook.com/Writing.Novels
• Good Reads
http://www.goodreads.com/Adrienne_deWolfe
• Pinterest
pinterest.com/AdriennedeWolfe/boards/
• Twitter (Fantasy Fiction)
http://Twitter.com/SolMage
• Twitter (Writing News)
http://twitter.com/AdriennedeWolfe
Purchase Adrienne deWolfe's Books: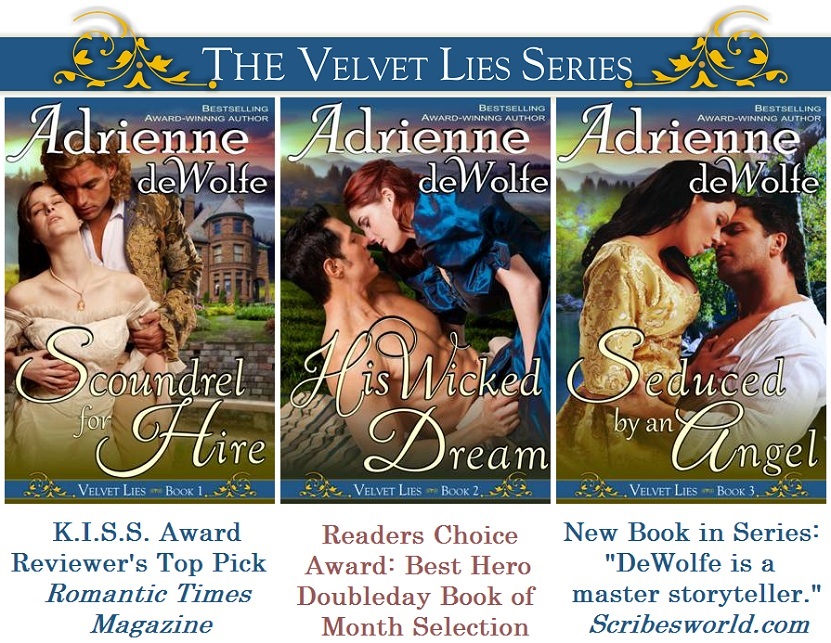 Velvet Lies Series
http://ebookdiscovery.com.p8.hostingprod.com/AdrienneDeWolfe.html
Wild Texas Nights Series
http://ebookdiscovery.com.p8.hostingprod.com/AdrienneDeWolfe.html
The Secrets to Getting Your Romance Novel Published (Series)
http://writingnovelsthatsell.com/the-secrets-to-getting-your-romance-published/
Tin-Stars and Troublemakers
Amazon:
http://www.amazon.com/gp/product/B00CBMZT10/ref=as_li_qf_sp_asin_tl?ie=UTF8&camp=1789&creative=9325&creativeASIN=B00CBMZT10&linkCode=as2&tag=writincom01-20
Barnes & Noble:
http://www.barnesandnoble.com/w/tin-stars-and-troublemakers-box-set-patricia-rice/1115105000?ean=9781614174110