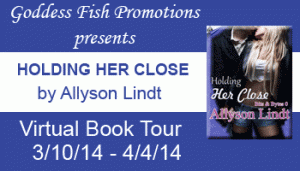 This post is part of a virtual book tour organized by
Goddess Fish Promotions
. Allyson will be awarding prizes as follows:
* Grand prize at the end of the four week tour – a Kindle paperwhite to one randomly drawn winner via the Rafflecopter at the end of this post.
* Each week, one randomly drawn commenter will win a $10 Amazon GC
You can see the other stops on the tour by clicking the tour banner.Building an (Fictional)
Empire—aka the background of Holding Her Close/center>

Thanks so much to Long and Short Reviews for having me today. It's always great to be here!

Holding Her Close is one of those books that was a long time coming. The characters sat in my head for more than a decade, demanding their own story. I tossed ideas around, stuck them in a variety of situations, and tortured them over and over to see how they would react.

I've always known Zach worked a little too hard for his own good, and tended to take life too seriously. I've always known Scott was his best friend, didn't care for his parents, and had a drinking problem. And Rae (even though her name has changed over the years) has always been an odd combination of shy and confident, and torn between wanting to be with Zach, and writing herself out of the picture preemptively so she doesn't get hurt.

But I could never figure out quite where Zach, Rae, and Scott belonged, story-wise. Maybe in a high school setting? Meeting up later in life through mutual friends? Somewhere else?

Then one day I heard a real life story one day. About a software company who had started from nothing, gone on to make it big—thanks in help to a well-known distributor—and then decided to break off on their own, rather than answer to someone else's ideals.

That sparked something in my imagination that made the story just take off running. There's something to me about being able to harness one's own creativity, and then exercise it the way I want (which is probably why I write, go figure 🙂

I wanted my characters to have the same thing. A chance to create, confined only by their imagination, not by someone else's standards. And I wanted them to excel at it. But first they'd have to work for it, get squashed a couple of times, live through a broken heart or two, and lose it all before they figured out how to get it back. Otherwise, they might not appreciate the experience.

And that's how Bits & Bytes, Rinslet Media, and Holding Her Close were born.

Which makes me wonder, do you prefer to see fictional characters achieve more realistic dreams, or to strive for the world, and/or the fantastic?
Zach is haunted by ex-girlfriends. The day his fiancée dumped him, she also sold her shares of his multi-billion dollar corporation. On top of that, the girl who broke his heart in high school—the only woman he's never been able to forget—is back in his life. She's filling his business partner's head with delusions of recovering from the hostile takeover, and haunting Zach's most vivid fantasies. But Zach's got a plan to solve half the problem: one night with her, and he can put the past behind him.

It's been years since Rae talked to her high school sweetheart. But her best friend is his business partner, and running in the same circles has caught up to her. Rae is seeing Zach everywhere, including her explicit, rampant imagination. When he proposes a single night together for closure, she hopes it will be just what she needs to move on.

The past and the present intertwine as "Just this once" becomes "Just one more time." When Rae discovers the solution to Zach's business problems the entire situation becomes one giant knot. Can he trust her enough to risk his heart and livelihood a second time, or will experience convince him to walk away from everything?
About the Author: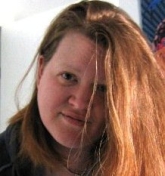 Allyson Lindt is a full-time geek and a fuller-time contemporary romance author. She prefers that her geeky heroes come with the alpha expansion pack and adores a heroine who can hold her own in a boardroom. She loves a sexy happily-ever-after and helping deserving cubicle dwellers find their futures together.
Website ~ Facebook ~ Twitter ~ Goodreads ~ Amazon Author Page
Buy the book at Amazon.