Leave a comment or ask Christy a question for a chance to win a print copy of Much Ado About Jack (US/Canada only)
Character Interview with Captain James "Jack" Montgomery

Christy English: Thanks for joining us, Captain.
Jack Montgomery: It's a pleasure, always, to talk with beautiful ladies. Though I would thank all the ladies present if they would refrain from calling me Jack. It's an Englishman's name, and I'm a Scot from Aberdeen.
CE: But you served in the Royal Navy with distinction.
JM: And made a pretty penny at it, I'll tell you. But a Scot is always a Scot, whatever uniform he wears. And any man who tells you different is trying to cozen you, so that he might steal your purse or your virtue. Or both.

CE: You sound like you're speaking from experience.
JM: Now, I'm a real man if not a gentleman, and you won't find me stealing from a lady, virtuous or otherwise, but I've five sisters so I have plenty of experience in dealing with men who need to be shown the door. And the heel of my boot on their bum, like as not.

CE: You met such a man in the Duke of Hawthorne (villain from MUCH ADO ABOUT JACK and LOVE ON A MIDSUMMER NIGHT), did you not?
JM: Well, the duke is English, so you can't expect much from him but pretty manners and a dagger in your back. But Hawthorne is the kind of man who pays someone else to burn your ship under your feet and steal your cargo, while he sits in his club and keeps his hands clean. You can't even call a man like that out. Shooting's too good for him.

CE: Angelique Beauchamp, the Countess of Devonshire, ran afoul of Hawthorne, didn't she? How did you keep from shooting him then?
JM: A man doesn't generally speak of his bride in company, but suffice it to say that I'd have had Hawthorne in my sights, and no mistake. But Angelique has a way of taking care of herself before I can defend her. Exasperating woman. But to tell true, I would have her be no other way.

CE: And that's true love, isn't it?
JM: I'm not one to speak much on the subject of love, true or otherwise, but between us and the rest of the ladies present, I would say you know you've been struck down by love when you can't stop chasing a woman. Until she catches you.

MUCH ADO ABOUT JACK BY CHRISTY ENGLISH – IN STORES FEBRAURY 2014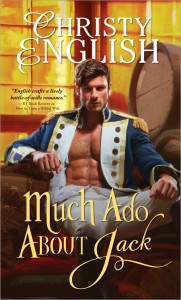 How to Become London's Most Notorious Widow:
1. Vow to NEVER remarry
2. Own a ship and become fabulously wealthy
3. Wear the latest risqué fashions in your signature color
4. Do NOT have a liaison at the Prince Regent's palace with a naval captain whose broad shoulders and green eyes make you forget Rule #1
Angelique Beauchamp, the widowed Countess of Devonshire, has been twice burned by love, and she is certain that no man will ever touch her heart again. But that doesn't mean she can't indulge a little—and it would be hard to find a more perfect dalliance than one with the dashing Captain James Montgomery.
After a brief torrid affair, James tries to forget Angelique and his undeniable thirst for more. The luscious lady was quite clear that their liaison was temporary. But for the first time, the lure of the sea isn't powerful enough to keep him away…
ABOUT THE AUTHOR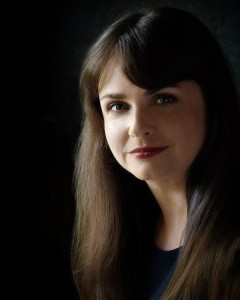 Christy English is happiest when she is dreaming. Her dreams have taken her to the royal court of Henry II in THE QUEEN'S PAWN, to medieval Paris in TO BE QUEEN, and now to Regency England in MUCH ADO ABOUT JACK, LOVE ON A MIDSUMMER NIGHT, and HOW TO TAME A WILFULL WIFE, where she loves to watch her characters find true love, often in spite of themselves. Please visit her on her blog http://www.ChristyEnglish.com , on Twitter https://twitter.com/ChristyEnglish , or on Facebook https://www.facebook.com/christy.english.779.
To Purchase Much Ado About Jack: