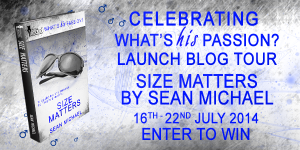 To celebrate the launch of What's his Passion? Totally Bound Publishing is giving away a bundle of great prizes. Enter for your chance to win here.
Character Interview: Lucien from Size Matters
What's your favorite pastime?
Lucien: That's easy, reading. And my favorite kind of fiction is Horror and Mystery.
Do you see Trey as disabled?
Lucien: I did at first, oh that's so sad that the guy is blind, you know? But then I got to know him and Trey is so curious about life and everything, so sensual and needy and eager. I have to consciously remember that he can't see so some things are more difficult for him.
What's your favorite position?
Lucien: I love being inside Trey while he's on his hands and knees and making him come without any stimulation to his cock.
Speaking of Trey, what do you like best about him?
Lucien: That he's so eager for sensation, for knowledge. And the way he lights up whenever he hears my voice. You can't fake that – I know he really loves me.
Trey is a natural submissive, but no one wants to take on a blind man. When Trey and Lucien hit it off, it could be the answer to Trey's prayers.

When Lucien meets his favorite author at a book signing, he's surprised to discover the man is not only blind, but much younger than he'd expected. He's even more surprised to discover that Trey shares a passion of his—BDSM.

Trey loves his life as a horror mystery writer, but it is a lonely one. Immediately drawn to Lucien, he's surprised and intrigued when Lucien ferrets out his interests in certain aspects of BDSM right from the start.

Is Lucien exactly who Trey's been waiting for, or is it too good to be true?
Buy the book at the publisher.
About the Author: Often referred to as "Space Cowboy" and "Gangsta of Love" while still striving for the moniker of "Maurice," Sean Michael spends his days surfing, smutting, organising his immense gourd collection and fantasizing about one day retiring on a small secluded island peopled entirely by horseshoe crabs. While collecting vast amounts of vintage gay pulp novels and mood rings, Sean whiles away the hours between dropping the f-bomb and pursuing the kama sutra by channelling the long lost spirit of John Wayne and singing along with the soundtrack to "Chicago".
A long-time writer of complicated haiku, currently Sean is attempting to learn the advanced arts of plate spinning and soap carving sex toys.
Barring any of that? He'll stick with writing his stories, thanks, and rubbing pretty bodies together to see if they spark.
Sean Michael
smut fixes everything
www.seanmichaelwrites.com
Author link: https://www.totallybound.com/author/sean-michael?utm_source=longandshortreviews&utm_medium=blogtour&utm_campaign=sizemattersblogtour