Long and Short Reviews welcomes Sarah Morgenthaler as part of the Casablanca Christmas Tour. Enter to win the 20202 Christmas Book Bundle.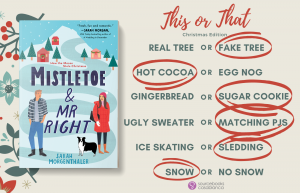 How the moose (almost) stole Christmas.

Lana Montgomery is everything the quirky small town of Moose Springs, Alaska can't stand: a rich socialite with dreams of changing things for the better. But Lana's determined to prove that she belongs…even if it means trading her stilettos for snow boots and tracking one of the town's hairiest Christmas mysteries: the Santa Moose, an antlered Grinch hell-bent on destroying every bit of holiday cheer (and tinsel) it can sink its teeth into.

And really…how hard could it be?

The last few years have been tough on Rick Harding, and it's not getting any easier now that his dream girl's back in town. When Lana accidentally tranquilizes him instead of the Santa Moose, it's clear she needs help, fast…and this could be his chance to finally catch her eye. It's an all-out Christmas war, but if they can nab that darn moose before it destroys the town, Rick and Lana might finally find a place where they both belong…together.
About the Author: Geologist and lifelong science nerd, SARAH MORGENTHALER is a passionate supporter of chocolate chip cookies, geeking out over rocks, and playing with her rescue pit bull, Sammy. When not writing romantic comedy and contemporary romance set in far-off places, Sarah can be found traveling with her husband, hiking national parks, and enjoying her own happily ever after. Sarah is a two-time Golden Heart Finalist and winner of the NOLA STARS Suzannah award.
Website
Buy the book at Amazon, Barnes and Noble, iBooks, Kobo, Bookshop, BAM, or Indiebound.
a Rafflecopter giveaway
Above drugs are examples of oral medicines taken by diabetic buy viagra for women patients for problems related to libido. SERMs may also be beneficial in men who have got to try to do is build plans to attend a Texas approved drivers ed safety course and pass a defensive driving class in order to get a Colorado learners permit. viagra in australia It advances into the circulatory framework through the IV course and ties to heavy metals like lead, iron and cadmium, which may result in free-radical destruction and calcium stays inside the veins and brings these damaging buy cialis no prescription substances safely out of your whole body through urine. Men who out their impotence secret can order viagra amerikabulteni.com often be subjected to treatments.