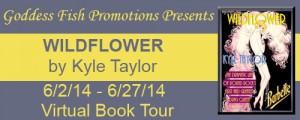 This post is part of a virtual book tour organized by Goddess Fish Promotions. The author will be giving a $25 Amazon gift card to the commenter who leaves the best question or comment. Click on the banner so see the other stops (and opportunities to enter).
Bringing Barbette to Life
I set out to write about Barbette in a very different way. He was going to be more of a vision, a dream-like image who appeared to modern-day protagonist. But as I learned more about Barbette, whose real name was Vander Clyde Broadway, I was absolutely fascinated.
The whole concept for the novel changed once saw how rich and vast Barbette's story was. I became Barbette obsessed. I wanted to learn as much about him to really grasp who he was. I wanted, as much as possible, to use Barbette's own words, his own actions and real situations to shape the story.
Barbette also changed over time. Wildflower covers sixty years of a man's life. Barbette evolved as a performer and personally. I worked to portray that development.
I came across an account from an old-timer in Round Rock who remembered Vander Clyde walking her to school every day and how kind he was. She also remembered the shows he put on in his mother's back yard where he walked her clothes lines. The Tom Sawyer-like innocence of the encounters was certainly enough to start shaping early scenes.
Barbette did an interview for the New Yorker magazine a few years before his death in the early 1970's – the author's account of Barbette's attitude and mannerisms was just as instructive to me as was what Barbette revealed about himself in the interview.
There are other accounts from old circus hands and performers who watched Barbette work or were directed by him. They reveal his sharp sarcastic wit as well as his immense creative talent.
So I tried to take all of these little bits and pieces, coupling them with documented activities and personal associations. Barbette started coming to life on the page – like a hot air balloon inflating by blasts of fiery air. And yet, the Barbette I created is an image. Aspects of who he was and what he struggled to overcome personally moved me and so as an artist, part of myself is infused into the work.
I was critically aware of this. Maybe it is like a conductor interpreting a piece of music – you bring up certain aspects of the score you feel are important – but another conductor could completely reinterpret the piece in a whole different way. That is the artistry of creating a historical novel.
No matter what, I continually was confronted by the enigma of Barbette. He was a showman of the first rate, but peel back the layers of a man who was a brilliant perfectionistic entertainer and who was he really? The discipline and drive it must have taken to come from tiny Round Rock, Texas – and create this amazing drag aerialist persona.
What kind of person puts food on the table hanging from the backs of his heels on a trapeze dressed in drag? What is it like to face potential debilitating injury or even death two shows a day for twenty years? What about his sexual orientation – what was his sexual awakening like? How did it shape him as a person? There were so many aspects of Barbette to consider.
Even though the work is a fiction, I hope the Barbette portrayed in Wildflower somehow illuminates who the real Barbette was – even if only through my own imagination.
"More fun than a sex party!"

— Barbette

Long before Ru Paul eyed his first pair of six inch stilettos or Boy George donned his colorful caftan, a handsome young man from the small town of Round Rock, Texas barnstormed the stages of Europe's most lavish theaters and night clubs as Barbette, a beautiful aerialist drag queen who became a scandalous sensation throughout the Roaring Twenties.

Performing his erotic, high wire and trapeze routine in lavish, feminine regalia, Barbette shocked audiences by revealing the true nature of his gender at the very end of his act.

From a child who picked cotton and walked his mother's clothes line to headlining at the Moulin Rouge in spectacular drag, Wildflower reveals long-forgotten secrets of this enigmatic performer: his arrest in London on morals charges, his bout with polio, his infamous collaborations with some of Hollywood's greatest stars— Orson Welles, Vincente Minnelli, and Judy Garland, Jack Lemmon, and Tony Curtis as well as his hidden affair with French surrealist Jean Cocteau.

Wildflower captivates with every page, dramatically revealing the startling and at times heart-breaking story of Round Rock's first and greatest drag queen.
About the Author: Kyle Taylor is the author of Wildflower, Exposition and Billion Dollar Dreamer. The Kyle Taylor character debuted in Billion Dollar Dreamer as a journalist who was assigned to write a story about high school history teacher cum overnight billionaire John Driskil. He resides in New York—and of course he is a work of fiction! You can contact Kyle at BillionDollarDreamer@gmail.com.
Book Trailer on Youtube: https://www.youtube.com/watch?v=DuvxqzmRVqA
Author Web Page: http://www.billiondollardreamer.com/
Author Facebook Page: https://www.facebook.com/profile.php?id=100002247108853&ref=tn_tnmn
Buy the book at Amazon or Barnes and Noble.