A special welcome to Elizabeth Michels, author of How to Lose a Lord in Ten Days or Less. Leave a comment for a chance to win a print copy of the book (US/Canada only please).
Behind the Scenes with Elizabeth Michels
It's summer! The heat of the southern sun bakes down on my freshly planted flowers, crisping their leaves while the sounds of children playing fills the air. For every mom with young children, this time of year becomes a juggling act of managing schedules and in many cases, their own sanity. Aside from being a romance author, this is my life—the life of a wife and mom. Somewhere between chauffeuring my little boy to swimming lessons and cooking dinner for the family, I find time to slip downstairs to my office and write. When we moved into our house last fall, I made sure my office was outfitted with everything a romance author needs to succeed including a faux fur chair, a fireplace, and a chandelier. *winks*
But, my office also has a few actual necessities for my stories to take shape. This is my plotting board where I lay out my next book. There are different ways to tackle the daunting process of writing a book and this is my chosen method.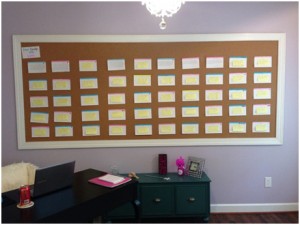 I have an intricate process involving pink, blue, yellow and green highlighted note cards indicating in which point of view the scene is written. I write scene notes on the cards, then mark them with sparkly stickers representing different elements of the plot. This allows me to stand across the room and see the entire book in one glance. This process takes me about a week, but it keeps me sane while I write. And, yes, if you hadn't guessed this by now, I'm a bit of an organizational nut. *grins*
I also use a white board for various purposes. I keep track of dates when my schedule gets hectic. I write notes about events that cross-over from book to book in a series. And, I always draw action scenes with multiple characters in a football locker room, X and O style to make sure I don't lose someone's location while writing. It's handy. *nods*
In this picture, you can also see the chair that started out in my son's nursery then moved to the corner of the play room at our last house. Since, I wrote a large portion of MUST LOVE DUKES, DESPERATELY SEEKING SUZANNA, and HOW TO LOSE A LORD IN 10 DAYS OR LESS in this chair, it seemed appropriate for it to find a home in my new office.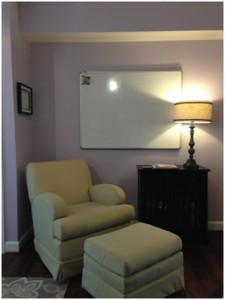 Right now, I'm working on Roselyn and Ethan's story, so that is what is on my plot board and my laptop. Soon my white board will be covered in a scene diagram and notes about things that cross into the next books. You hear a little about Roselyn and Ethan in my new release, and I can't wait to share their story with you. I better write quickly because the little monkey waits for me just outside the door to my office, and I think he wants to play superheroes.
I hope you enjoy HOW TO LOSE A LORD IN 10 DAYS OR LESS. Thank you for hosting me today on LASR! Happy 4th of July! How are you spending your time this summer?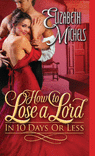 Described by Publishers Weekly as "rich with wit and charm", the series finale to the Tricks of the Ton series does not disappoint.

After years away from home, Andrew Clifton, Lord of Amberstall, is attacked by a hired hit man on his way back to London. But with an injured horse and no shelter, Andrew becomes the unintentional houseguest of the Moore family.

Katie Moore could always be found at the stables—until her riding accident. Now, she locks herself away from Society—embarrassed by her injuries. While Katie tends to Andrew's horse, the two are at odds about everything, except their feelings for one another and the danger that they're about to discover on the road ahead…
ABOUT THE AUTHOR: Every day, Elizabeth Michels puts on her finest ball gown and tiara. She slips on sparkly-toed shoes, gets into a horse-drawn carriage, and takes her son to school. Then, laptop in hand, she holds court at her favorite local coffee shop in Charlotte, North Carolina. Lose yourself at www.ElizabethMichels.com.