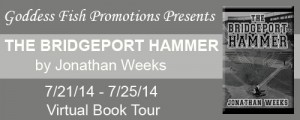 This post is part of a virtual book tour organized by
Goddess Fish Promotions
. Jonathan will be awarding a $10 Amazon GC to a randomly drawn winner via rafflecopter during the tour. Click on the tour banner to see the other stops on the tour.
Baseball and the Third Reich
I have always been captivated by the fact that a madman nearly took over the world during the 1940s. I'm not sure what grips me most about this concept—the idea that he nearly succeeded or the notion that it really wasn't so long ago. The world has changed a great deal since Adolf Hitler began selling his toxic ideology to the masses, but it hasn't changed all that much. There are still madmen in it along with sheep who readily subscribe to various caustic philosophies. This is one of the many things that keep me awake at night.
But I digress…
My first novel, The Bridgeport Hammer, is a fantasy baseball memoir set during World War II. It follows the exploits of a U.S. counterintelligence agent as he attempts to thwart a diabolical Nazi assassination plot.
The target: President Roosevelt
The setting: The 1942 All-Star Game.
Sound far-fetched? It actually isn't.
There is no evidence to support the fact that Hitler knew anything about baseball, but he was aware that sports appealed to the masses. He used the 1936 Summer Olympics as a political platform to advance the Nazi cause. Seeking to showcase a "New Germany," the Fuehrer pledged forty-two million Reichmarks to the construction of a 325-acre sports complex outside of Berlin. When the Nazi party's official newspaper—the Volkischer Beobachter—published a treatise on why Jews and blacks should be excluded from the games, other nations threatened to boycott. Hitler backed down, adding a token Jewish participant to his own team—a woman named Helene Mayer.
With some of the greatest athletes in the world, the Germans dominated the Berlin Olympics, capturing eighty-nine Gold Medals. Only the United States came close to matching that total (with fifty-nine). Hitler hated Americans and all they stood for. The idea of a long-range strategic bomber for the German air force was first proposed in the late-30s. By 1942, advanced plans for the bomber's design began to appear. Five prototypes were built, though none ever became functional. Had the so-called "Amerika Bomber" project ever come to fruition (along with the Reich's atomic program), the Germans would have been capable of wreaking havoc upon the U.S.
That's a frightening concept.
Here's another: German U-Boats were spotted off the American coast on multiple occasions during the war. More than a dozen were lost in U.S. waters. In June of 1942, one of them came close enough to allow four saboteurs to paddle ashore at Amagansett, Long Island carrying a large cache of explosives. Two of the saboteurs ended up in New York City while the other pair went to Chicago. One of them, a German nationalist named George Johann Dasch, had been a U.S. resident for many years and was married to an American woman. He spoke perfect English.
In regard to baseball and counter-intelligence, the two are historically linked. Moe Berg spent fifteen seasons in the majors as a catcher for several different teams. Though he was never more than an average player, he was intellectually gifted—making several successful appearances as a contestant on the radio quiz show Information, Please. A graduate of Princeton University, he was fluent in multiple languages. In 1934, Berg was selected to play on a major league All-Star team that toured Japan. During the trip, he took films of the Tokyo industrial landscape that would later be used to plan bombing raids during World War II. When his playing days were over, he worked for the Office of Strategic Services—precursor to the CIA. On one of his assignments, he traveled to Zurich, Switzerland to evaluate the status of the German atomic program.
The facts I have presented here are the building blocks of my novel, The Bridgeport Hammer. If you find the subject matter interesting, you might want to pick up a copy. I have tried very hard to establish a sound historical base while keeping the narrative exciting and fun. Those who are partial to non-fiction can obtain a copy of my book, Mudville Madness, which was recently released by Taylor Trade Publishing. Spanning three centuries of baseball history, the book provides a generous sampling of the sport's most unusual occurrences. For folks who prefer their baseball history in smaller doses, you can check out my weekly postings at jonathanweeks.blogspot.com. The blog is called Cellar Dwellers (named after my first book).
>"As you would have the right to expect from any book about a baseball-playing spy narrated by the all-time record holder for most passed balls in a single game, The Bridgeport Hammer is a delight. Jonathan Weeks' tale of baseball during wartime lovingly gets all the details of the old ballgame right, and does so while spiriting the reader through a fascinating tale of journeymen, espionage, and one unforgettably goofy pitch. Add "the bumpus" of the mysterious rookie Emmett Drexler to the great notions in baseball lore, and add The Bridgeport Hammer to your shelf of baseball classics." – Josh Wilker, author of Cardboard Gods
Enjoy an excerpt:
I couldn't let Buddy investigate alone, so I followed him out of the club. I remember the scene clearly. The door opened on a cobblestone alley. It had rained at some point and the street lamps were reflecting off of scattered puddles. I spotted several mangy-looking cats eating out of a dumpster. The buildings were fairly close and you could have jumped across from one fire escape to another. A sewer grate was breathing steam into the air. The door closed behind me with a dramatic WHUMP! I checked to see if it was locked. It was.
"Great," I said to Buddy. "Now we've got to walk all the way around. They'll probably charge us to get back in."
The two suspicious looking men were standing about twenty yards up the alley conversing in a foreign accent. It sounded like German. I didn't see Drexler anywhere.
"Looks like we've got us a couple of Krauts," said Buddy.
"Try not to make 'em mad," I advised.
There was a brief stare down between our two parties before the Germans (or whoever they were) advanced on us. They were walking side by side. In a move that seemed almost choreographed, they reached into their coats at the same time and pulled out what looked like Luger pistols. My stomach did a little somersault. I was about to die in an alley outside my favorite night club—And I hadn't even gotten to see Carmen O'Day's second set!
There was a glint of steel from above as two objects struck the gunmen one right after the other. FWUP! FWUP! It was like something out of a movie. The gunmen grunted in pain and surprise then teetered on their feet for a few seconds before toppling face first to the cobblestone. The daggers in their backs were stuck all the way up to the hilt. A noise on the fire escape captured our attention as a dark figure scrabbled through a window into one of the buildings.
We stood in dumb silence for a few seconds then Buddy grabbed me by the arm.
"We better get out of here before somebody blames us for this," he said.
There was no debate. We ran as fast as we could.
About the Author: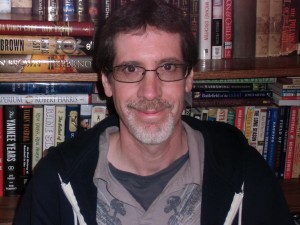 Weeks spent thirty-eight years in the Capital District region of New York State. He obtained a degree in psychology from SUNY Albany. In 2004, he migrated to Malone, New York, and has continued to gripe about the frigid winter temperatures ever since. A member of the Society for American Baseball Research, he has authored two non-fiction books on the topic of baseball: Cellar Dwellers and Gallery of Rogues. His first novel, The Bridgeport Hammer, (a baseball story set during the WWII era) is being released in the summer of 2014. He writes about the game because he lacked the skills to play it professionally. He still can't hit a curveball or lay off the high heat.
Link: Check out his "Cellar Dwellers" blog at: jonathanweeks.blogspot.com.