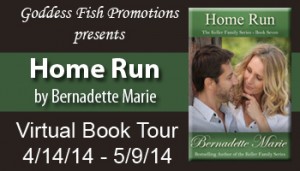 This post is part of a virtual book tour organized by
Goddess Fish Promotions
. Bernadette will be awarding a $25 Amazon GC to a randomly drawn commenter during the tour. Click on the tour banner to see the other stops on the tour.
Balancing it all by Bernadette Marie
If you only know me as a writer and you see the list of books I have published, the coming soon list, and the list of things I'm planning you'd think all I do is write. Truth is I'm also a wife, mother of 5 hockey playing sons, and a publisher.
Those who do know me wonder how I get it all done. They are convinced I never sleep. But the truth is I get 6-8 hours of sleep a night. I have lunch with friends. I once in a while even date my husband. And I spend a lot of time in hockey rinks.
My balancing act comes attached with a timer! Yep! I guess you could say I do things in spurts—even writing. I know that my house needs attention so many hours a week. My body needs the same. I have a two days a week I dedicate only to publishing. The other days I focus on writing, but I allow some publishing work as well.
As a rule you should get up at least once an hour and walk. So every 20-30 minutes my timer and my schedule change a bit. I have a running list of what needs to be done. I focus on one task until don, but it might take me 2-3 20-30 minute surges to get through it. But in that time something else was tended to.
Perhaps I have a little ADD in there. Can't keep focused on one thing for too long. But that works for me. Timer chimes and it's time to refocus for a few minutes then back to work making sure all aspects of my life get a little bit of me in a day.
In one moment Christian Keller's life was changed. Now as he picks up the pieces he wonders if he can possibly recoup what he lost.

Victoria Lincoln had a promising future with Christian until an accident took the life of her sister and left her as guardian to her two small children.

Their lives have gone in different directions, but Christian and Victoria's paths will cross again. It will take a lot of change to pick up where they left off—if either of them can.
About the Author: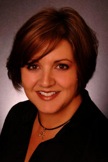 Bernadette Marie has been an avid writer since the early age of 13, when she'd fill notebook after notebook with stories that she'd share with her friends. Her journey into novel writing started the summer before eighth grade when her father gave her an old typewriter. At all times of the day and night you would find her on the back porch penning her first work, which she would continue to write for the next 22 years.
In 2007 – after marriage, filling her chronic entrepreneurial needs, and having five children – Bernadette began to write seriously with the goal of being published. That year she wrote 12 books. In 2009 she was contracted for her first trilogy and the published author was born. In 2011 she (being the entrepreneur that she is) opened her own publishing house, 5 Prince Publishing, and has released contemporary titles and has begun the process of taking on other authors in other genres.
Bernadette spends most of her free time driving her kids to their many events. She is also an accomplished martial artist, working her way to her second degree black belt in Tang Soo Do. An avid reader she loves to meet readers who enjoy reading contemporary romances and she always promises Happily Ever After.
5 Prince Publishing ~ Website ~ Facebook ~ Twitter ~ Blog